Vegan 21 Day Fix Meal Plan (1,500-1,800 calories, GF)
Vegan 21 day fix meal plan for the 1,500 to 1,800 calories plan (plan B). Frugal and gluten free weight loss meal plan for the plant based diet.
Why do the 21 day fix on a vegan diet?
Legumes are simply a cheaper way of filling your red container! And they come with amazing health benefits.
As this study shows, increasing bean intake by 70g a day cuts back pre-cancer clusters (for colon cancer) up to 65 percent, a pretty significant number by simply switching your meat with beans.
The vegan diet is proven to be the most healthy diet concerning body weight, nutritional intake, and nutritional quality (source). Research also shows that the vegan diet is the only diet that people average a normal BMI.
While I did the 21 day fix on the omnivore diet with success, I found the vegan diet easier to stick to long term. This lifestyle change helped me gain more energy, keep my weight, build muscle, and maintain all around better health.
Healthy Benefits and Nutrition
On the 21 day fix the vegan diet is low in fat and provides moderate amounts of healthy carbs and lots of veggies, protein, and fruits. You can read more about the health benefits of a plant based diet here.
You don't have to commit to a vegan lifestyle to try out this meal plan. The vegan 21 day fix meal plan is a great option to get your nutrition back in order with clean meals, no sugar, lots of minerals and vitamins, fiber, and more.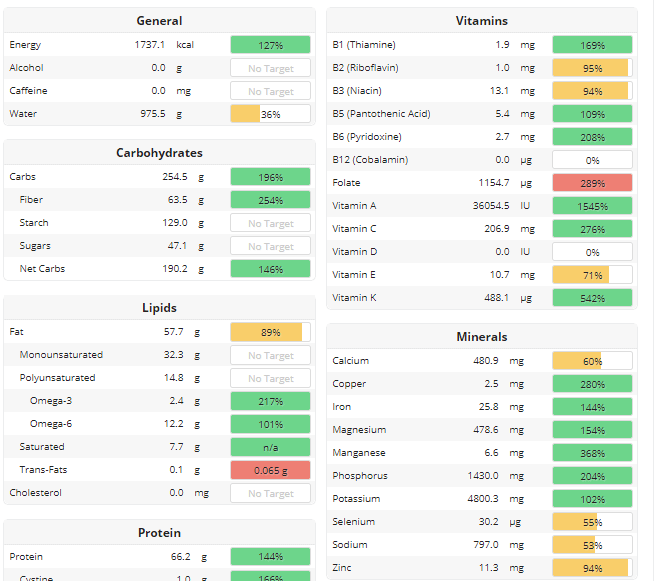 As you can see above, this vegan 21 day fix meal plan contains 1737 calories, 57 g fat, 66g protein, 63 g fiber, and reaches almost all nutritional needs. I added breakfast, lunch, snack, and the lentil soup dinner to my cronometer to get an overview of all nutrients.
If you add one cup of almond milk (to your oats instead of water) you only add 40 more calories, which will not slow down your weight loss at all, but the one cup will get the calcium to 119%, vitamin E to 116%, B2 to 105%, and more.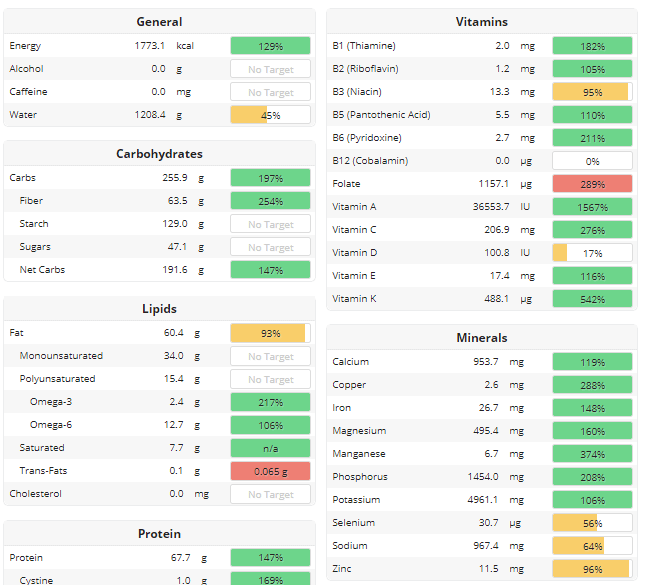 I know almond milk is not on the approved list for every day, but I would include it anyway. NOTE: B12 is found in some fortified soy products (or supplements) and vitamin D is obtained by supplements or sunlight.
Vegan 21 Day Fix Meal Plan
You don't need the 21 day fix containers for this meal plan, because I have measured everything out for you already! If you want to keep going with the diet you can grab the containers for an affordable price here.
Breakfast (1 Y, 3 P, 1 O)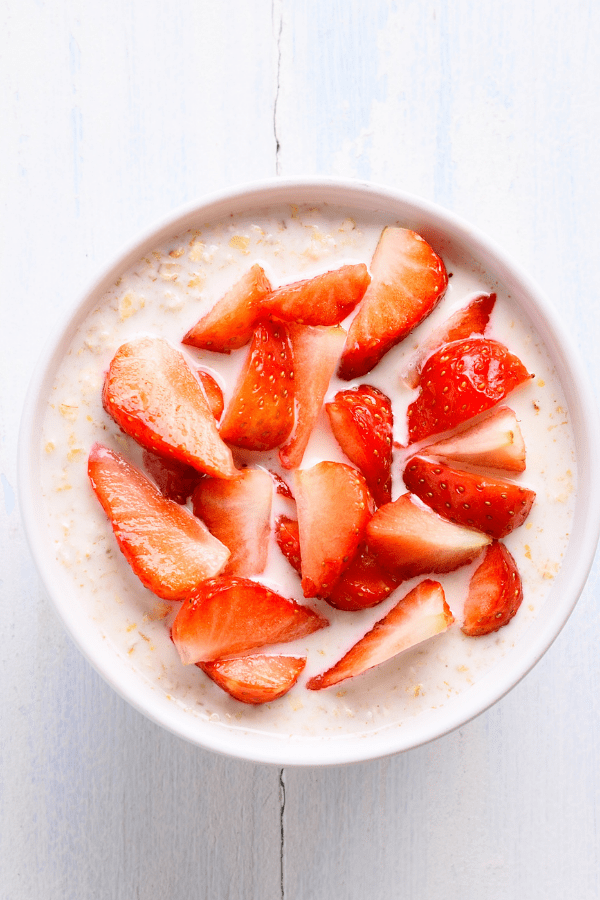 1/2 cup oats with water (or 1 cup almond milk) (1 yellow)
1 banana
1 cup berries (mixed frozen)
1 tbsp milled flax seed
You can use any fruit and use 3 purple containers. Mix the flax seed with the oats before adding the liquid to prevent clumping. Cook everything with water (or almond milk). I move it into the microwave for 1 minute.
I know almond milk is not allowed everyday but it is very low in calories and gives you additional vitamins (especially vitamin E). So in my opinion you can use 1 cup almond milk to make this and be fine.
Lunch Salad (3 G, 1 t, 2 R)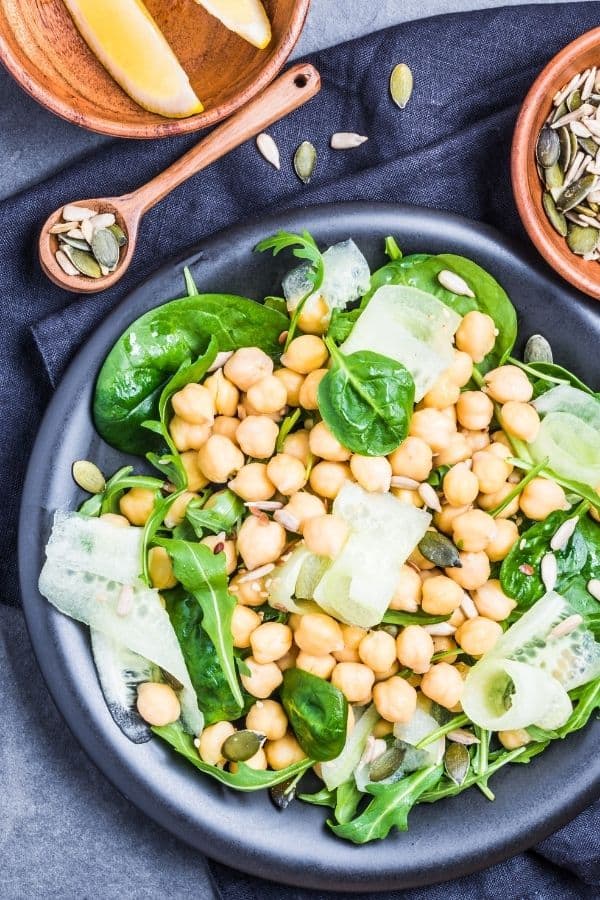 2 cups spinach
1 cup diced veggies
1 t olive oil
1 T vinegar (ACV)
1.5 (2 red) cups legumes (1 cup of each or 2 cups either: lentils, beans, chickpeas)
Mrs. Dash Seasoning (optional)
Snack (1 R, 1 B)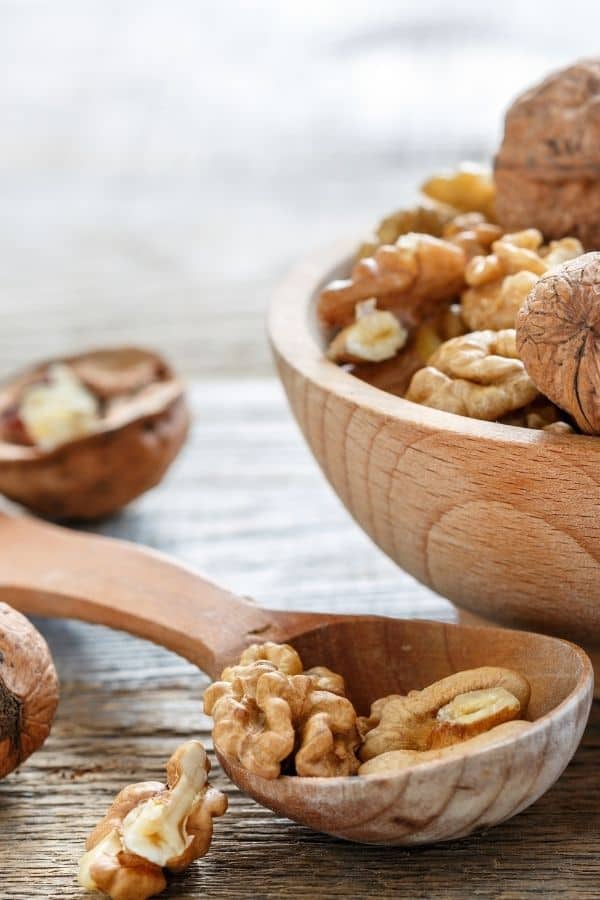 0.75 cup (1 red) steamed peas
Dinner (1 R, 2 Y, 1 G)
Below, I give you 4 dinner recipes for the vegan 21 day fix meal plan. Double up on the recipes and repeat each meal twice. You don't have to eat the same meal 2 nights in a row, but this will help you save time and energy cooking. Each recipe serves 4, so if you cook for 2 people you don't have to double up on the recipe.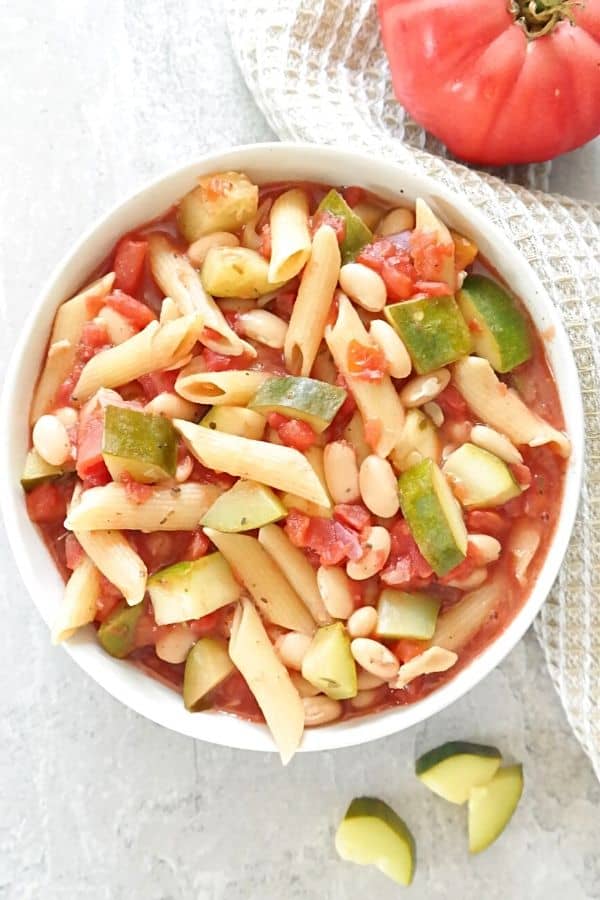 I used gluten free pasta for this recipe. If you don't mind the gluten you can use any pasta but I suggest whole wheat.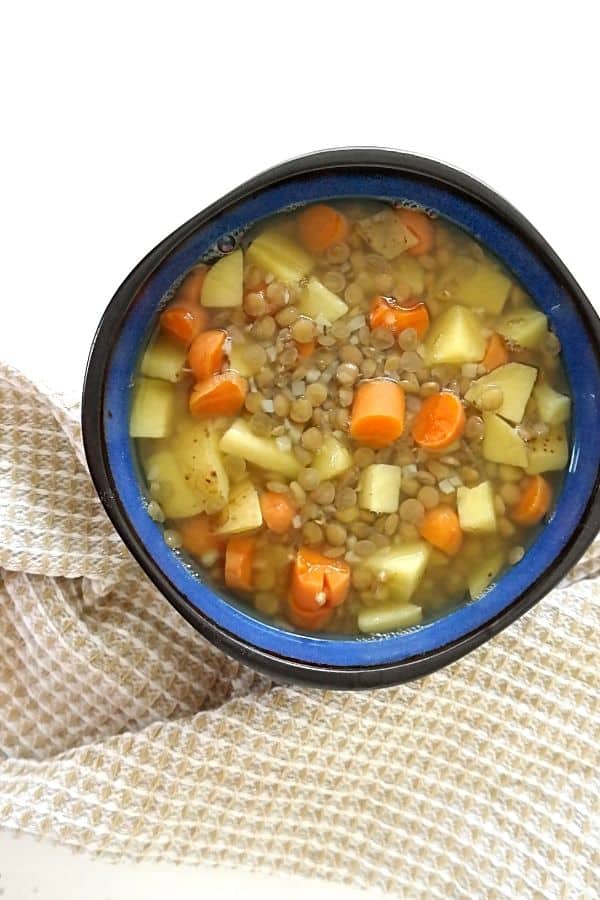 Please double up on potatoes for this recipe to meet the need of 2 yellow per serving (4 cups diced potatoes instead of 2 cups). If you can't get lentils you can use the same amount of beans (great northern beans fit well).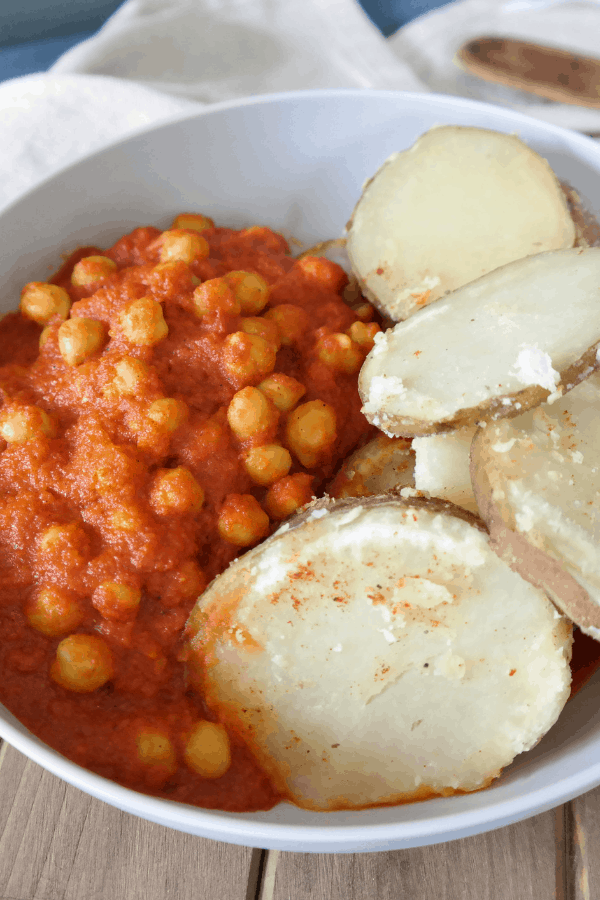 Dinner 5: Vegan Fajita Veggies over rice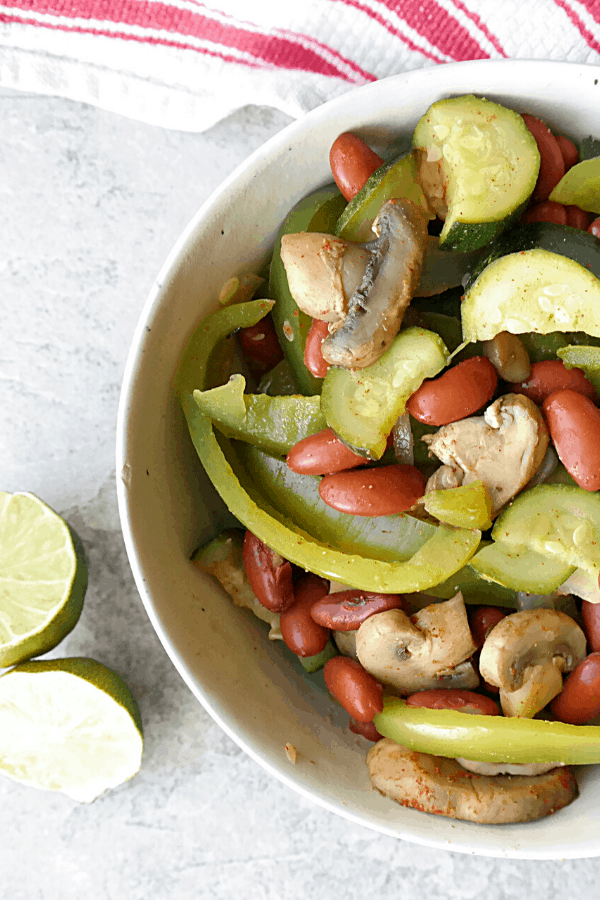 2 cups dry brown rice
2 green bell pepper
1 onion
1 lime (juice)
1 t chili powder
1/2 t paprika powder
1 t cumin powder
1 t salt
3 cups cooked, rinsed black or kidney beans
1/4 cup water
Cook the rice according to package. Add the water to your cast iron skillet or pan and set on medium heat. Then add the diced veggies and beans and let steam until veggies are soft. Drain remaining water if necessary and add all the seasoning. Serve 1 cup rice with 1/4th of the fajita mix.