Vegan Freezer Meal Prep: 24 Servings For Under $37
Are you trying to eat healthier but you just can't find the time to cook during the week?
Many of you probably like to meal prep (usually on Sundays) to save time during the week and to help avoid grabbing dinner at the drive thru.
Freezer meals are always great to have stocked up for life experiences such as expecting a baby, quick meals for busy nights, meals for a family vacation, or back up for those times a recipe fails.
Prepped meals, or meal plans in general, are also helpful if you are working on nutrition goals, muscle gain, or weight loss. If your meals are already prepared, it will be much easier to stick to your eating plan.
In my situation, I made these freezer meals for my husband while I was gone for two weeks. As the homemaker, I usually make all the healthy meals. And while I trust my husband to eat somewhat healthy while I'm away, I felt the need to pre-cook multiple meals so he would have healthy plant based meals readily available to him.
Especially on a vegan diet, it is important to balance your meals and make sure you're getting all your nutrients. Now that I'm back from my trip I'd like to share how I prepped all these meals and how you can do the same.
These vegan freezer meals are:
nutritionally sound
great for weight loss (or double up for muscle building)
easy to prepare
husband friendly (probably college friendly)
oil free
budget friendly ($37 for 24 servings)
To make this meal prep as budget friendly as possible, it is important to pick the right store to get your groceries. I find that Aldi is the cheapest option for the best quality.
I know some of you don't have an Aldi nearby, so you can try a similar budget grocery store or go to Walmart. You can even use their free Walmart grocery pick up for easy shopping.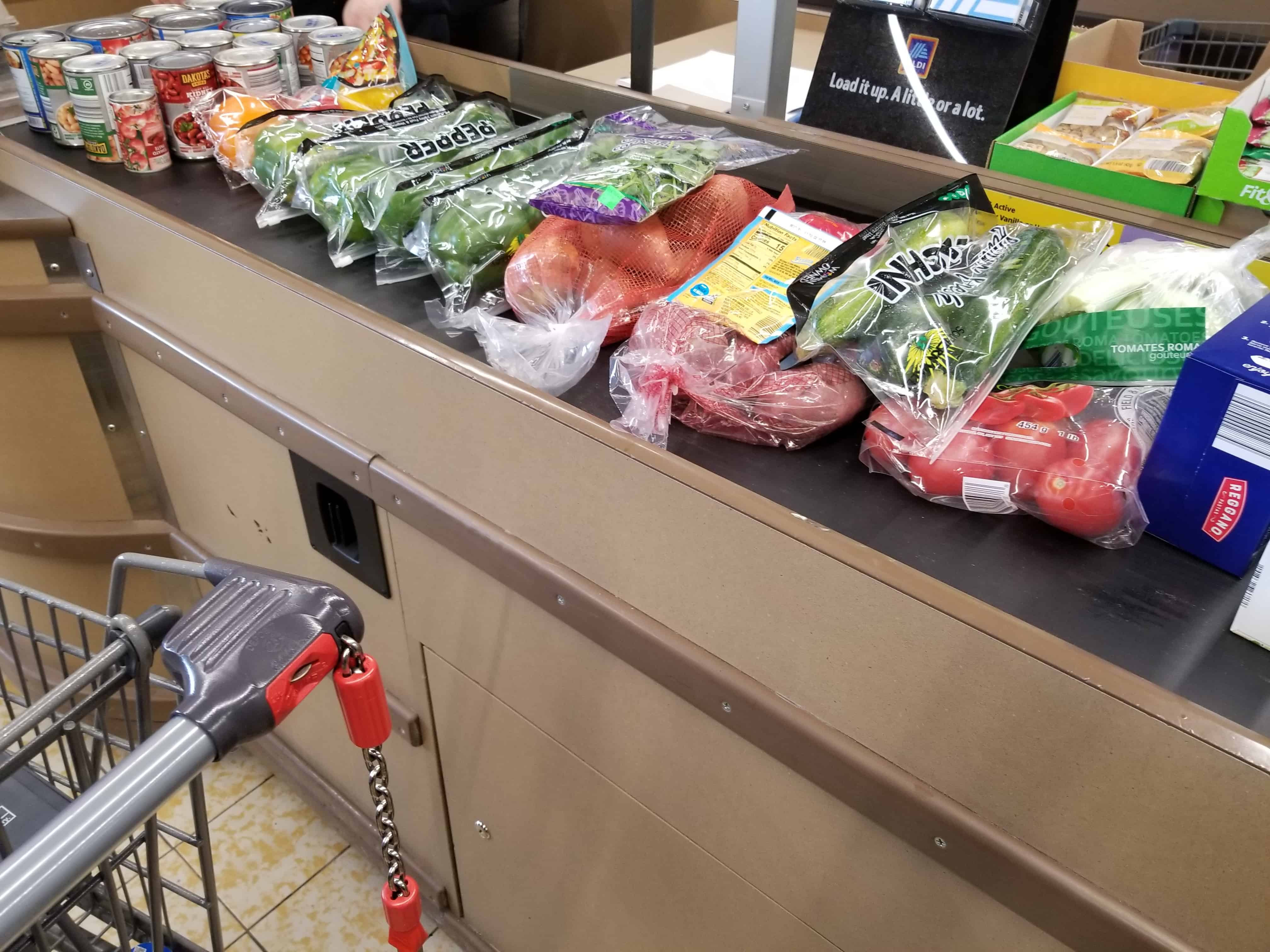 All in all I paid under $37 for the groceries. I made 6 meals, each with 4 servings. This equals about $1.50 per serving. MUCH cheaper and much healthier than going out to eat, fast food, or packaged freezer meals.
Note: I already had spinach, brown rice, and spices at home. So the cost of your shopping trip may vary depending on what you already have at home. It is best to check your pantry for all items before you go shopping.
Vegan Freezer Meals Nutrition and Weight Loss
Each meal averages around 400-500 calories and is nutrient dense. This means each meal contains a high amount of nutrients per calorie. All vegan freezer meals contain a large amount of veggies and also contain healthy grains and legumes (vegan protein source).
If you need to consume more calories, you can simply consume 1.5 or even 2 servings per meal. Or eat one serving for lunch and 2 serving sizes for dinner. This depends on your goals and also on your lifestyle.
How to Prepare the Vegan Freezer Meals
Meal Prep Equipment
Here are some tools you will need to prep all vegan meals
Recipes For The Vegan Freezer Meal Prep
You have two options to prepare the freezer meals. You can either cook them ahead of time then freeze each serving in meal prep containers or you can use zip lock bags to store all ingredients (washed and cut) then cook the frozen mix with some water.
In the video, I cooked 2 meals ahead of time and stored them in meal prep containers then prepped 4 meals in zip lock bags. Each meal makes about 2-3 cups in volume, so make sure to grab the recommended meal prep containers.
Tips for making freezer meals
Make sure you have all the equipment ready and available.
Decide which meals you are going to store in freezer bags and which ones you will precook.
Make sure you have all recipes saved on your phone or printed and ready
You can store each meal for about 1 month, no longer than 2 months
Don't forget to write cooking instructions on the zip lock bags
Vegan Freezer Meal Prep Recipe
Please make sure to read the instructions and options for each plant based freezer meal. And be sure to print it ahead of time. I used 2 pots to prepare the first two meals. You can also use an Instant pot.
Then I prepped the last 4 meals (zip lock bags) during the cooking time of the first two meals.
This meal prep took me about 3 hours. If you use the zip lock bags, make sure to write down which meal is in the bag, the amount of water to add, and the recommended cooking time.
This healthy freezer meal is high in vitamin C. You can prep it in one pot and store each serving in meal prep containers. If you choose to use zip lock bags, make sure to blend the bell pepper and add the sauce to the bag!
For the weight loss option I used 2 cups of the pasta, 2 cups of water, 3 bell peppers, and 5 tomatoes. The rest stays the same.
This healthy recipe contains 420 calories per serving. If you store this in the freezer bag (without the water), write down 3/4 cup water and 20-30 minutes cooking time (instant pot: meat/stew high for 6 minutes).
This oil free stew needs 3 cups of water and cooks in about 15-20 minutes after being frozen. If you use the instant pot, set it to stew, high, 6 minutes, and seal the valve.
Freezer Meal #5: Zucchini Spaghetti
One serving of the zucchini spaghetti equals over 600 calories. For weight loss, you can use 8 oz of dry whole wheat pasta instead of 16 oz. This meal can be cooked in one pot by adding 4 cups of water. It should take about 20 to 30 minutes for the spaghetti to be soft. Find the recipe card here.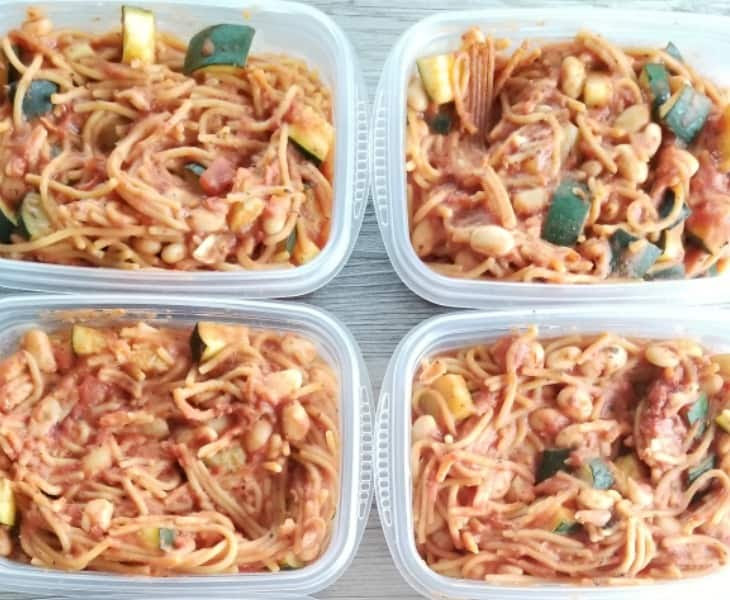 Freezer Meal #6: Mexican Rice
For the Mexican rice recipe, use 1.5 cups of rice instead of 2 cups and follow the direction of the recipe card here.