Vegan Caprese Pasta Salad Recipe
Healthy and easy vegan caprese pasta salad with only 380 calories. Creamy and delicious pasta salad with cucumber, tomatoes, chickpeas, herbs, avocado, and more. This meal can be eaten as a side dish or main meal, is budget friendly, and it's perfect for spring and summer cookouts.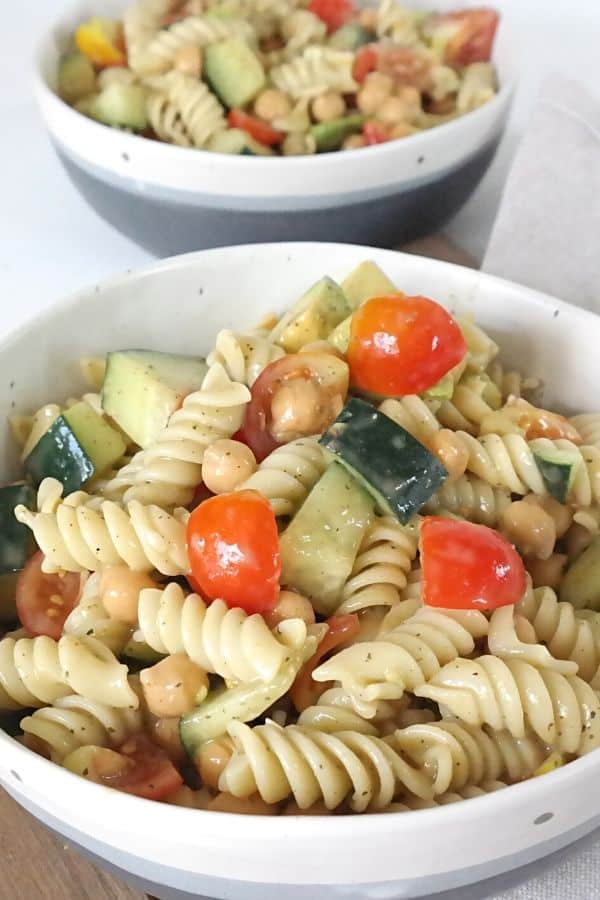 Looking for a healthy vegan side salad to bring to your next cookout?
Side dish or main meal, this delicious pasta salad is filled with whole grains, veggies, chickpeas, healthy fats, and herbs. It can be enjoyed as a side dish, lunch salad, or main dinner meal. I like to double up on ingredients for a filling dinner meal (especially when I workout).
All ingredients are easy to find and the recipe is also budget friendly. You can adjust the ratio of ingredients (less grains, more veggies for example), especially the seasoning part. I added garlic to my recipe but the recipe below is without garlic. You can also add onion to the mix, if you like.
This is one of my favorite lunch ideas to take to work, on road trips, or simply when I am out all day and don't want to buy take out food. It fuels me with lasting energy while saving money on food. The meal is nutritiously sound because it contains whole carbohydrates, plant based protein, whole healthy fats, and lots of veggies (and fiber).
This recipe is also great for meal prep. You can make enough servings and store in meal prep containers for each day of your busy work week. For the serving size below you can simply use a one compartment meal prep container.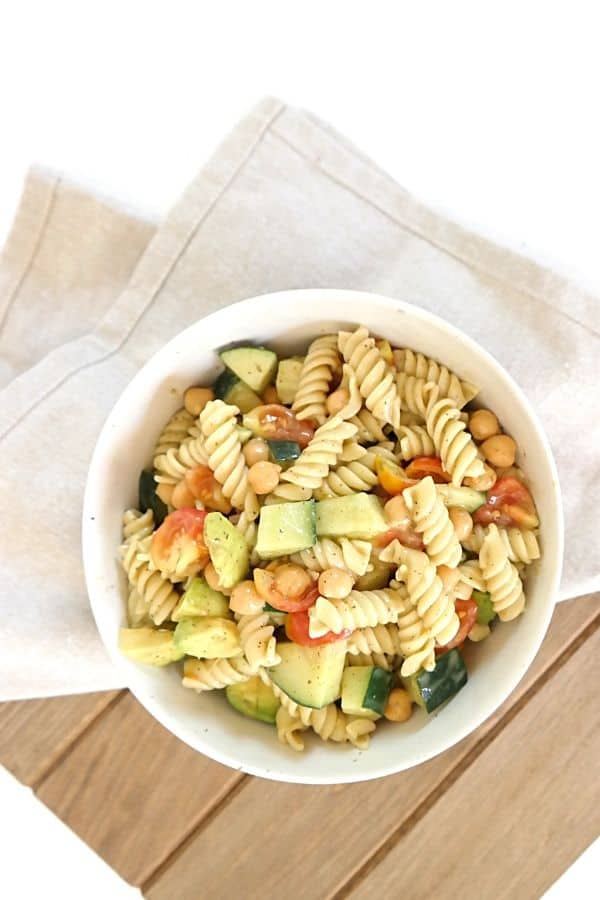 If you like this salad recipe, you might also like these easy vegan summer salads. I have been really enjoying the Greek potato salad as a light, yet filling dinner.
Cost of the Vegan Caprese Pasta Salad Recipe
8 oz (1/2 box) whole wheat pasta (penned or fusilli) $0.50
1 can chickpeas $0.55
1 avocado $0.99
1 pint cherry tomatoes $2.50
5 cucumber $0.50
seasoning $0.50
One serving of this recipe is about $1.38 per serving. Please note that these numbers depend on season and store. I got all my ingredients at Walmart and made this meal in March. Also, I only calculated the price based on the items I used, not on the bulk I bought. You can use the leftovers for other recipes.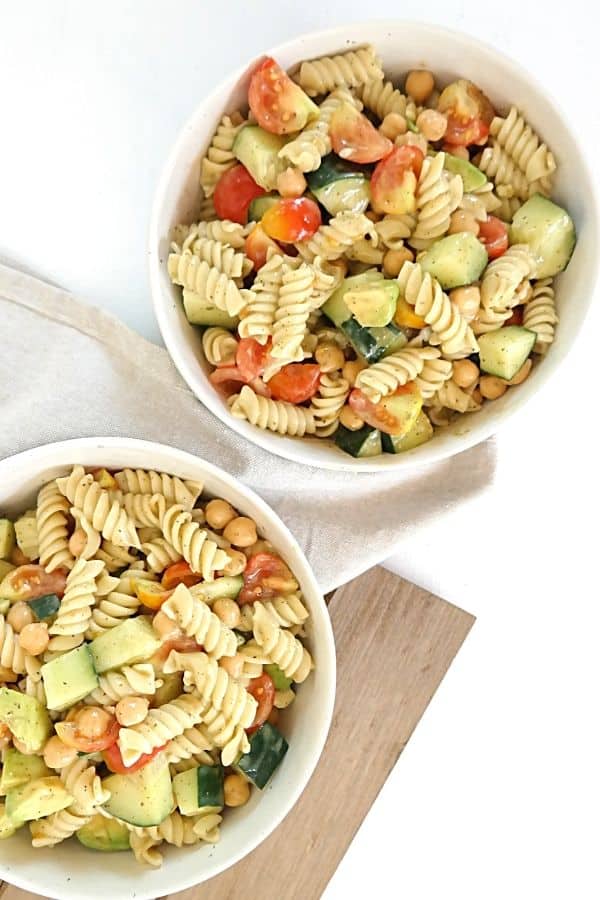 Nutrition of the Vegan Caprese Salad
One serving of the recipe below contains around 380 calories, 14 g of plant based protein, is high in fiber, vitamins C, and K, iron, magnesium, and zinc.
Instead of using oil to make the dressing, I use the liquid part of the canned chickpeas and blend it with avocado, balsamic vinegar, and seasoning. This makes a creamy, delicious, oil free, whole food salad dressing.
This meal is very nutritious, filling, and can be used for weight loss. If you wish to gain muscle and need more protein, simply double up on the serving size (750 calories and 28 g protein).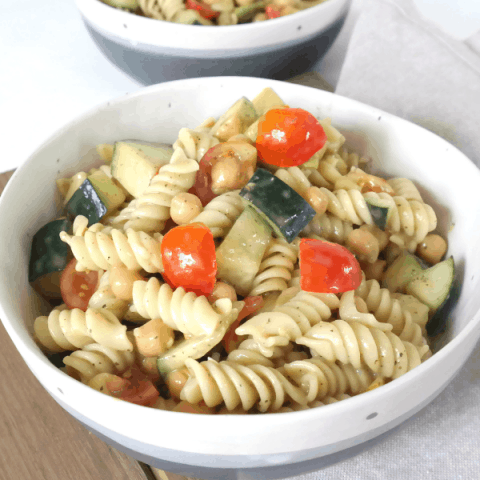 Vegan Caprese Pasta Salad Recipe
Healthy and easy vegan caprese pasta salad with only 400 calories. Creamy and delicious salad with cucumber, tomatoes, chickpeas, herbs and more. This meal can be eaten as a side dish or main meal and is budget friendly and perfect for spring, summer and cookouts.
Ingredients
8 oz. dry whole wheat penne pasta or fusilli
1 can chickpeas, rinsed but save the liquid for dressing
1 cucumber, cubed
1 pint (40) cherry tomatoes
1 avocado
dashes of pepper
1/2 t salt
2 t balsamic vinegar
Instructions
Cook pasta according to the package instruction, then rinse with cold water until cool.
In the meantime cut the cherry tomatoes in half, cube the cucumber and 1/2 of the avocado.
For the dressing use the other half of the avocado and add to a blender with the liquid from the canned chickpeas, salt, pepper, balsamic vinegar, and herbs. Blend until smooth.
Add all ingredients in a large bowl and mix in the dressing. Each serving should be around 2.5 cups.
Notes
21 day fix: 2 yellow, 1 1/2 green, 1 blue, 1/2 red, 1 tsp. You can use only 4 oz of the dry pasta and count 1 yellow.
Nutrition Information:
Yield:

4
Serving Size:

380
Amount Per Serving:
Total Fat:

8.7g
Cholesterol:

0mg
Carbohydrates:

66g
Fiber:

12g
Protein:

14g