How Kate is Treating Her Rheumatoid Arthritis with a Plant-Based Diet
Today, I would like to share a father's journey in finding treatment for his daughter's rheumatoid arthritis.
If you suffer from this yourself, or if you know anyone who does, please read this interview I had with Christian. Feel free to share this with your friends, comment below, or ask Christian questions (find his contact info at the end of post).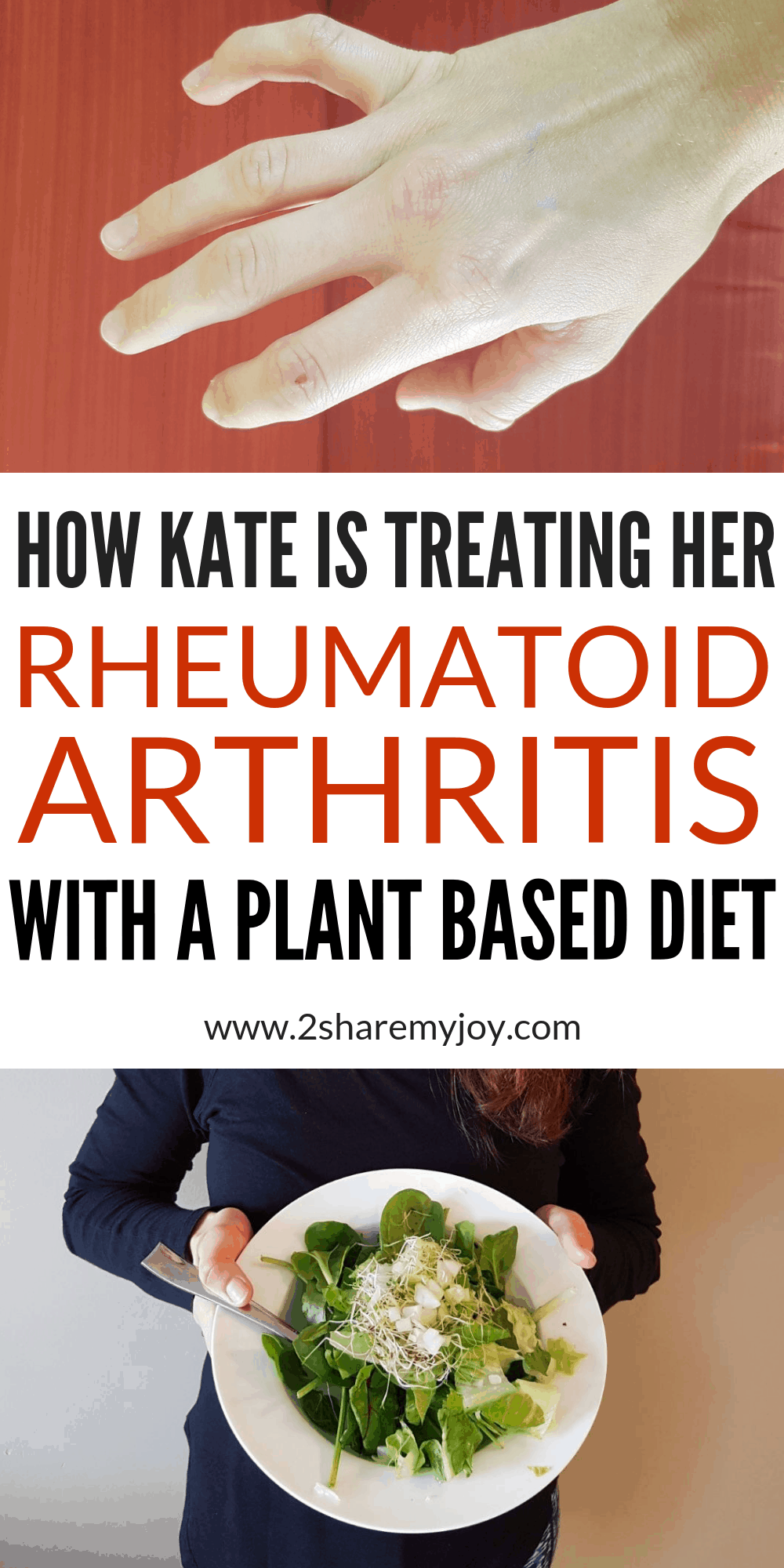 How Kate Treated Her Rheumatoid Arthritis With A Plant Based Diet
#1 Please give us a (little) background about yourself and why you began a plant-based diet.
In short, in 2007 my daughter Kate was diagnosed at the age of 14 with Rheumatoid Arthritis after she had complained about pain in her shoulders and other joints.
Since I am a big believer in household remedies I went on a mission to find a cure/treatment away from all the drugs she was on. After years of visiting at least 15-20 alternative healthcare practitioners and countless hours spent researching on Google and other means I finally came across a naturopathic doctor in 2013 who said that she needs to look at what she eats. This led us finally to the Whole-Food Plant-Based (WFPB) lifestyle.
Following a more detailed synopsis.
I'm a German (now 58) who moved to Canada in 1999. Father of three children, Kate (25), Vivienne (22) and Nicholas (21).
In March 2007 Kate (then 14) was diagnosed with Rheumatoid Arthritis at the Hospital for Sick Children (Sick Kids) in Toronto, Canada. She had started to complain about pain in her joints in January 2007. Her local pediatrician referred her to SickKids. She was put on the following medications:
Prednisone: an immunosuppressant drug

Methotrexate: an immunosuppressant drug that is used to treat cancer and R.A.

Folic acid to combat mouth sores brought on by Methotrexate

Naprosyn for pain

Omeprazole to combat side effects of Naprosyn (upset stomach/pain)

Iron tablets as Kate was slightly anemic
Immediately I went on a mission to find a cure/healing for Kate away from these drugs with all their known, and worse – future, unknown side-effects. I myself grew up in an environment of using household remedies to treat illnesses or ailments. (Example: When I experience the onset of a cold, I go to bed with lots of blankets and sweatshirts on and drink warm beer – this promotes sweating and many times my cold disappears.)
Kate's mother and I would get in big arguments on how to help and treat Kate. She was of the belief that only a doctor who has a seven-year med-school education can help her and that they will find a cure with drugs down the road eventually. I, on the other hand, do not believe that there was ever a drug invented or developed which can actually cure a disease. I feel most diseases these days are "man-made" through our environment or in what we eat.
So, I researched and researched and "dragged" Kate along to visit alternative health professionals, like homeopathic doctors, chiropractors, herbalists, blood-analysts, practitioners of traditional Chinese medicine, naturopathic doctors and of course some quacks along the way. Some of these health-practitioners should have said in the beginning that they don't have any knowledge about auto-immune diseases or Rheumatoid Arthritis. However, they ALL said that they can treat her.
We traveled all over Ontario (Canadian province, we live about 100 miles east of Toronto). I think we saw about 15-20 of these health–practitioners. To give an idea of how large Ontario is: It is 1.5–times larger than Texas, 6.3–times larger than Florida and 34–times larger than Maryland and about 3 times larger than Germany (my home country).
Then, one day in February 2013, I met a Lady named Louise at a networking event hosted by our local Chamber of Commerce. About three months later I saw her again at another networking event and she looked different. She obviously had lost some weight and she looked more energetic. I approached her by saying: "Wow, Louise, you look great." – She said: Thank you, Christian. I feel much better these days.
She went on to tell me that she had experienced for many years a lack of energy, headaches, pain in her knees, etc. and no doctor could really help her. Then someone referred her to a woman in town who specialized in food–allergies. This woman put Louise onto a different meal–plan cutting out certain foods.
Louise told me: "Christian, in a matter of weeks eating differently, my pain in the knees disappeared, my headaches were gone, I have now way more energy and the beautiful side-effect is that I had lost about 25 lbs." She smiled all over her face. I immediately asked her for the name of this woman, her name is Jill D.
The very next day I called Jill D. and I asked her: "Do you have experience or knowledge to help with R.A.?" She said no. Why? So, I explained Kate's condition and then she referred me to Dr. Jason Lee, ND in Oakville, Ontario, about 2 hours drive away from my place. I called the office of Dr. Jason Lee (that was in May 2013) and we got an appointment with him in August.
Coming closer to August Kate almost did not want to come with me because she and her mom became quite frustrated after we have seen so many other alternative doctors before. But, the minute we arrived at Dr. Lee, Kate had an instant connection with him. After muscle-testing and other diagnostic procedure he recommended her to go on an elimination diet. In her case no more wheat and wheat products and no more processed food with hidden sugars and reduce meat intake.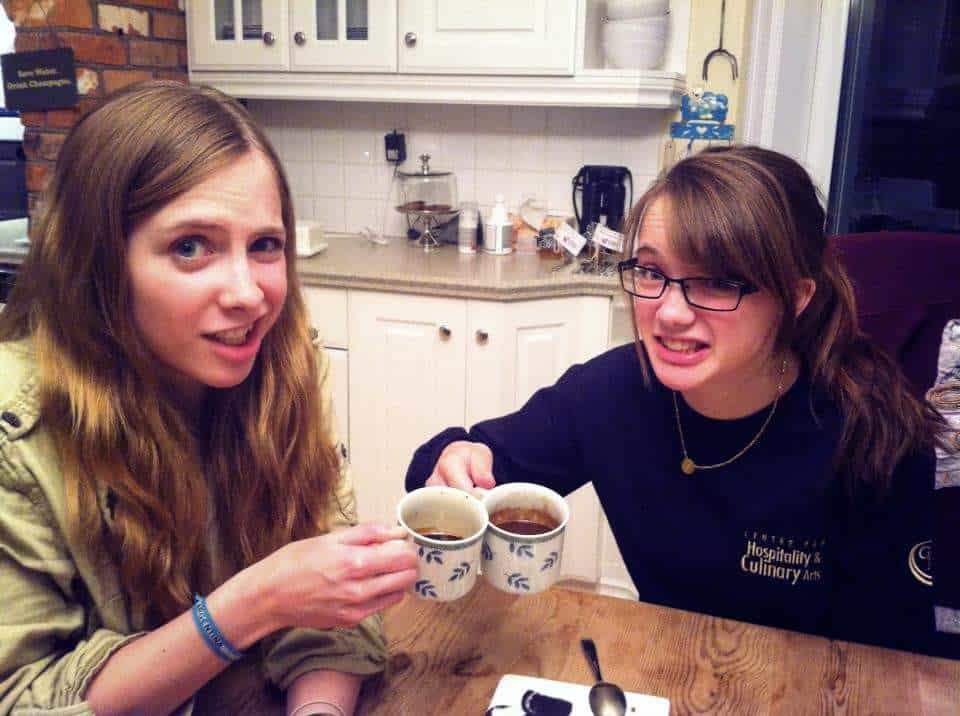 She started to experience immediate results, way less acid–reflux and heartburn. He recommended me to read the book: The China Study by T. Colin Campbell and Thomas M. Campbell. This eventually led me to the work of Dr. John McDougall, MD in California and to Clint Paddison from Australia.
Both men have breakthrough success healing/curing patients with Rheumatoid Arthritis.
And then in September 2017 Kate and I flew to one of Dr. John McDougall's workshops in Santa Rosa, California. That was the final step to move forward with plant-based eating.
#2 What experiences and benefits did you get from starting a healthy vegan diet?
Kate's conditions improved, like way less acid–reflux and heartburn (these issues became almost worse to deal with than the pain of her R.A.). However, since she loves so many different kinds of food (she calls herself a "foodie") she has a hard time going fully 100% plant-based. Additionally, her job as an event planner makes it difficult to prepare in advance when work hours are long and unpredictable. But, she embraces this new cooking and we share many new recipes.
For me, the 53-year-old man at the time in 2013, I started to adopt plant-based eating, but not to 100%, I have to admit. I felt I need and want to go with Kate the same route to morally support her.
I had already quit drinking milk at least 10 years before. Now I do not eat any more processed food, like frozen pizza. I do not eat in fast food places at all and I do not drink any kind of pop, like Coke, etc.; only water, wine, and beer and no hard liquor. In the morning, one cup of black coffee or an espresso without any sugar. I do not eat any chips or crackers, etc. and no more bacon and eggs for breakfast.
I lost about 25 lbs. And gained a lot of energy. I feel way better today at 58 than at 48.
I don't even know the last time I was sick with a cold – it must be at least a few years now. I do NOT take any medications or supplements. And over the past year or so clients, friends, and other people have complimented me on how good or healthy I look.
I still eat meat once in a while, but I see it as a treat for the taste. Basically, like the people do in each of the 5 Blue Zones (Book: The Blue Zones by Dan Buettner) – twice or three times a month only.
#3 Where did you find essential information about a plant-based diet?
… and many more
TV-Documentaries like "Forks over Knives", "What the Health" and other …
And any article I come across about research and benefits of whole-food plant-based eating. I also joined a few Facebook groups with like-minded people.
#4 What tips would you give individuals who are thinking about starting a plant-based diet?
Watch "Forks over Knives" at least three times and then "What the Health" and other food documentaries you can find on Netflix or the internet.

Read a few of the above books and most important find as quickly as possible "like-minded people". It is very hard to try and adopt a "clean vegan lifestyle", like plant-based, when everyone in the family stays with "steak and potato".

Find local Facebook groups and attend plant-based cooking classes in your area.
#5 What were some obstacles when you switched to a plant-based and how did you handle them?
As mentioned before – if your family and friends do not adopt the same lifestyle or interest it IS very hard to follow through.
I speak from personal experience. I have the 100% conviction that plant-based eating is the best for our body and also for our planet. There is so much evidence out there that most disease can be reversed by eating plant-based, especially Type 2 Diabetes, heart diseases and arthritis. But people will not believe you or these reports – what I keep saying now is "it works for me".
I now do public talks and share the story of my daughter Kate and I keep receiving testimonials where people thank me for the presentation and some started to think about their health.
Canada spends about 5–times more from their federal budget on healthcare versus the defense budget and the USA 10–times more than their defense budget. It should be called "Disease–Care."
We need to educate the public step-by-step. The Food system is in the wrong hands – too many lobbyists from the meat and dairy industry.
#6 Is there anything else you would like to share with us?
I think (what I've said) before says it all.
If you have any questions about this, you can contact Christian via email (don't be shy to ask anything): [email protected]
Testimonials from Christian's speeches
"Christian, I can hardly believe it. I just had an appointment with my family doctor to check my blood pressure. It has come down significantly since switching to a mostly plant-based diet. So much so that my doctor expects that in a few weeks she'll be taking me off one of my med's! I also showed her how the swelling has gone down in my finger joints. Luckily my doctor is also a huge advocate of WFPB-eating, and eats that way herself. I'm so happy – thank you very much!"

K., April 12 2018

"Hello Everyone, I just wanted to thank Christian for his presentation last night. It took a lot of courage to open up about some personal struggles that him and his family went through and to top this off, Nutrition is such a sensitive subject. Christian I can see that you are that you are passionate about health, and I appreciate the information that you gave to the group. I truly believe that I do not only speak for myself when I say this, but you are a great father to your kids, a great Kiwanian, but most importantly a great friend to all of us. Cheers to you my Friend, Chris."

– Christopher R., April 13 2018
"I think the way you presented Kate's journey as an example of the power of changing what we eat was very powerful and hopefully can plant to seed of possibility in others. … it was a great presentation. Your energy level towards it was so positive and I think as an observer this is infectious."

– Holly T., April 14 2018
DISCLAIMER: Christian is not a healthcare provider or a medical doctor, nor does he want to be perceived as one of the above. He is just a caring father who is passionate about the health of his family and likes to educate and inform others about what has worked for his family.