Creamy Hummus Dressing from Scratch (Vegan, Oil Free)
Creamy easy hummus dressing that is homemade and vegan. One serving contains 123 calories and 6 g of protein. This oil free dressing is great for buddha bowls, wraps, salads, and more.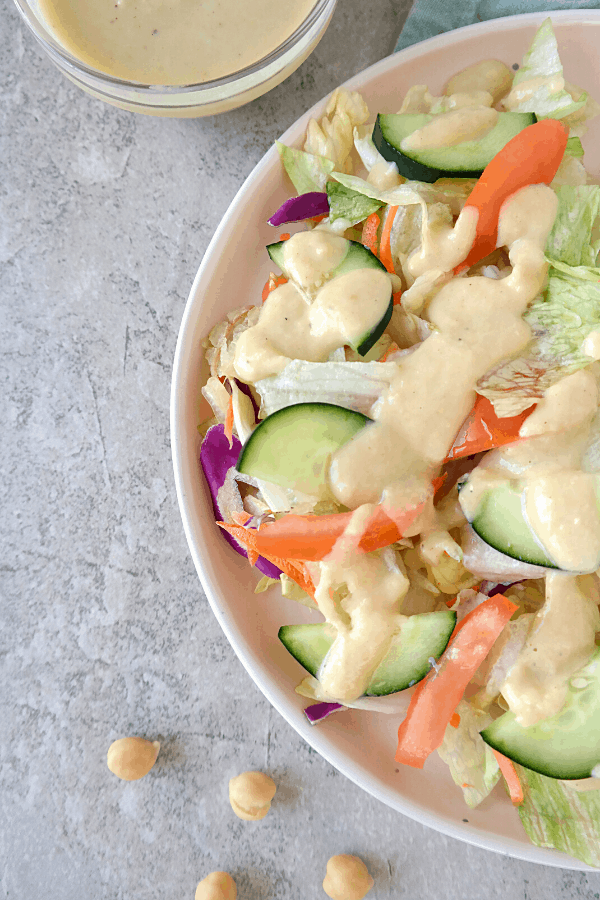 Using hummus as a salad dressing is just a super simple way to make a creamy dressing, whether you use it for a hummus salad or choose to make buddha bowls and wraps. I like to use it for my vegan rice salad.
If you want to make this hummus salad dressing recipe even more simple you can use store bought hummus on your salad. Because I like my recipes as whole food plant based as possible, I made this dressing from scratch. If you choose to make this from scratch, you are still using less than 10 ingredients for the hummus sauce and all ingredients are easy to find.
If you can't get tahini, try using unsweetened peanut butter instead!
Nutrition of the Hummus Salad Dressing
The dressing makes either two servings for two large salads or four servings for small side salads. One serving (half the recipe) contains 123 calories and 6 g of protein, which makes this a high protein salad dressing!
It is also rich in iron, zinc, B-vitamins, and folate.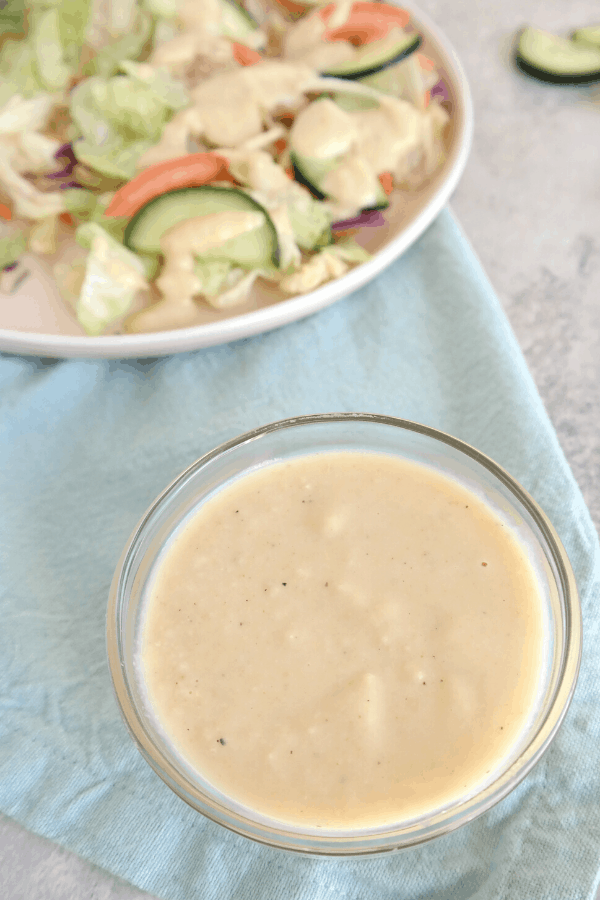 To build a nutritious salad, use dark leafy greens, a plant based protein source, and plenty of vegetables. You can also add cooked quinoa for added protein and fiber. Add avocado, nuts, or seeds as an added source of fat.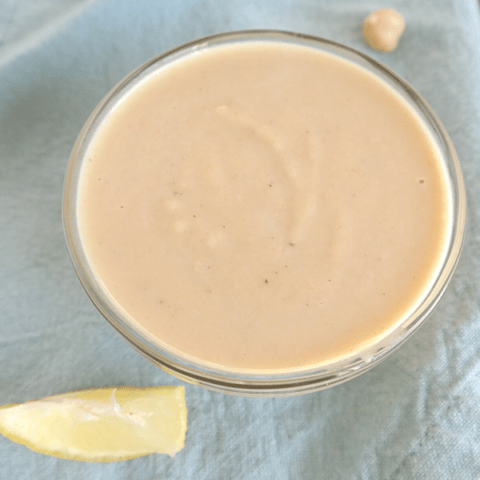 Creamy Hummus Dressing from Scratch (Vegan, Oil Free)
Ingredients
3/4 cup chickpeas (cooked)
1 lemon, juice
1/2 cup water
1/2 tsp salt
1 tsp garlic powder
pepper to taste
Instructions
Add everything into a blender and mix until smooth.
You can increase the spices as desired and add more water if you want a thinner consistency
The nutritional value is for half the recipe. This dressing is enough for two large salads or four smaller side salads.
Nutrition Information:
Amount Per Serving:
Calories:

123
Total Fat:

3g
Carbohydrates:

19g
Fiber:

5g
Protein:

6g