Pineapple Spinach Broccoli Smoothie (v, of, gf)
Pineapple Spinach Broccoli Smoothie that is high in omega 3 fatty acids, vegan, oil free, and gluten free. With 8g of protein, this healthy green smoothie makes a perfect fitness snack.
Looking for a tropical smoothie that contains vegetables?
There are many benefits when choosing a plant based diet and that is why I love sharing vegan recipes that provide balanced nutrition, are budget friendly, easy to prepare, and delicious.
You don't have to call yourself vegan to try this plant based smoothie recipe. This green smoothie is high in protein AND fiber and comes with great nutritional value as you can see below. The best part: you don't need to buy any fancy protein powders! Therefore, this smoothie is pretty frugal and easy.
You will need:
1 cup (1 inch slice) pineapple chunks
1 cup coconut milk (low fat)
1 hand full / 1 cup baby spinach
1 cup broccoli
2 T chia seeds
I love to include veggies in my smoothies, especially spinach. It is easy to eat broccoli or other hard vegetables with some dip during the day as a snack. Spinach, on the other hand, is a little harder to include in a daily diet so I try to drink a green smoothie everyday.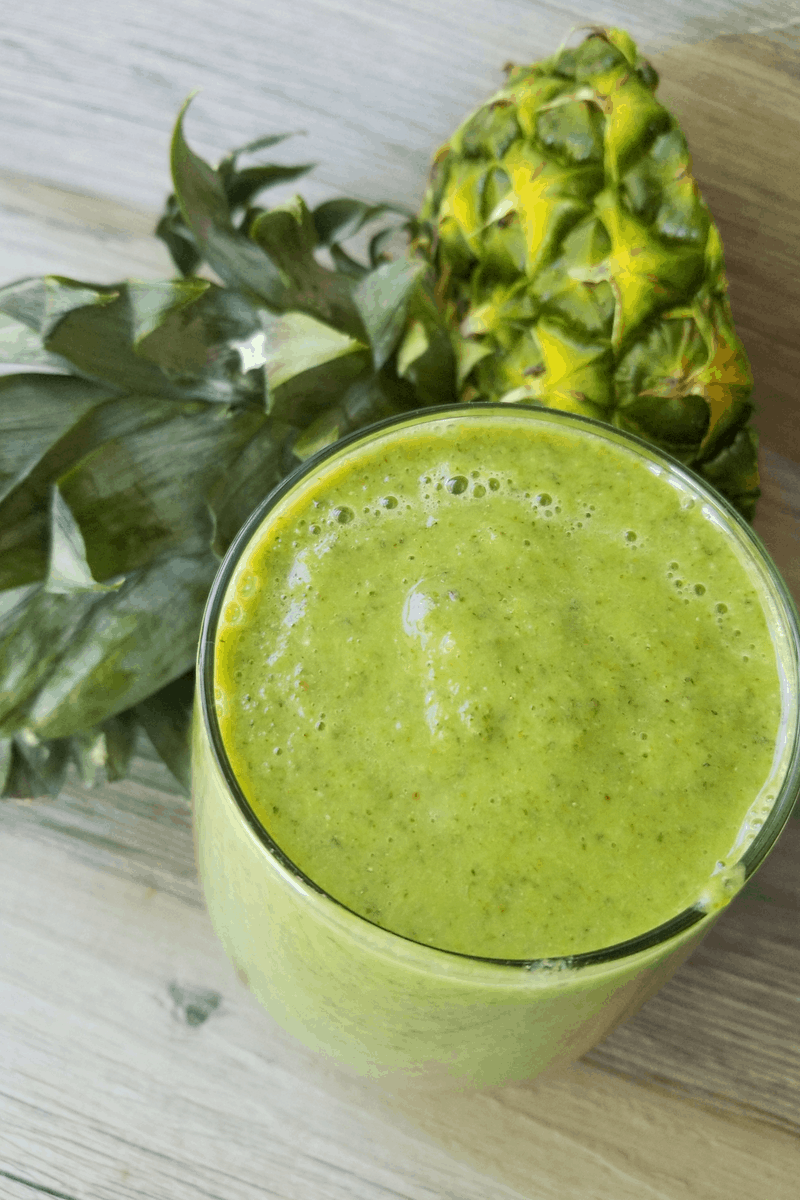 To make a green smoothie taste good you simply have to pick a citrus fruit or add more fruit than vegetables. I like to use pineapple or oranges with my green smoothies. You won't taste the spinach or broccoli. If you do, add more of the fruit and if the smoothie turns out too thick add more coconut milk or water. I also use the low fat (boxed) coconut milk, not the canned one. You could probably also use coconut water.
Nutrition of the Pineapple Spinach Broccoli Smoothie
I like to use cronometer.com to track my nutrition and my Pineapple Spinach Broccoli Smoothie contains 260 calories, 38g carbs, 11g fat, 8g protein, and is very high in important vitamins and minerals (see picture below).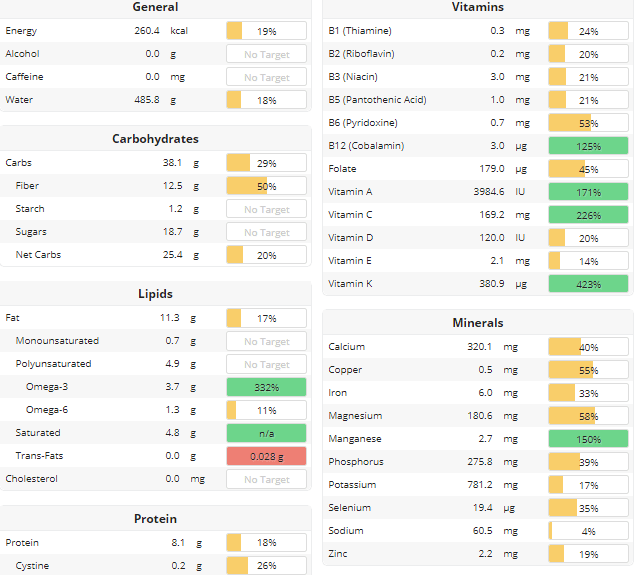 You always want to achieve a ratio of 4:1 or better on omega 6:3. Omega 3 fatty acids are anti inflammatory and if you consume too much omega 6 and not enough omega 3 you could experience inflammation in your body. The typical American diet contains too much omega 6 from cheap oils that is hidden in processed foods or fast food. This smoothie will help heal and nurture your body!
Benefits of Smoothies
Fitness and staying healthy are my passions. Smoothies really help me get better nutrition and boost my immunity. Here are more reasons to drink smoothies:
Boost your immunity
Easy way to include more fruits and vegetables
Get better nutrition
Stay or get healthy
Feel more energized and fit throughout the day
Higher intake of fiber, minerals and vitamins
Show you ways to make healthy snacks (2go)
Find more healthy plant based smoothies in the Meal Planner>
[seo_recipe id="7560″]