Thai Noodle Soup Recipe (high protein, vegan, oil free)
Easy vegan Thai noodle soup recipe that is high in protein (27g), gluten free, and oil free. Great plant based weight loss friendly dinner meal that can be done in one pot and within 20 minutes.
On my last Aldi haul I didn't only find a nice office chair, I also found a new organic pasta line: Simply nature edamame spaghetti (other options available).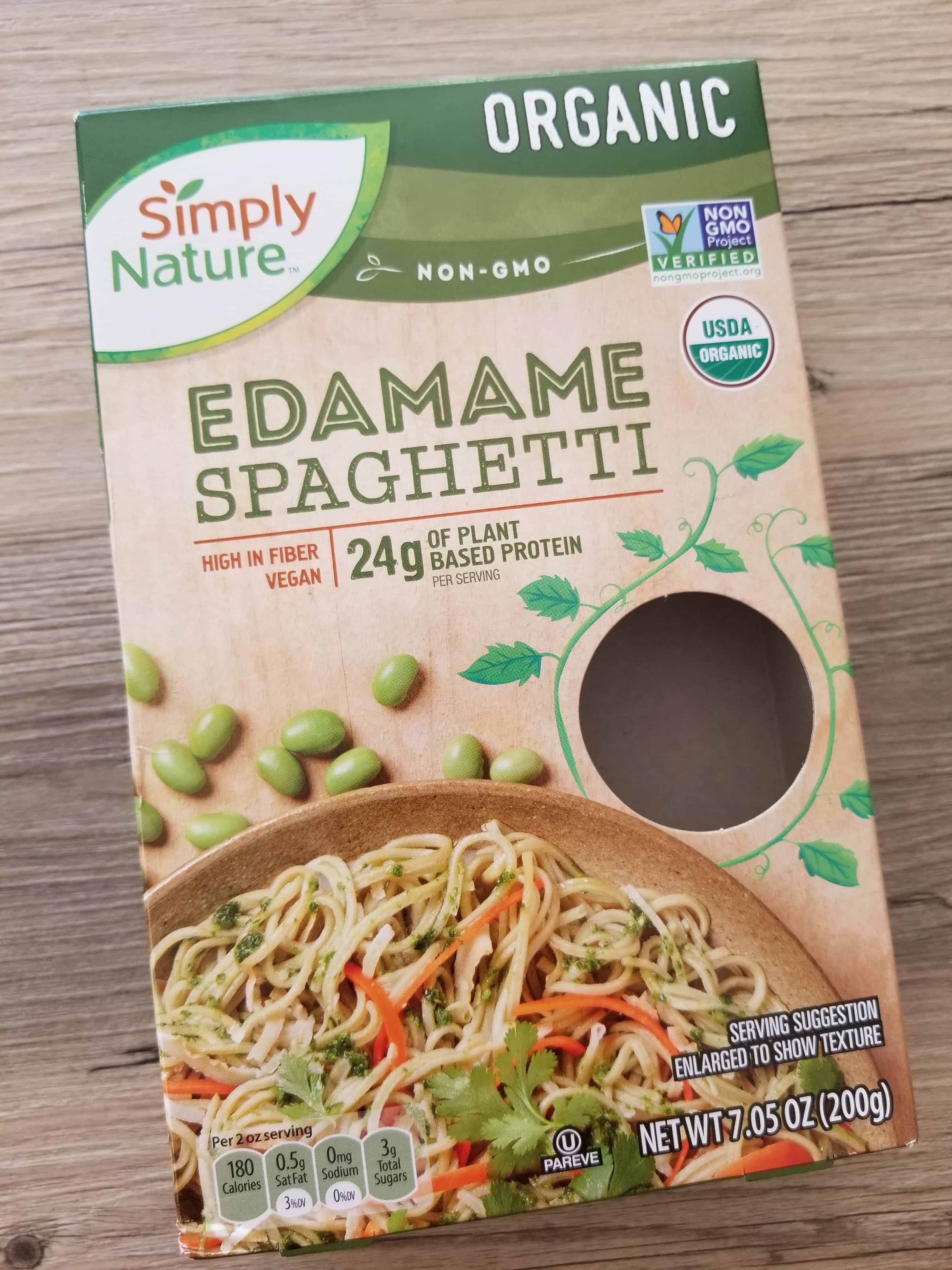 Edamame is a soy bean and has the benefit of complete and high protein content. It is also high in fiber, iron, and potassium. Its a clean and nutritious pasta replacement, especially for gluten free eaters.
Now don't get too excited because you can definitely tell its not wheat pasta. While the edamame pasta is super nutritious, it takes a bit of time to get used to. If mixed into a one pot meal with other flavorful ingredients (like today's recipe), the soy bean pasta is a great addition.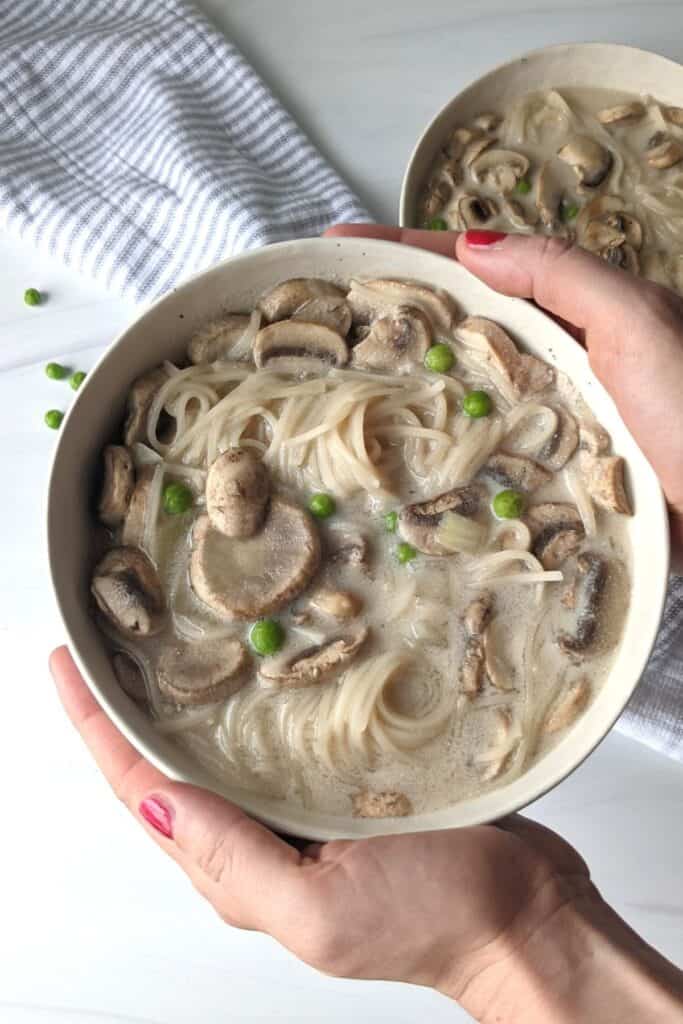 I highly recommend trying it out. The recipe below only uses half the package. If you would rather stick with Asian rice noodles please see the recipe adjustment recommendations in the recipe box.
You can also find edamame spaghetti on Amazon, but right now it is much cheaper at Aldi.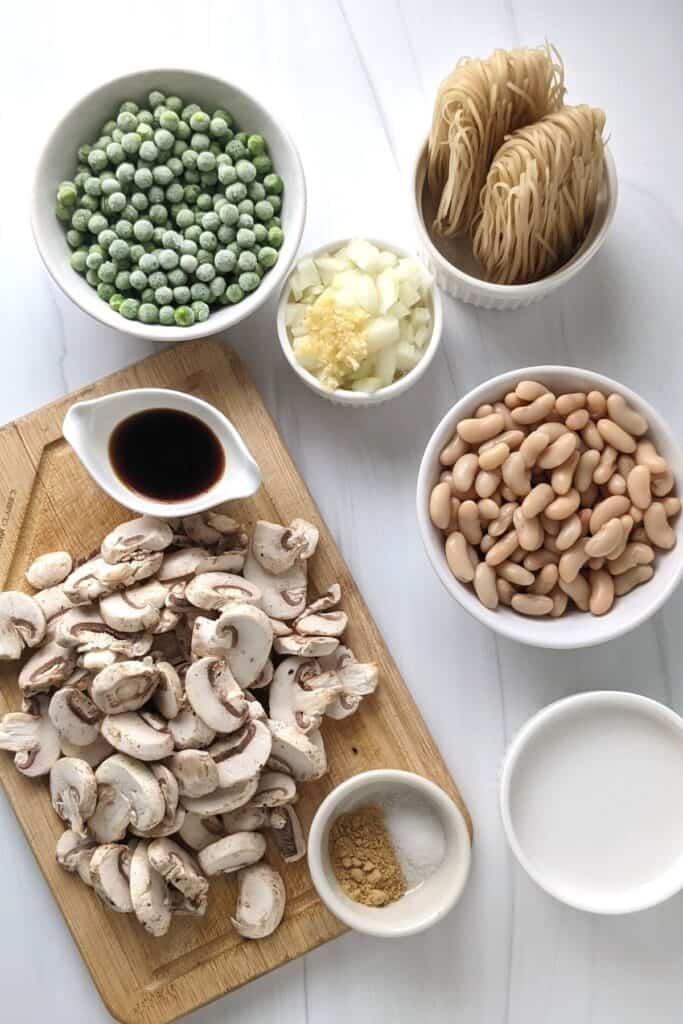 Nutrition of the Vegan Thai Soup
Follow the ingredient list of the recipe and you'll find one serving of the vegan Thai noodle soup contains 350 calories and over 27g of protein.
If you replace the edamame pasta with rice noodles, I suggest adding another can of great northern beans to the recipe to increase protein to 24g and calories to 460.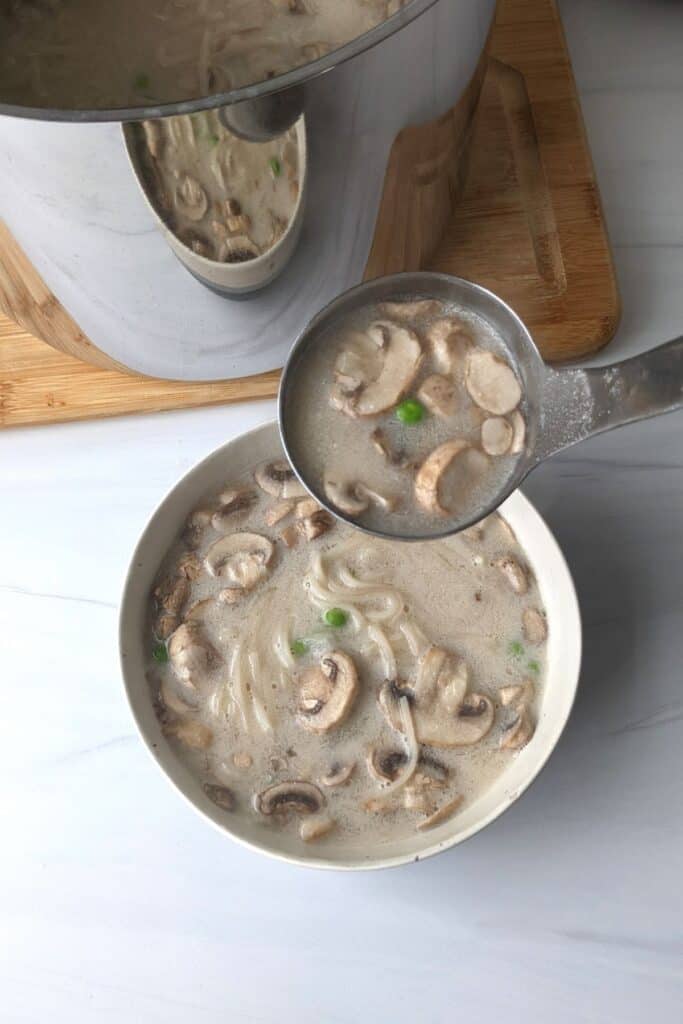 This recipe is high in iron, potassium, vitamin A, B-vitamins and more. This is a great low calorie weight loss meal with high nutritional value, while still low in sodium. The turmeric and ginger also give this recipe anti-inflammatory benefits.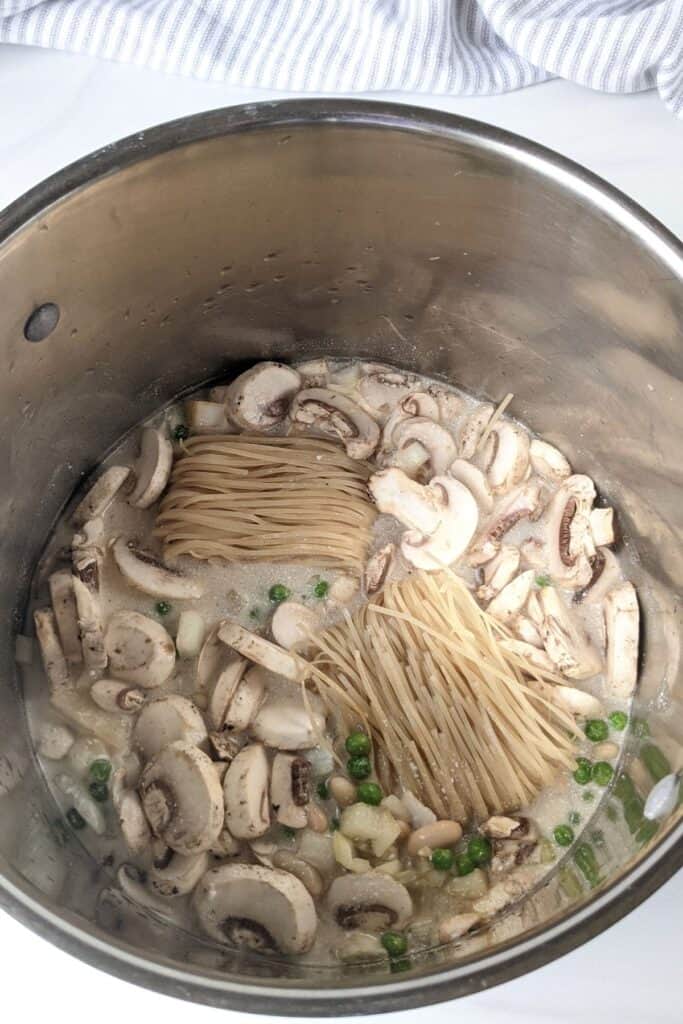 Cost of the Thai Soup Recipe
1 can coconut milk, full fat $1.59
1 bundle cilantro $0.89
1/2 onion, chopped $0.12
seasoning $0.50
1 can great northern beans $0.49
2 cups frozen peas $0.80
16 oz/2 boxes sliced mushrooms $2.18
4 oz edamame spaghetti (half the bag) $1.45
One serving of this recipe is about $2.00 per serving. Please note these numbers depend on season and store. I got all my ingredients at Aldi and made this meal in March. Also, I only calculated the price based on the items I used, not on the bulk I bought. You can use the leftovers for other recipes.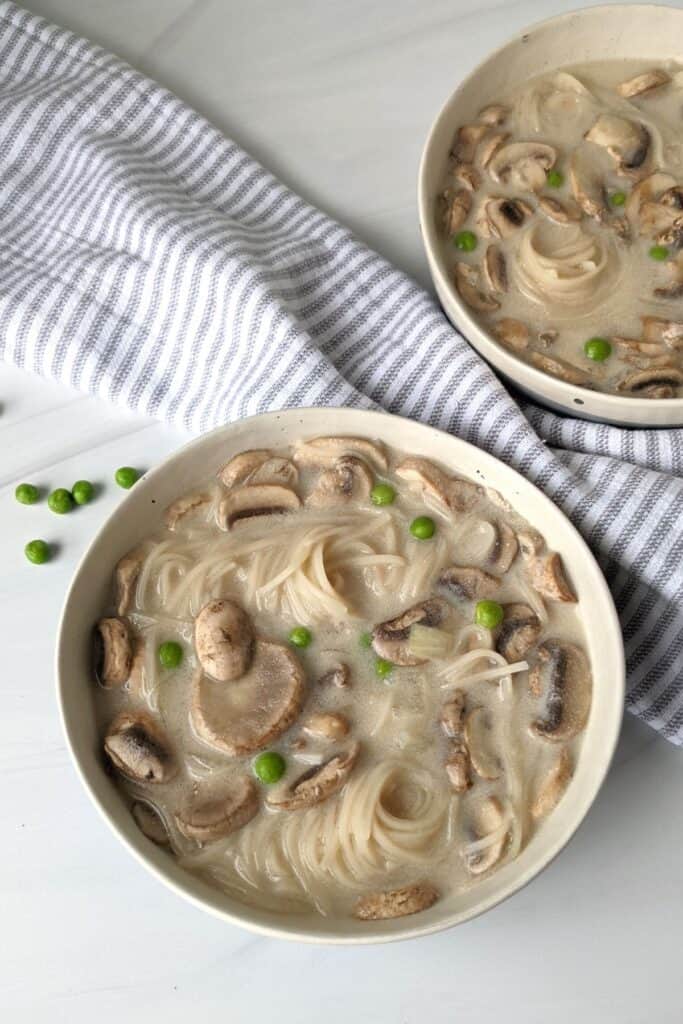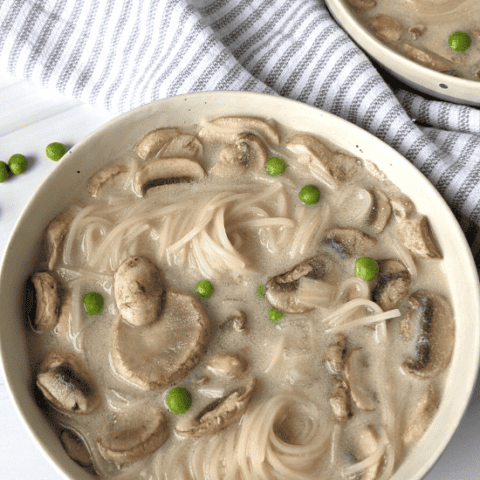 Easy Vegan Thai Soup (high protein, gluten free, oil free)
Easy vegan thai noodle soup recipe that is high in protein (27g), gluten free, and oil free. Great plant based weight loss friendly (350 calories) dinner meal that can be done in one pot.
Ingredients
1 can coconut milk, full fat
1 bundle cilantro (leaves)
1/2 onion, chopped
2 cloves garlic, pressed
2 cups vegetable stock
6 cups water
3 tsp soy sauce, low sodium
2 cans great northern beans
1 cup frozen peas
16 oz. (2 boxes) sliced mushrooms
1 lime, juice
7-8 oz. brown rice noodles (or 4 oz. edamame spaghetti)
3 tsp fresh ginger root, ground (or 1 tsp dried ginger powder)
1 tsp salt
Instructions
Add all ingredients to a large pot and set the heat to high. Add a lid to the pot.
You can add boiling water from a water cooker to speed up the cooking process.
Once the soup starts boiling, reduce the heat to medium and let simmer for about 10 minutes.
Stir occasionally.
Add more water and spices if desired.
Notes
The nutrition facts are with 7 oz. brown rice noodles and 2 cans of great northern beans. If you use the edamame noodles your protein content will increase.
Nutrition Information:
Amount Per Serving:
Calories:

525
Total Fat:

7.7g
Cholesterol:

0mg
Carbohydrates:

93g
Fiber:

13.9g
Protein:

25g