Easy Vegan Caesar Salad Dressing (oil free)
Simple vegan Caesar dressing that is oil free and made with healthy whole foods (117 calories per serving).
Do you love creamy salad dressings?
I do love a good salad dressing! It can be a pain to make homemade salad dressings, and I certainly mix up some less enjoyable dressings from time to time. On my journey eating whole food plant based meals I make sure to cut back on oilsoften. So I was wondering how I could make a delicious salad dressing without oil.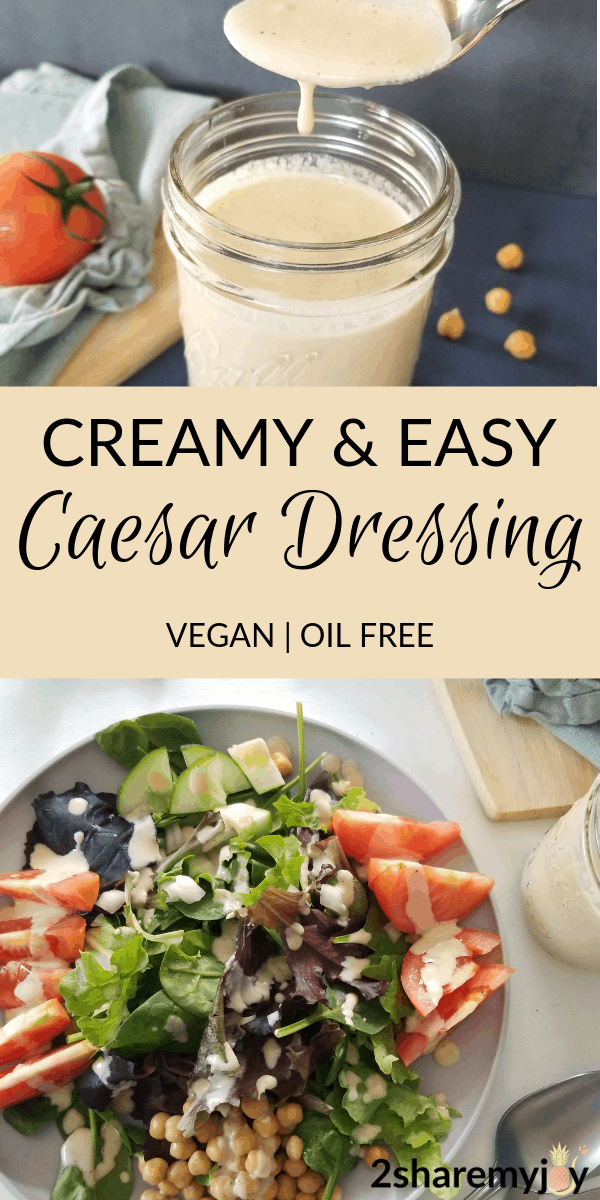 After a few failed recipe attempts, I finally got it right. Now, I would like to share this delicious, creamy, gluten free, dairy free, vegan, oil free Caesar salad dressing. The original Caesar dressing calls for Parmesan, eggs, and anchovies. This vegan Caesar dressing avoids all these and is filled with simple whole food ingredients.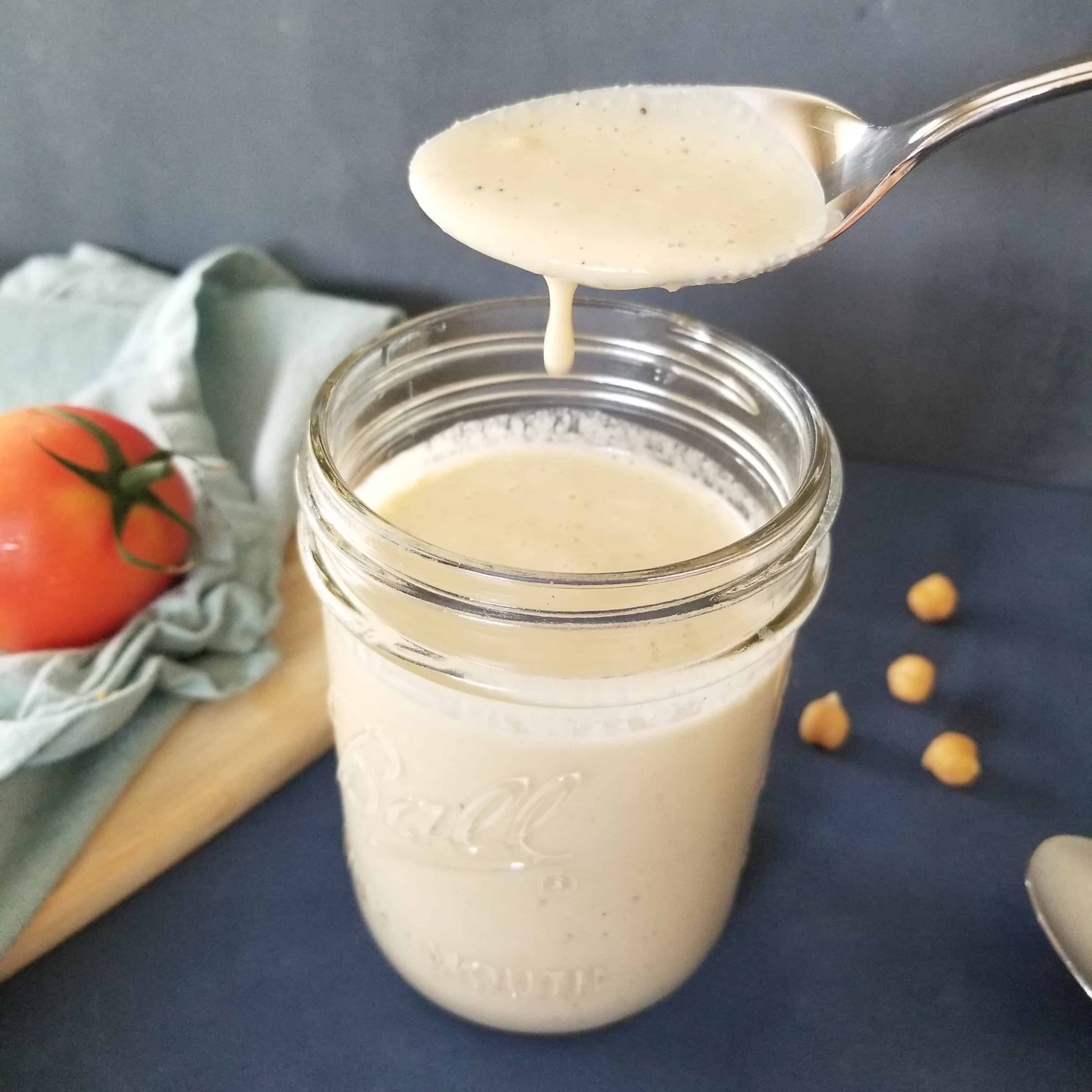 You can mix your salad however you'd like. I find it most nutritious to add chickpeas, spinach, and lots of raw veggies to my salad. You can also add cooked quinoa or vegan croutons.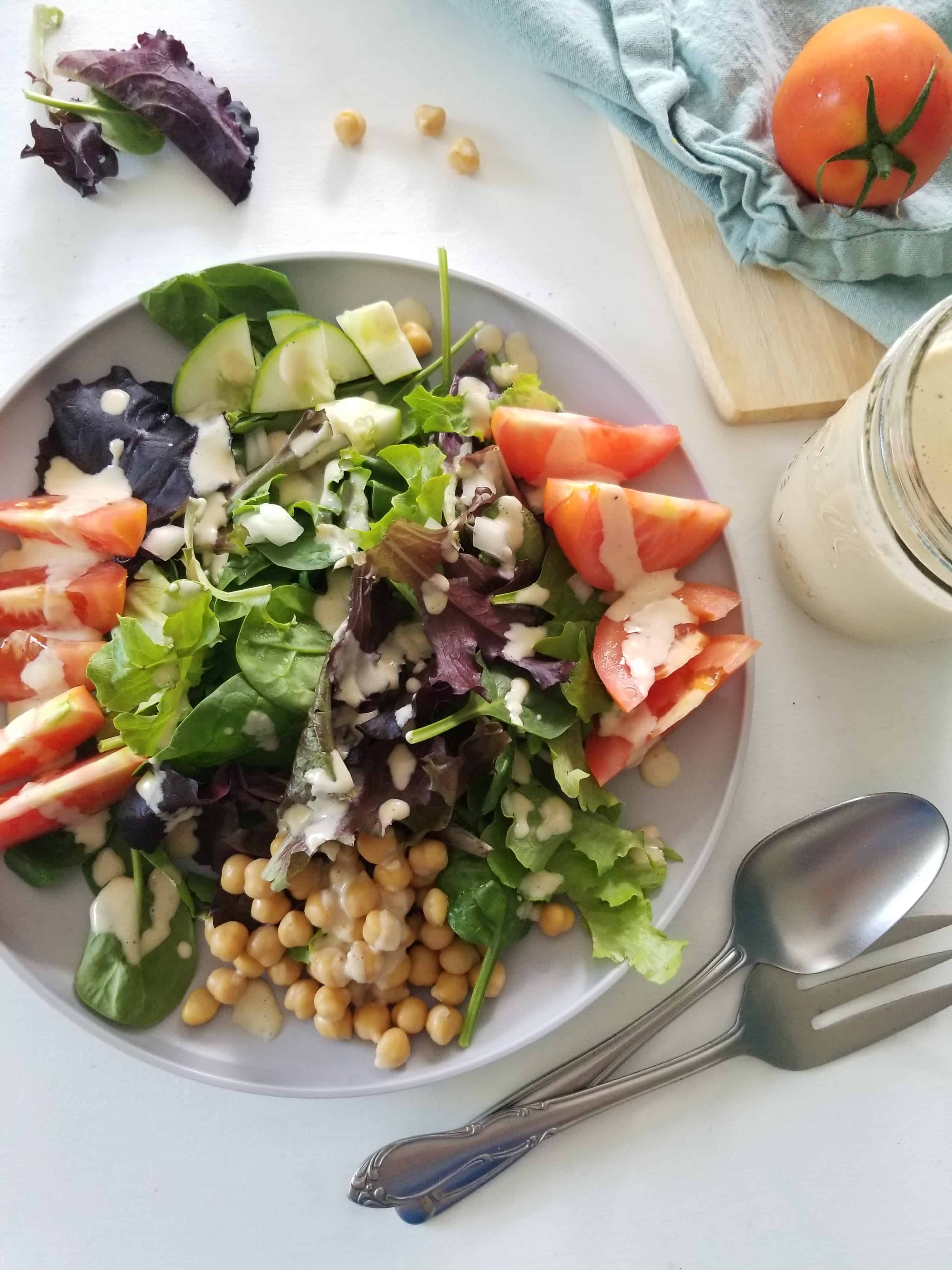 Here is my suggestion for putting together a healthy salad:
1 cup spinach
2 cups spring salad mix
0.5 cucumber
0.5 cups shredded carrots
2 tomatoes
0.75 cup boiled and rinsed chickpeas
1/5th of the vegan Caesar dressing
This recipe equals 400 calories and makes a perfect light lunch. It contains 17 g fiber, 12 g fat, 19 g plant based protein, and is high in iron, zinc, B-vitamins, Vitamin A, C, and K.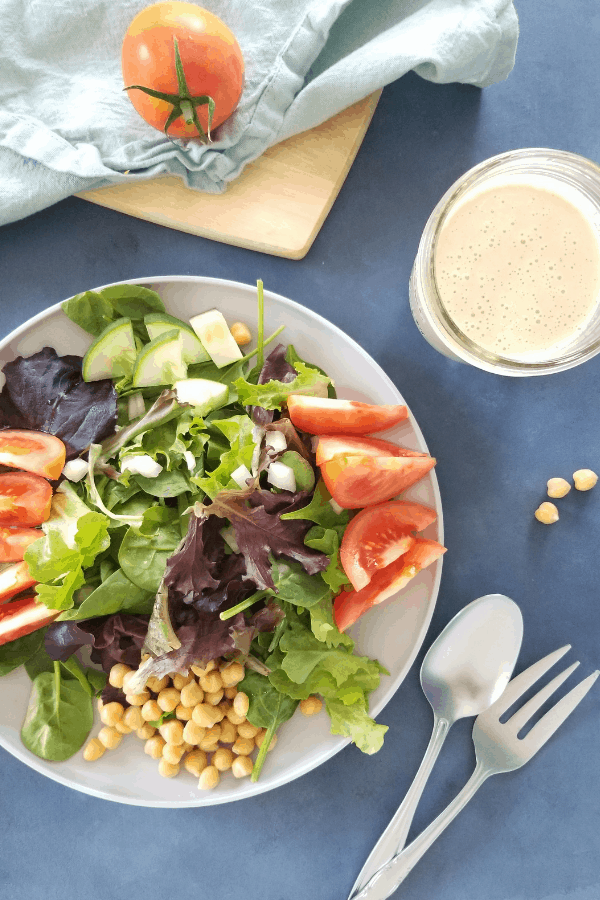 This recipe makes 5 servings of dressing for a medium sized salad which is perfect for a work week meal prep! Simply divide all the dressing into 5 small containers and prep all veggies ahead of time. You can store this plant based Caesar dressing in the fridge for one week.
I used apple cider vinegar in the recipe instead of lemon juice and I also think using garlic powder gives the dressing a better taste than using fresh garlic. The fresh garlic overpowered the taste of the other ingredients too much. It is pretty amazing how this dressing still feels 'cheesy' or a bit 'fishy' even though it is all plant based.
Other recipes call for nutritional yeast and other ingredients that are harder to get. This one is super simple with easy ingredients.
If you are feeling too lazy to make your own dressing you can actually buy vegan Caesar dressing here. But the homemade one is much healthier!
Tip: The Caesar dressing also makes a great dip for your favorite chips and veggies. If you like this recipe, check out my vegan oil free ranch dressing!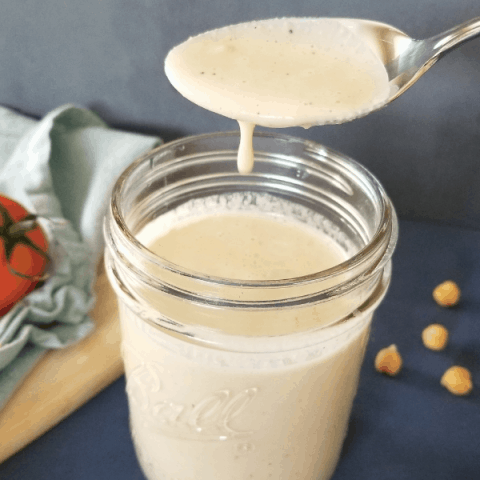 Easy Vegan Caesar Salad Dressing (oil free)
Additional Time:
5 minutes
Simple vegan Caesar dressing that is oil free and made with healthy whole foods (117 calories per serving).
Ingredients
3/4 cup water
1.5 t apple cider vinegar
1.5 t Dijon mustard
1.5 t garlic powder
1-1.5 t salt
5 dashes of pepper
1.5 t maple syrup
Instructions
cover the cashews with water and soak for 10 to 15 minutes.
In the meantime, prepare all your veggies. You can use this Caesar dressing on any salad and vegetable.
Then drain the nuts and add all ingredients into a mixer and blend well (including the 3/4 cup of water). Drizzle the dressing over your salad and enjoy!
Notes
This dressing serves 5 medium sized salad. You can freeze the dressing in portion size and thaw the night before use. You can also make larger salads and use it within one week (store in fridge).
Nutrition Information:
Yield:

5
Amount Per Serving:
Calories:

117
Total Fat:

8.5g
Carbohydrates:

8g
Fiber:

0.77g
Sugar:

2.38g
Protein:

3.7g