Signs You are Losing Weight
Whether you're on a weight loss program or simply trying to lead a healthier lifestyle, understanding the signs you are losing weight can help you stay motivated and track your progress.
You may ask yourself "What will I notice when I lose weight?"
In this article, we'll explore eight unmistakable signs that you are losing weight and tips to maintain them.
8 Signs You Are Losing Weight
You may only notice one sign of weight loss, or all eight. Everyone's weight loss journey is different, and even noticing small signs of weight loss is a win!
So here are the eight signs you are losing weight:
1) Scale Victory
One of the most obvious signs of weight loss is a drop in numbers on the scale. Regularly monitoring your weight and seeing it decrease can be incredibly motivating.
However, it's important to remember that weight can fluctuate due to various factors like water retention and muscle gain, so don't be discouraged by minor fluctuations.
It is quite normal to have random scale spikes of a couple pounds here and there.
So here is how you measure progress using a scale correctly: Weigh yourself ever morning after using the bathroom.
Take the average weight per week and compare week 3 with week. This method will give you a more accurate progress insight.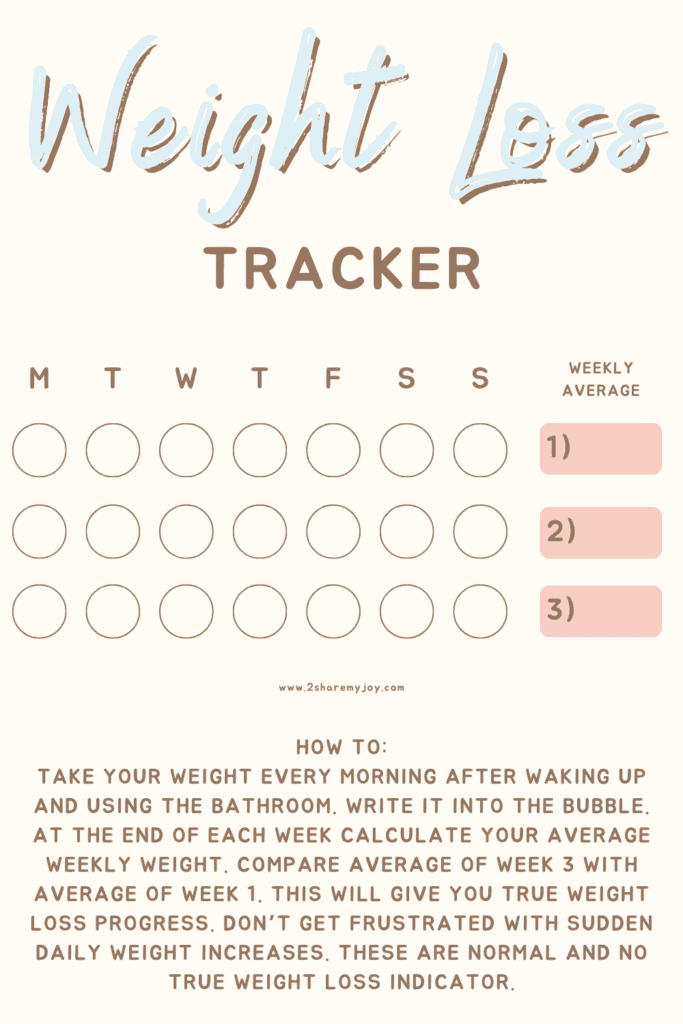 2) Improved Clothing Fit
As you lose weight, your clothes will start to fit differently. You may notice that pants and shirts feel looser, and you might need to tighten your belt or even buy smaller-sized clothing.
Even if you scale number doesn't budge, this tangible change in how your clothes fit is a great indicator of your weight loss progress.
3) Increased Energy Levels
Weight loss often goes hand in hand with improved energy levels.
When you shed excess weight, your body becomes more efficient at carrying out daily activities, and you may find yourself feeling less tired and more alert throughout the day.
This increased energy can make exercise and daily tasks feel more manageable.
4) Enhanced Physical Performance
Another sign you are losing weight is a significant boost your physical performance.
Whether you're into running, weightlifting, or any other form of exercise, you may find that you can run faster, lift heavier weights, or engage in more prolonged and intense workouts as your body becomes lighter and more agile.
However this is mostly due to the training plan that is followed during a weigh loss journey. You can very well enhance your physical performance without losing weight.
5) Better Sleep Quality
Weight loss can also have a positive impact on your sleep quality. Many people who lose weight report experiencing fewer sleep disturbances, reduced snoring, and improved overall sleep patterns.
And Vice versa, a study has shown that better subjective sleep quality increased the likelihood of successful weight loss by 33%, as did sleeping more than 7 hours per night.
Quality sleep is crucial for overall health and well-being, so this is a particularly valuable sign of progress.
6) Reduced Health Risk Factors
As you shed excess pounds, you'll likely reduce several health risk factors.
Lowering your body fat percentage can lead to improved cholesterol levels, reduced blood pressure, and a decreased risk of chronic conditions like type 2 diabetes, heart disease, and certain cancers.
Regular check-ups with your healthcare provider can help monitor these changes.
However it is to mention that you can be obese and metabolically healthy.
Matter of fact, between 10% and 30% of obese people are metabolically healthy (source). Which means they are obese according to the BMI scale, but have no issues with blood glucose levels, blood pressure, or cholesterol.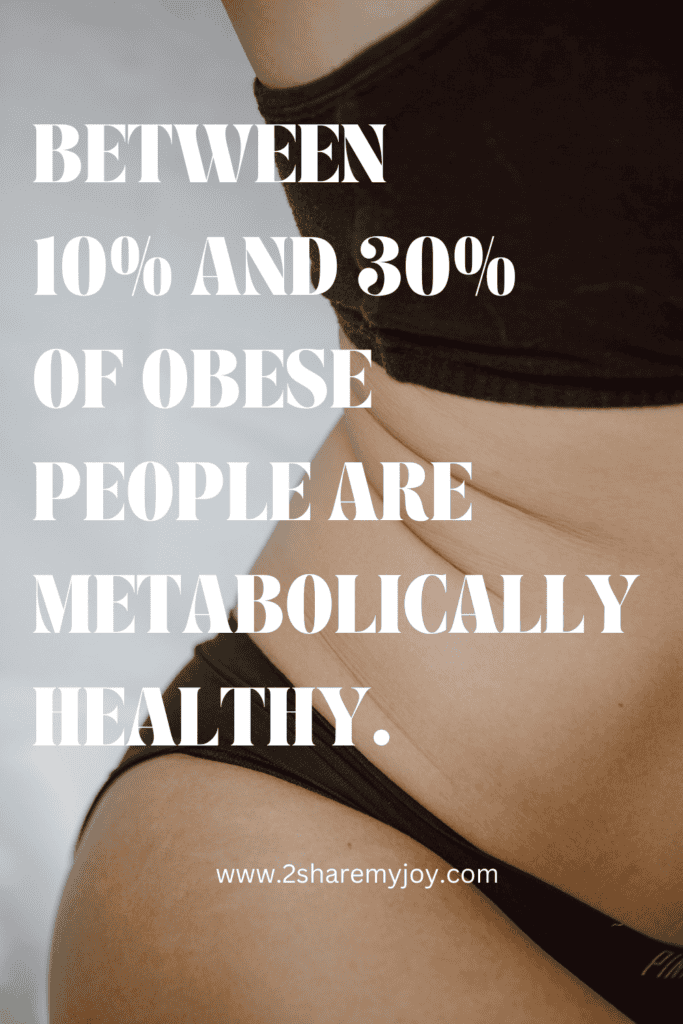 I just need to mention here that obese people may have a higher risk of developing these chronic conditions, but it does not mean you can not be obese and healthy. You can be active and eat a healthy diet and improving your overall fitness without necessarily losing weight.
Also check out: Workout for Obese Beginners (Low Impact)
7) Increased Confidence and Well-Being
Weight loss often brings about a significant boost in self-confidence and overall well-being.
As it is with achieving any set goal, achieving your weight loss or fitness goals increases a sense of accomplishment that can positively impact other areas of your life.
8) Signs you are losing weight: Weight Loss Plateaus
Paradoxically, a weight loss plateau can actually be a sign that you've made progress. It indicates that you've lost a significant amount of weight already, and your body is now readjusting to this new weight.
While a weight loss plateau can be discouraging, it's essential to stay patient and persistent. After losing weight, you may need to burn more calories. Here are 5 quick steps to get out of it:
Review Your Diet: Double-check your calorie intake and make sure you're still in a calorie deficit. Sometimes, portion sizes or hidden calories can creep in.
Check Your Exercise Routine: Make sure to increase your volume or intensity by 10% each week to challenge your body. You can also add walks to your daily routine to get more movement in.
Manage Stress and Sleep: Stress and poor sleep can contribute to weight loss plateaus. Prioritize stress management techniques and ensure you're getting enough quality sleep.
Stay Hydrated: Proper hydration can help reduce water retention and support overall health.
Be Patient: Remember that plateaus are a natural part of the weight loss process. Focus on overall health, not just the number on the scale, and stay committed to your goals.
Conclusion
Recognizing these signs of weight loss can help you stay motivated on your journey to a healthier, leaner you.
Remember that weight loss is a gradual process, and it's essential to celebrate small victories along the way.
If you're on a weight loss program, consider tracking your progress through measurements, photos, and journaling to better appreciate how far you've come.
And always consult with a healthcare professional or a certified personal trainer before starting any weight loss program to ensure it's safe and tailored to your specific needs.
Stay committed to your goals, and the signs of weight loss will continue to manifest as you work towards a healthier and happier you.
Tips to Maintain These Signs
Losing weight is an achievement to be proud of, but maintaining your progress is equally important. Here are some tips to help you sustain the signs of weight loss and enjoy long-term success:
Adopt a Sustainable Diet Plan:

Choose a balanced, sustainable diet that you can maintain over the long term. Avoid extreme diets that are difficult to stick to.
Focus on whole foods, including plenty of fruits, vegetables, lean proteins, and whole grains.
Practice portion control and mindful eating to avoid overeating.

Regular Exercise Routine:

Continue with a consistent exercise routine that combines cardio, strength training, and flexibility exercises.
Aim for at least 150 minutes of moderate-intensity aerobic activity or 75 minutes of vigorous-intensity aerobic activity per week, as recommended by health authorities.
Increase your exercise intensity or volume by 10% each week to keep challenging your muscles.

Monitor Your Weight:

Continue to weigh yourself regularly, but don't become obsessed with the scale. Instead, use it as a tool to stay accountable.
Use other progress measurements like the fit of clothes, pictures, fat percentage.
Keep a weight loss journal to track your progress and make necessary adjustments to your diet and exercise routine.

Set New Goals:

After reaching your initial weight loss goals, set new ones to keep yourself motivated. This could include achieving a certain fitness level, running a specific distance, or mastering a particular exercise.

Stay Hydrated:

Drink plenty of water throughout the day. Sometimes, thirst can be mistaken for hunger, leading to unnecessary snacking.

Mindful Eating:

Practice mindful eating by paying attention to hunger and fullness cues. Eat slowly and savor each bite, which can help prevent overeating.

Plan Your Meals:

Plan your meals and snacks ahead of time to avoid impulsive, unhealthy choices.
Prepare and cook meals at home whenever possible, as this gives you more control over ingredients and portion sizes.
Place caloric dense food (snacks) in an area that takes work to reach, creating a barrier for yourself.

Find a Support System:

Surround yourself with a support system of friends, family, or a weight loss group who can encourage you and hold you accountable.

Manage Stress:

Stress can lead to emotional eating. Develop healthy coping mechanisms for stress, such as meditation, deep breathing exercises, or engaging in hobbies you enjoy.

Regular Health Check-Ups:

Continue to schedule regular check-ups with your healthcare provider to monitor your overall health, including blood pressure, cholesterol levels, and any other relevant markers.

Celebrate Non-Scale Victories:

Focus on more than just the number on the scale. Celebrate non-scale victories like improved energy, better sleep, increased strength, and enhanced self-confidence.

Stay Consistent:

Consistency is key. Make a commitment to a healthy lifestyle, and don't let occasional setbacks derail your progress. It's normal to have ups and downs on your journey.

Be Patient:

Weight maintenance can be challenging, and there may be fluctuations along the way. Be patient with yourself and remember that long-term success is the goal.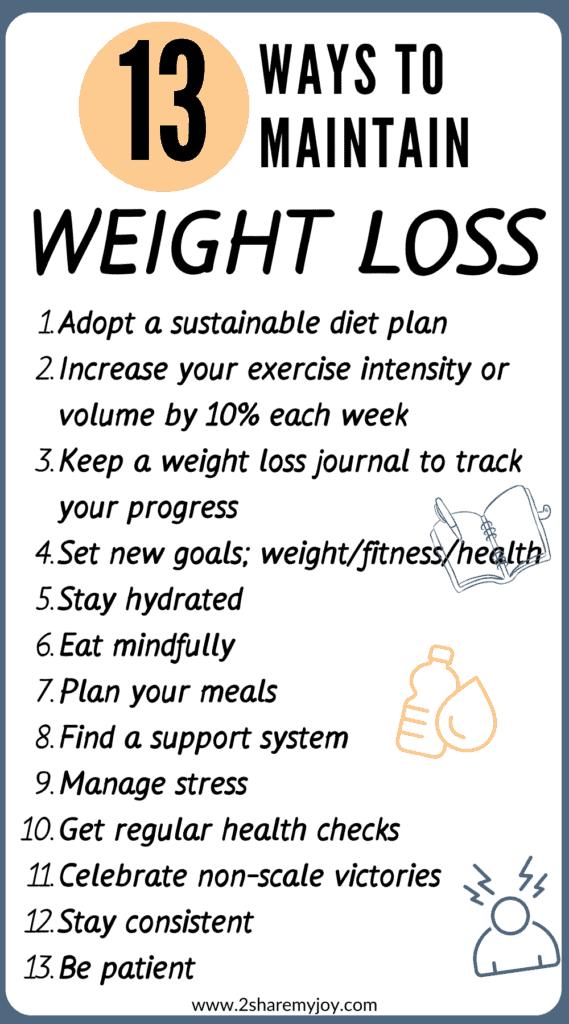 How long does it take to notice weight loss?
The time it takes to notice weight loss can vary significantly from person to person and depends on several factors, including your starting weight, your weight loss method, and your individual body composition.
Here are the general 4 stages of weight loss to help you understand when you might start noticing weight loss:
Initial Changes (1-2 Weeks): In the first week or two of a weight loss program, you may notice some initial changes. These can include a slight decrease in bloating, water retention, and waist circumference.
Some individuals may also see a small drop on the scale during this time, primarily due to water weight loss.
Noticeable Changes (2-4 Weeks): Most people start to see noticeable changes in their body composition and appearance after 2 to 4 weeks of consistent effort.
This is when you might observe that your clothes feel looser, and others may begin to comment on your appearance.
Significant Changes (6-8 Weeks): Around the 6 to 8-week mark of consistent healthy eating and regular exercise, you can typically expect to see more significant changes in your body.
By this point, you might have lost a noticeable amount of weight, and your body shape may have visibly improved.
Visual Transformation (12-16 Weeks and Beyond): For many individuals, it takes about 12 to 16 weeks or more of consistent effort to experience a visible transformation.
This is when you may see dramatic changes in your body shape, including a reduction in body fat, improved muscle tone, and a more defined appearance.
It's important to note that weight loss is not always linear, and there may be periods of slower progress or even temporary plateaus.
Additionally, some people may notice changes in other aspects of their health and well-being, such as increased energy levels, improved sleep quality, and better overall mood, before they see significant changes in their physical appearance.
Remember that the rate of weight loss should be gradual and sustainable, with a target of around 1-2 pounds per week for most people.
I suggest 1% of bodyweight in weight loss per week. For a 300 lbs. person that would be 3 pounds per week, for a 150 lbs. person that would be 1.5 pound per week.
Extreme diets or rapid weight loss methods can have negative health consequences and are often difficult to maintain over the long term.
Lastly, it's essential to focus on overall health and well-being rather than just the number on the scale. Non-scale victories like improved fitness, increased strength, and enhanced self-confidence are equally important indicators of success on your weight loss journey.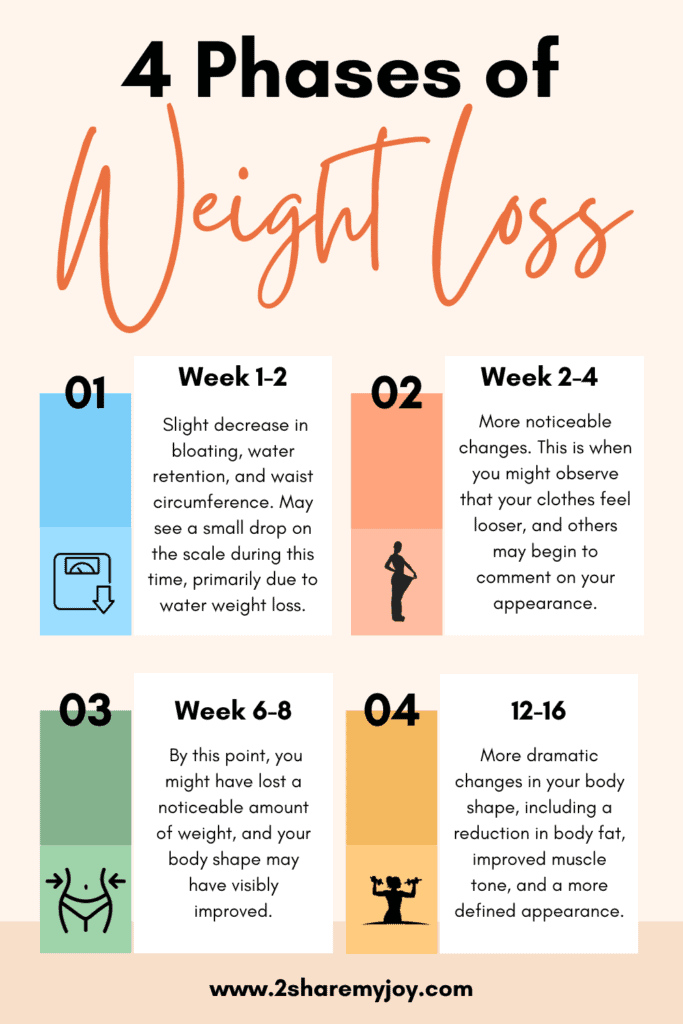 Signs you are losing weight too fast
Healthy weight loss losing about 1-3 pounds per week with the occasional plateau or gain in between. It is not healthy restrict yourself too much.
This can lead into binge eating later and is also not good for your mental health.
Losing weight is a goal for many people, but it's crucial to do it in a safe and sustainable way. Losing weight too quickly can have negative consequences on your health and well-being. Here are some signs that you may be losing weight too fast:
Rapid Changes on the Scale: While seeing a drop in weight can be motivating, losing too much weight in a short period is often a sign that you're losing weight too fast.
Often this rapid weight loss is also reducing your muscle mass.
Excessive Hunger and Food Cravings: Extreme calorie restriction or crash diets can lead to intense hunger and food cravings.
This is a common weight loss mistake that can lead to obsessively thinking about food and constantly feeling hungry.
Fatigue and Low Energy: Losing weight too quickly can deprive your body of essential nutrients and energy.
If you're feeling excessively tired, lethargic, or weak, it could be a sign that you're not providing your body with enough fuel to function optimally.
Hair Loss: Sudden and significant weight loss can lead to hair thinning or hair loss. This is often a result of inadequate nutrient intake, particularly protein and certain vitamins and minerals.
Irritability and Mood Swings: Extreme calorie deficits can affect your mood and emotional well-being.
If you find yourself feeling irritable, moody, or overly emotional, it may be a sign that your body is under stress due to rapid weight loss.
Dehydration: Quick weight loss can result in dehydration, which can lead to various health problems, including kidney stones and electrolyte imbalances.
Loss of Focus and Mental Clarity: Inadequate calorie intake can affect your cognitive function, leading to difficulty concentrating and making decisions.
If you notice any of these signs, it's essential to reevaluate your weight loss approach. Losing weight in a healthy and sustainable way is more important than losing it quickly.
Consult with a healthcare professional, registered dietitian, or qualified personal trainer to create a balanced and personalized weight loss plan that supports your long-term health and well-being.
Remember that slow and steady progress is more likely to lead to lasting results and improved overall health.