Easy 1900 calorie meal plan that is gluten free, vegan, and high in protein. A healthy 5 day vegan diet plan with 70-80 g of plant based protein per day to boost energy and your immune system.
Today's meal plan is designed for a busy work week. All dinner recipes can be done in the crockpot or instant pot, as well as a simple one-pot.
You can cook some meals ahead of time and store in the freezer or fridge, but you can also just chop and prepare all the veggies for the week. Please read all the instructions carefully so you save time and energy when preparing your meals.
Is eating 1900 calories a day healthy?
Looking at the nutrition of this meal plan below, eating 1900 calories a day is healthy. But it depends how you fill your meal plan.
The 1900 calorie diet plan is filled with vegetables, lean protein, fruits, fiber, whole carbs, and more. It includes all whole food ingredients for nutrient density and no processed foods like oil and added sugar
I use the free cronometer app to track the nutrition. In this meal plan you will consume about 1800-1900 calories per day (or 2200 if you include snack #2, see below), 70-80 g protein, 78 g fiber, and the omega 6 to 3 balance looks great as well (should always be 4:1).
All vitamins and minerals show over 100% of daily needs, except vitamin D and B12.
You can't get enough vitamin D from food alone no matter what diet you follow, and B12 is the only supplement that is required when following a vegan diet.
You can increase fat intake by adding some walnuts as a snack (check out snack #2 below), but this will also add more calories.
1900 Calorie Meal Plan
Print each recipe to have your meals ready for the week. Some recipes are listed below, others you have to click over to the recipe post to print the recipe card.
To create more healthy vegan meal plans specific to your caloric needs, check out my favorite Meal Planner with hundreds of delicious and easy recipes.
Breakfast (584 Calories)
Healthy and easy vegan high protein breakfast bowl with 23g protein, 19g fiber, fruits, nuts, seeds, and more. Done in 10 minutes. Get the recipe here. This recipe serves one.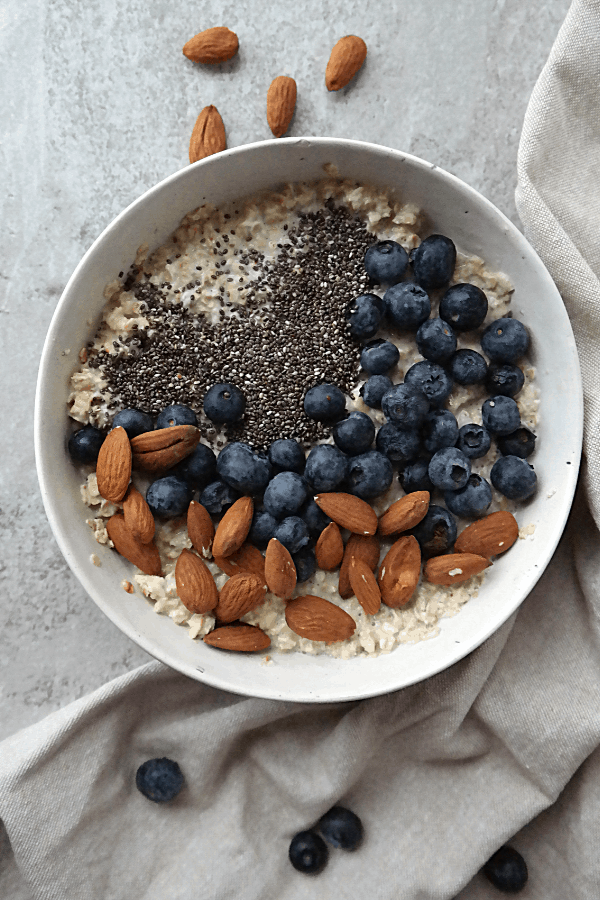 I like to add one brazil nut to my breakfast oats for selenium.
Snack Smoothie (524 Calories)
2 bananas
1 T peanut butter
1 T chia seeds
1.5 cup spinach
1 cup almond milk
1/4 cup great northern beans (don't worry you won't taste them)
Simply add everything into a nutri ninja or other mixer and blend well. Make sure to consume this slowly! This recipe serves one.
Snack #2 (optional):
You can add 0.5 cup walnut halves (unsalted) to the meal plan. This will add 326 calories to your daily calories, bumping it to 2240 calories per day and increasing your fat to 123% instead of 73%.
Lunch (~400 Calories)
Lunch and dinner recipes range from 350 to 450 calories. All in all you should be consuming a 1900 calorie diet if you don't include snack #2.
This meal plan is designed to cook twice the amount for dinner so you can have the leftovers for lunch the next day. This will save you some time to prepare another meal. Each recipe serves 4, so if you cook for 2 people you can use the amount of ingredients as listed in each recipe.
If you cook for only one adult, please cut the amount of ingredients in half, or simply use the leftovers as vegan freezer meals.
Meal Prep
The meal plan starts by cooking dinner on Sunday night so you also have lunch on Monday. You can prepare the breakfast bowl and smoothie the evening before and store in the fridge. This makes your mornings very easy.
Store the smoothie in a mason jar and breakfast and lunch in food containers. Use BPA free food containers that hold at least 3-cups like these.
You can also add all ingredients into the nutri ninja cup and store overnight, then blend in the morning, rinse the blender knife and add one of the nutri ninja drinking lids to go.
Make sure to shake the smoothie before consumption. If you have more time on Sunday evening, cook multiple meals ahead of time or chop and prep all the ingredients for the week. You can then simply add them into the instant pot that night or your crockpot ahead of time.
All recipes can be done in the instant pot on the stew setting (high and 5 minutes with closed valve).
1900 Calorie Meal Plan Dinner Recipes
Easy 1900 calorie meal plan that is gluten free, vegan and high in protein. A healthy 5 day vegan diet plan with 70-80 g of plant based protein per day to boost energy and your immune system.