Gluten Free Vegan Waffle Recipe (3 Ingredients)
The gluten free vegan waffle recipe contains only 3 ingredients and is high in protein (17 g) and omega 3. All ingredients are easy to get and whole food plan based.
Are you searching for a vegan, gluten free, easy waffle recipe?
I have been making these 3 ingredient vegan waffles every weekend for the last two year. It became a family tradition and my easy vegan waffle recipe has refined over the last months. I don't even need to measure my ingredients anymore!
You can really use any flour you want to make these waffles. Sometimes I use all purpose flour, but my family actually enjoys oat flour the most. I don't buy oat flour. I simply put oats in the blender to make my own flour. This recipe makes great vegan blender waffles.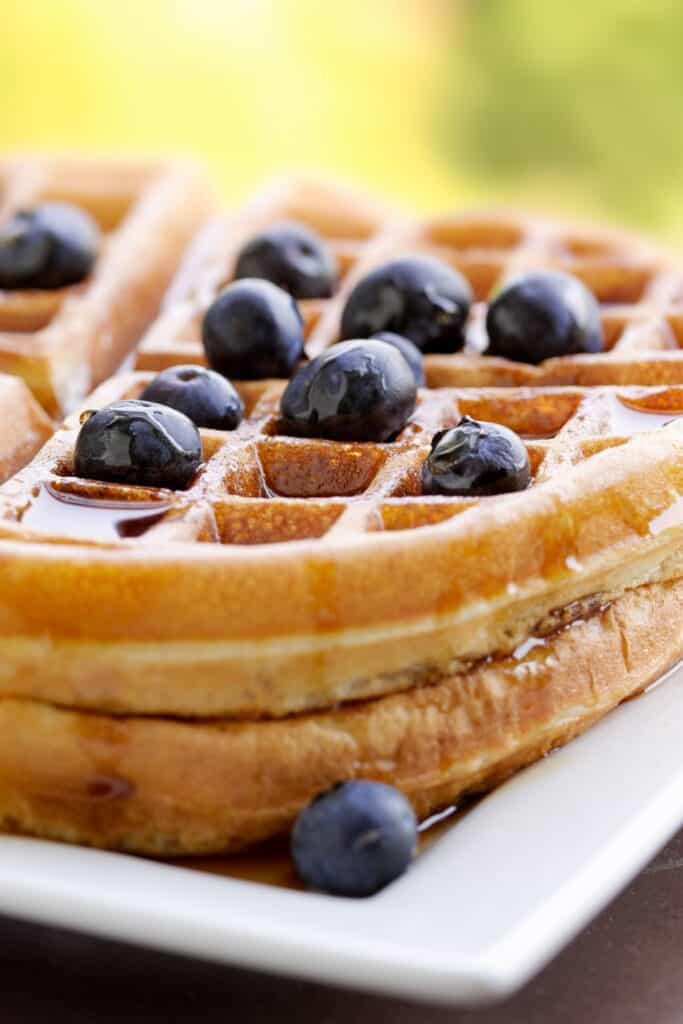 How to make the 3 ingredient vegan waffles?
If you would like to make your own oat flour, you can simply put oats into a blender, like the nutri ninja, and mix. If you need 1 cup of oat flour, add a little more than that into the blender and make sure to measure the amount of ground oat flour for your recipe.
To get perfect waffles it's really important to use a good waffle iron. In my first attempt at making perfect waffles I used a cheap waffle maker that I found at a yard sale and it was miserable.
Then I got a better one for about $20 that has removable plates and is non stick. This one was a game changer. You can literally dump out the waffles with no mess left in the waffle maker. Here are some options to consider:
The first one from Hamilton Beach is non stick and more budget friendly, but does not have removable plates.
The second one by Presto is also a non stick, no removable plates and a little more pricey. It does flips to the other side for even browning.
The third option by Hamilton Beach is most expensive and comes with all the features: non stick, removable plates, rotating.
You will be able to make a good waffle with either one of the options above, it's just a matter of luxury (clean up) and preference.
Some of the cheaper ones (and sometimes even the expensive ones) get really hot on the opening handle, so be careful. This doesn't bother me much as I just use a towel to open.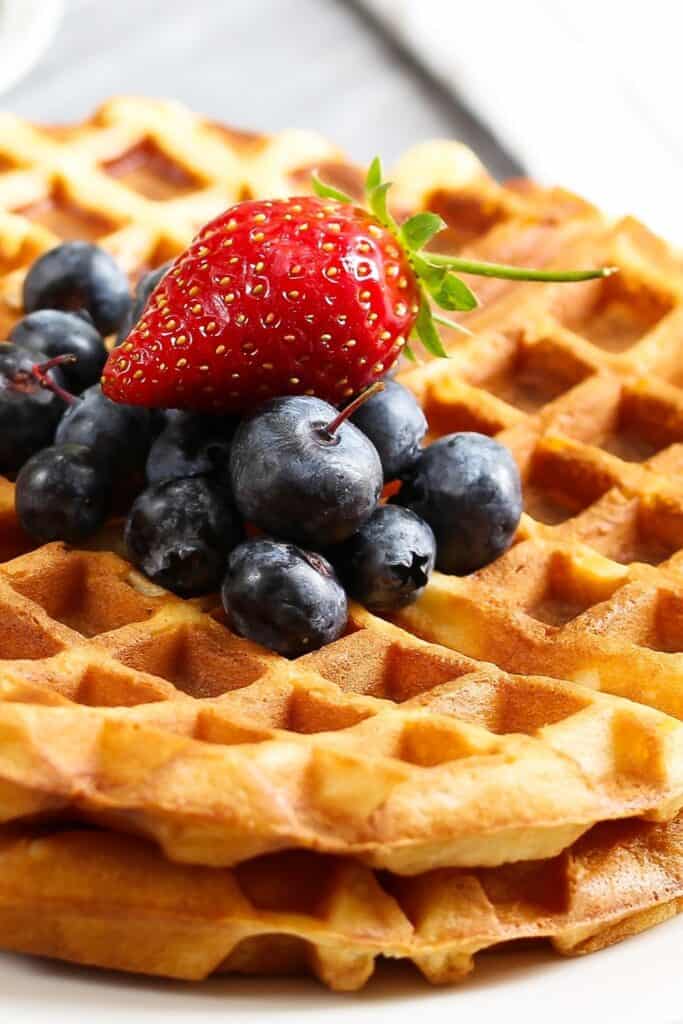 Nutrition of the gluten free vegan waffle recipe
I really enjoy using ground oats to make my waffles. Oatmeal is such a great health food. It contains tons of minerals, fiber, protein, and is super filling. It keeps me full and gives me energy to be out and about on the weekends.
One waffle contains almost 500 calories, 17 g protein, is high in omega-3 (anti-inflammatory), calcium, iron, zinc, and magnesium (see below).
You might think this waffle recipe is not great for weight loss due to the high calorie amount. But oats are a proven weight loss superfood and will keep you full for a long time. If you pair this breakfast with a 400 calorie lunch and vegan weight loss dinner, you will lose weight in no time.
The 3-ingredient waffles are also oil free. For weight loss I suggest topping this waffle with fresh berries and leave out the syrup.
You can also only eat half the vegan oat waffle and add some high protein tofu scramble!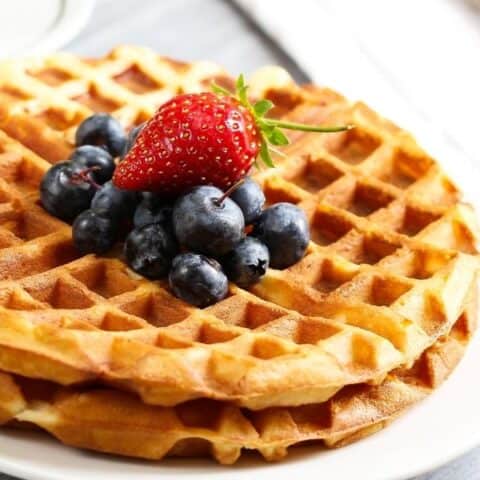 Gluten Free Vegan Waffle Recipe (3 Ingredients)
Healthy vegan waffles that are filling and super easy to prepare with 17 g of plant based protein (also great breakfast option for weight loss).
Ingredients
1 cup oat flour (or ground oats)
3/4 cup almond milk
1 t ground flax seed
Instructions
If you don't have oat flour at home, grind your whole oats and make sure you have 1 cup at the end.
Mix all ingredients together and add to the waffle maker. Make sure the waffle maker is heated up all the way and the green light is on (green light goes off once you add the mix).
If your batter turns out too thick and you can't pour the mix into the waffle maker, simply add more plant based milk
Then bake until the green light comes on again. You can use medium or high heat depending on the desired browning. The cooking time depends on your settings..
Nutrition Information:
Yield:

1
Serving Size:

1
Amount Per Serving:
Calories:

495
Unsaturated Fat:

10.8g
Cholesterol:

0mg
Carbohydrates:

83.4g
Fiber:

12.8g
Protein:

17.3g