Healthy Mexican Stuffed Sweet Potatoes (VEGAN)
Healthy Mexican stuffed sweet potatoes with a corn-bean salsa and topped with easy guacamole. This vegan recipe is gluten free, oil free, and is great for weightloss.
This stuffed sweet potato meal is great for people with food sensitivities. It does not contain dairy, gluten, soy, sugar, or oil. One serving of this vegan stuffed sweet potato recipe equals 3 stuffed sweet potatoes.
With one serving you will consume 430 calories, 17 g of fiber, 12 g of fat, and 12 g of plant based protein. This meal is also high in B-vitamins, vitamin A, vitamin K, potassium, zinc, and iron.
The sweet potato is a starch that belongs to the complex carbohydrates. Complex carbs contain fiber which causes the food to break down slower. Therefore, it won't spike insulin levels like simple carbs. Instead, it fuels your body with lasting energy.
One medium sweet potato covers all the vitamin A needs for one day. It is also a great source of potassium. Sweet potatoes are a great health food and also have weight loss benefits. For example, Okinawans eat sweet potatoes regularly and, on average, live close to 100 years.
Their BMI averages around 20. One medium sweet potato contains 111 calories, 26g carbs, 4g fiber, 2g protein, and covers over 132% of your RDA in vitamin A.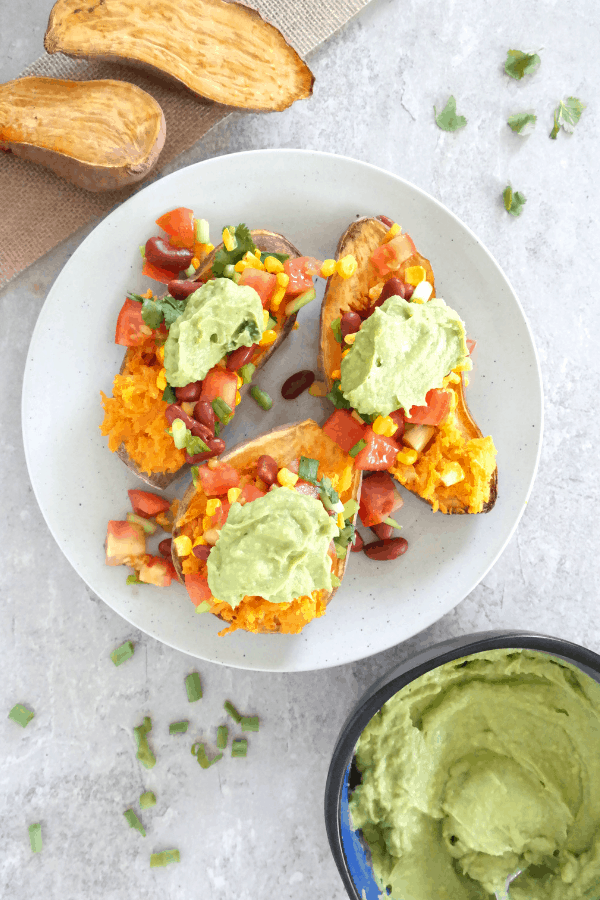 There are many varieties when it comes to stuffed sweet potatoes. You can fill them with a collection of different foods and sauces. This recipe uses a bean and corn salsa for the stuffing and an easy, quick guacamole topping.
The salsa is really more like a Mexican salad with corn, spring onion, beans (whichever you like), tomatoes, and cilantro. The dressing is made with salt, cumin, pepper, and red wine vinegar. There is no need to use oil for the dressing. For better nutrient absorption I use avocados as the healthy fat source. The guacamole is an easy and healthy recipe that gives this meal a great flavor. If you need to save time you can simply use store bought guacamole.
Here is the cost of one serving of the stuffed sweet potatoes (3 halves):
12 sweet potatoes $2.84
Spices $0.50
2 avocados $2.00
1 lime $0.38
1 can corn $0.50
1 can kidney $0.85
bundle spring onion $0.88
bundle cilantro $0.78
3 tomatoes $1.50
One serving of this recipe (3 potato halves, stuffed and topped) costs about $2.50. Please note that these numbers depend on season and store. I got all my ingredients at Walmart with the Walmart grocery pick up and made this meal in July. Avocados were a bit on the expensive side when I made this recipe. Also, I only calculated the price based on the items I used, not on the bulk I bought. You can use the leftovers for other recipes.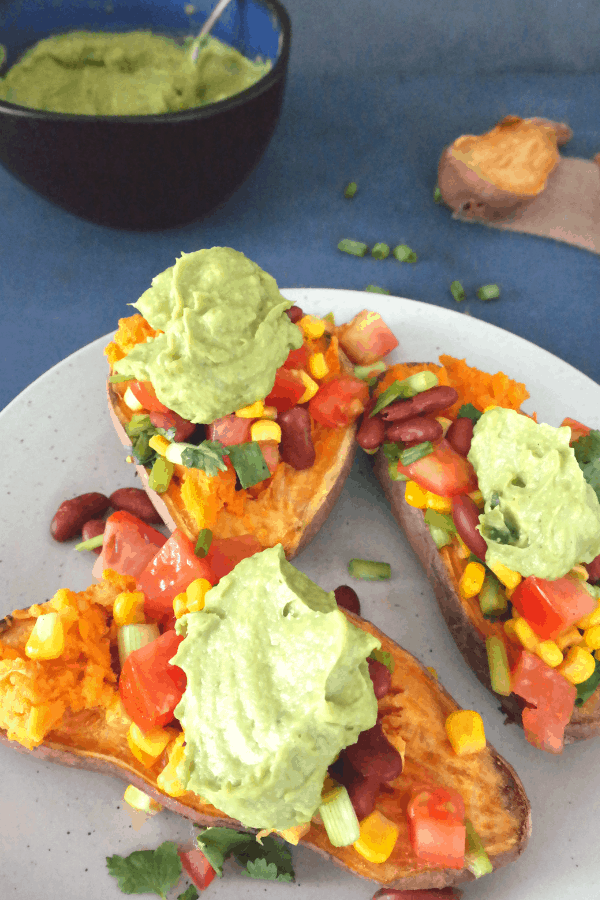 If you have weight loss goals this meal would be a great lunch or dinner idea. If you are trying to gain weight or muscle you can easily double the ingredients and serving sizes and tailor them to your needs. You can also leave out the corn and add another can of beans to increase protein.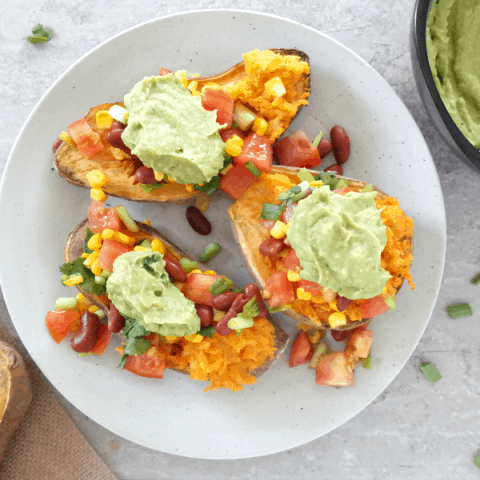 Healthy Mexican Stuffed Sweet Potatoes (VEGAN)
Additional Time:
5 minutes
Healthy Mexican stuffed sweet potatoes with a corn-bean salsa and topped with easy guacamole. This vegan recipe is great for weight loss, gluten free, and oil free. One serving equals 3 potato halves.
Ingredients
Salsa
1 can of corn (or switch for additional beans)
1 can of beans (black or kidney), rinsed, drained
1 bundle spring onion, chopped
1 bundle cilantro (leaves)
3 tomatoes, diced
1 t salt
1 t cumin
pepper to taste
2 t red wine vinegar
optional: turmeric and pepper
Easy Guacamole
2 avocados
1 t onion powder
1 t garlic powder
few slices of jalapenos 
juice of 1 lime
Instructions
Preheat the oven to 425 F.
Wash and slice each sweet potato in half.
Place the potato on a baking sheet and bake for 25 to 30 minutes. You can poke the sweet potatoes with a fork to see if they are soft.
In the meantime prepare the salsa and the guacamole. Add all ingredients for the salsa in a bowl and mix. Then add all ingredients for the guacamole in a blender and mix. You can also use a hand blender.
Top each potato with salsa and guacamole. ENJOY!
Notes
For more protein, switch out the corn with an additional can of beans!
Nutrition Information:
Serving Size:

1
Amount Per Serving:
Calories:

430
Total Fat:

12g
Cholesterol:

0mg
Sodium:

400mg
Carbohydrates:

73g
Fiber:

17g
Protein:

12g
Related: