Easy Vegan Spanish Rice with Black Beans
Ready for a simple Spanish rice dinner?
Today's vegan Spanish rice meal can be done in 30 minutes or less, contains 474 calories, 17 g of protein, is budget friendly, and weight loss friendly. You can also double up for weight gain, maintenance, or add more plant based protein for muscle building. You can make this Spanish rice in an instant pot or pressure cooker, as well. This dish is very similar to a Mexican rice with beans.
Nutrition of the vegan Spanish rice
One serving of this easy one pot Spanish rice contains 474 calories, 97 g carbs, 1.7 g fat, 17.4 g protein, and 16.7 g fiber. It makes a great meal for vegan weight loss, but you can also increase serving size.
This meal is high in vitamin C, B-vitamins, omega 3, iron, and zinc. Based on the vegan food pyramid I suggest adding 1-2 cup steamed broccoli per serving to increase the nutrient density of the meal. I explain more about nutrient density, volume eating, and vegan nutrition in the book Plant Powered Health>>
If you add two cups of broccoli to one serving of the Spanish rice and beans you'll get 536 calories, 109 g carbs, 21.5 g fiber, 2.4 g fat, 22.5 g protein!
Cost of the Spanish rice with black beans
1/2 onion $0.39
seasoning $0.40
1.5 cup rice $1.00
3 oz tomato paste $0.32
2 cans black beans $1.16
1 green bell pepper $0.76
One serving of this recipe is about $1.00 per serving. Please note that these numbers depend on season and store. I got all my ingredients at Walmart with the Walmart grocery pick up and made this meal in April. Also, I only calculated the price based on the items I used, not on the bulk I bought. You can use the leftovers for other recipes.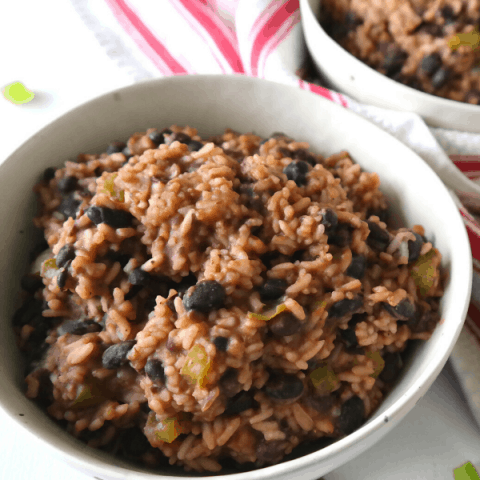 Easy Vegan Spanish Rice with Black Beans
Easy and budget friendly vegan Spanish rice with beans. Made in one pot, under 30 minutes, and less than 500 calories.
Ingredients
1/2 onion
3 cloves garlic
1.5 cup dry rice
3 cups water
3 oz tomato paste
1 T dried oregano
2 cans/3 cups black beans (rinsed)
1 green bell pepper, diced
1 t salt (optional)
1/4 t cumin
optional: steamed broccoli
Instructions
Add all ingredients into a large pot and and mix together.
Set to medium heat. Let it simmer for 20 minutes or until rice is soft. Don't forget to stir occasionally.
Optionally, you can steam broccoli on the side for added nutrition.
You can use the instant pot on the rice setting.
Nutrition Information:
Serving Size:

1/4th of recipe
Amount Per Serving:
Calories:

474
Total Fat:

1.7g
Cholesterol:

0mg
Carbohydrates:

97g
Fiber:

16.7g
Protein:

17.4g