Vegan Meal Prep On A Budget : 8 Meals under 45 Minutes
Vegan Meal Prep on a budget. Make 8 Meals in under 45 Minutes for only $1.40 per serving. Plant based meals that are oil free, gluten free, high in protein, fiber, minerals, and vitamins. Freezer, Aldi and 21 day fix friendly.
Are you searching for a healthy meal prep idea for the week?
These freezer friendly one pot meals are great to meal prep ahead of time. You can use them for bodybuilding, weight loss, the 21 day fix, or simply to include healthy meals in your diet.
These plant based meals are high in protein (30-37 g per meal) and fuel your body with important vitamins, minerals, fiber, and energy. You don't have to call yourself 'vegan' to enjoy the benefits of eating more vegetables.
Below, you will get detailed information about the nutrition, cost, and preparation of the recipes and how to meal prep all plant based meals for the week in under 45 minutes.
Nutrition of the Vegan One Pot Meals
One Pot Easy Mexican Rice
The one pot mexican rice bowl contains per serving (one serving is about 3 cups): 30g protein, 7.4g fat, 146 carbs, 24g fiber, and 735 calories. It is also high in Vitamin B6, Folate, Vitamin A, C, and K, Calcium, and Iron (see below).
For the 21 day fix you can count 2.5 yellow, 1.5 green, 1.25 red. I count the diced tomatoes in the green container because no salt and sugar is added. You can reduce the yellow by leaving the corn out, or cutting the rice and water in half.
One Pot Zucchini Spaghetti
One serving, about 3 cups of the one pot zucchini spaghetti equals: 688 calories, 4g fat, 35g protein, and 37g fiber. This meal is high in B vitamins, Vitamin A, C, E, and K and also high in important minerals (see below).
For the 21 day fix cut the amount of spaghetti and water in half and your container count would be: 2 yellow, 1 green, 1.25 red. I count the diced tomatoes as green (no sugar and salt added). I used cronometer.com to track the nutritional value.
Meal Prep For Weight Loss
Meal prep can be a very helpful tool if you are planning to lose weight. Once you have all your meals planned, prepared, and cooked you can store them in the fridge or freezer and they will be readily available to you. No need to grab fast food or snack the hunger away. It is a better option to enjoy a full balanced meal that fuels your body and keep you satisfied for a while.
Plant Based Meal Prep Cost and Shopping List
16 oz dry whole wheat spaghetti $1.09
2x 28 oz can diced or crushed tomatoes $1.60
3 medium zucchini chopped $1.89
2 cans great northern beans/ cannellini $1.10
6 oz can tomato paste $0.39
2 cups brown dry rice (basmati brown rice $2.99) used 2 cups $1.50
1 can whole corn $0.44
3 bell pepper (3 multi peppers were $3.49 and 3 green ones were $1.79)
2 cans kidney beans $1.10
This makes under $1.40 per meal (not including cloves and seasoning, see below). I also calculated only half the bag of rice that is needed for the recipes and you can use the other half for later recipes.
3T Mexican seasoning ( or 1 T oregano, 1T cumin, 1/2 T chili, 1/2 T paprika)
4 cloves garlic, 1 T basil dry, 1 T oregano dry
Vegan Meal Prep (on a budget): 8 Meals under 45 Minutes
You will cook 2 one-pot meals that are vegan, oil free, and gluten free. Make sure to buy gluten free pasta if that is a concern. You will have 4 servings per one pot meal, so 8 servings all together and each serving equals 3 cups. If you would like to save even more time, and don't mind eating the same meals, you can double up on the ingredients.
You can also freeze these additional meals and have them ready for a later time. Simply move one meal container from the freezer to the fridge the night before and then heat up in the microwave.
To prepare both meals at the same time you will need:

Place the two pots on the stove adding 4 cups of water and 16 oz. spaghetti into the spaghetti pot, and 3 cups water with 2 cups rice in the rice pot. Set on medium heat.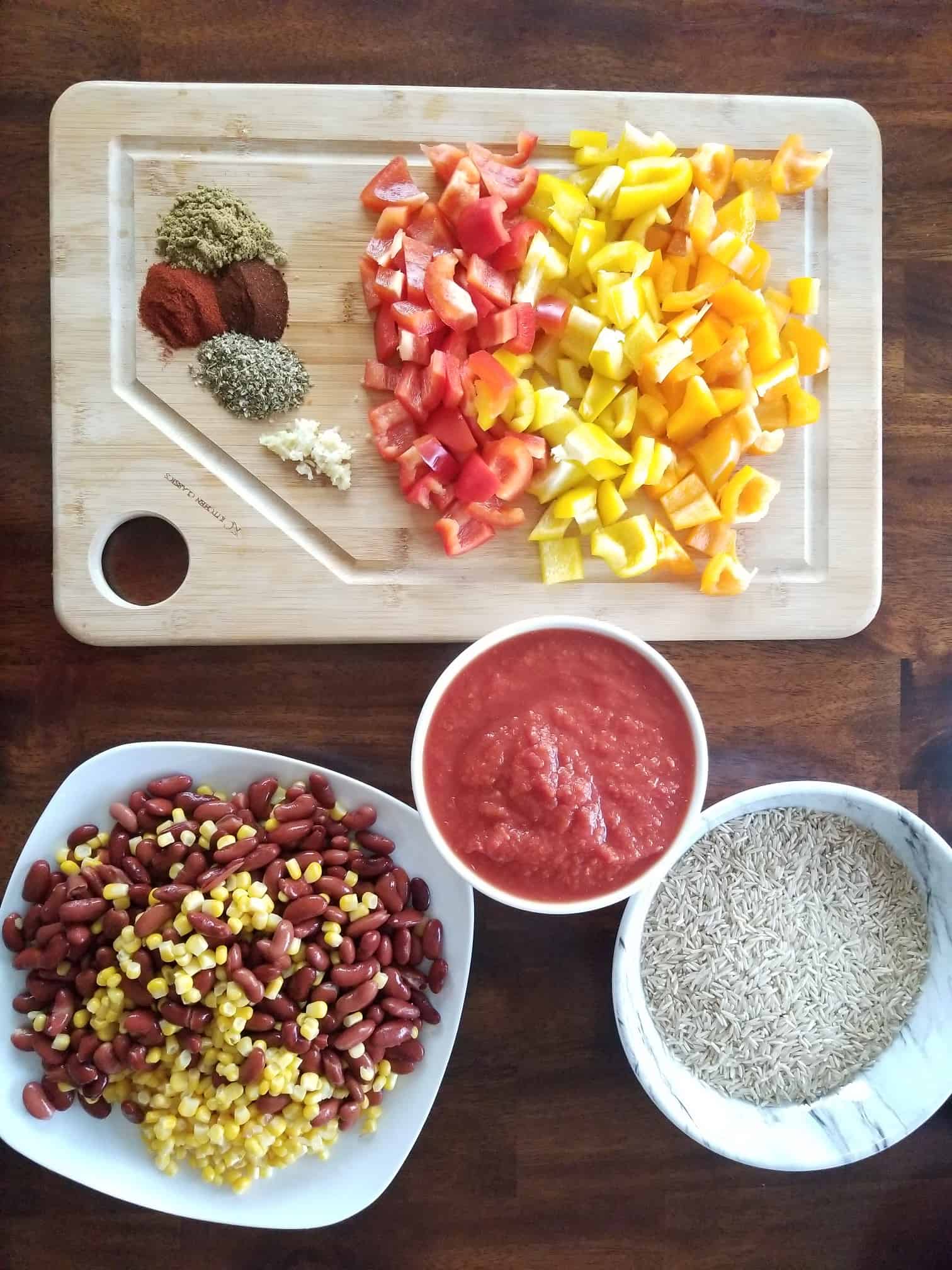 In the meantime chop all the vegetables and rinse the white beans and kidney beans separately. Open the rest of the cans and press the garlic.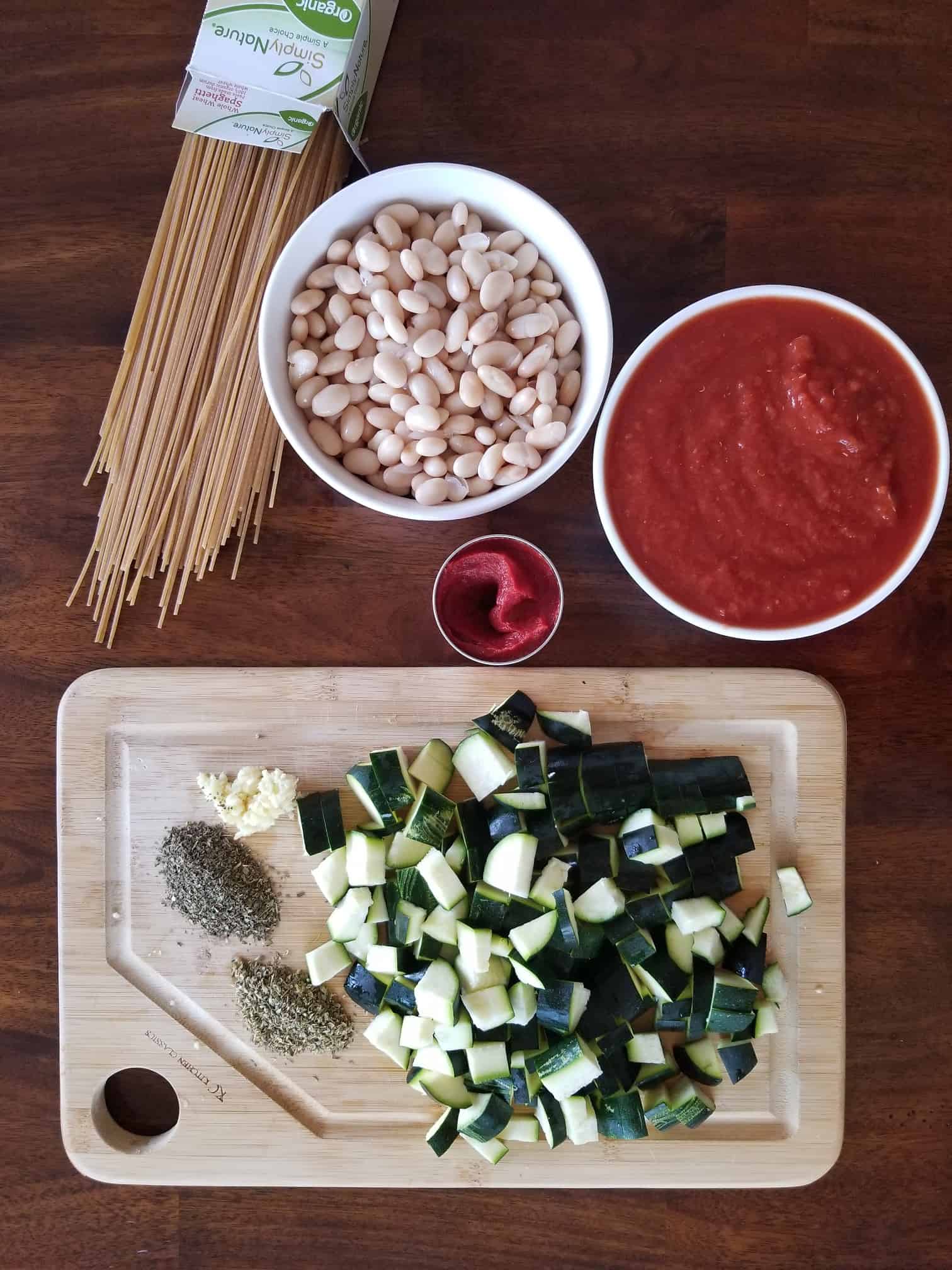 Add to the rice pot (that already cooks rice in water):
28 oz can diced or crushed tomatoes
3T Mexican seasoning ( or 1 T oregano, 1T cumin, 1/2 T chili, 1/2 T paprika)
2 cloves garlic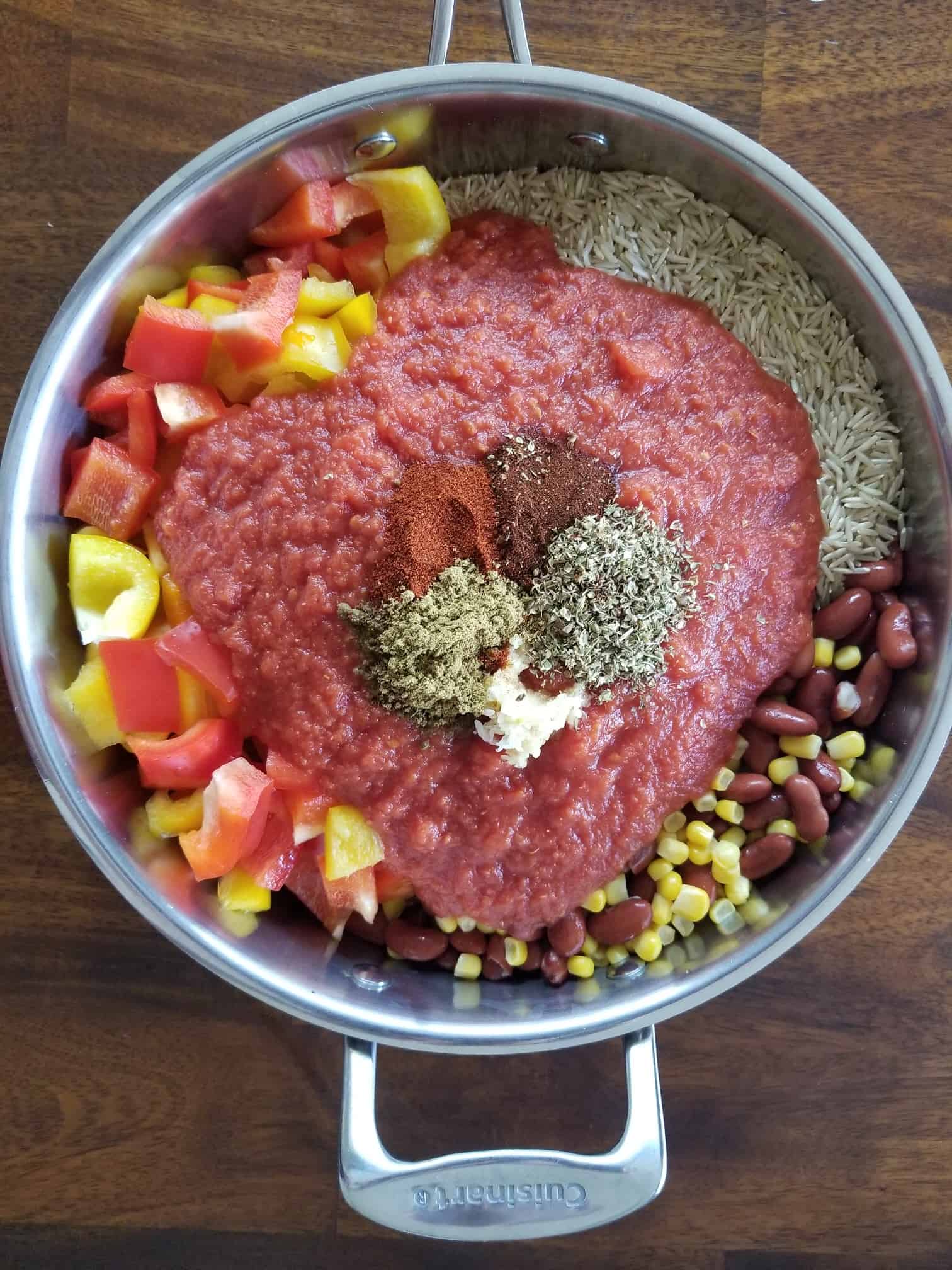 Add to the spaghetti pot (that is already cooking the spaghetti in the water):
28 oz can diced or crushed tomatoes
3 medium zucchini chopped
2 cans great northern beans
1 T oregano dry
2 cloves garlic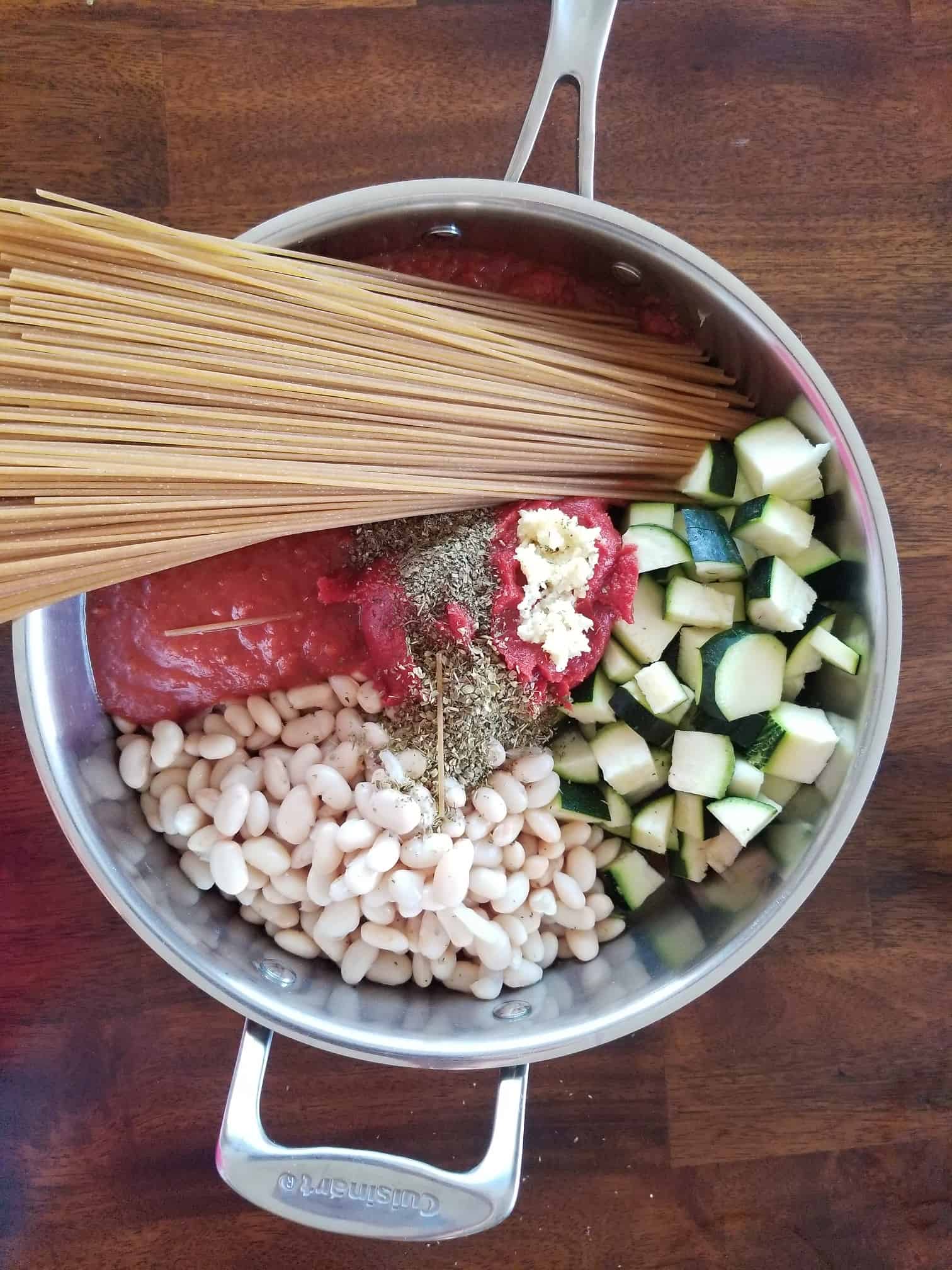 Now let both pots simmer until the grains are soft (about 20 to 30 minutes). Stir each pot frequently and make sure the rice or noodles won't stick to the pot. You might have to add more water if the meal turns thick, but the grains are not soft yet.
Please add more seasoning or salt and pepper to taste. To make the spaghetti one pot meal gluten free, buy gluten free spaghetti or any other gluten free pasta!