20+ Vegan Finds at Aldi – the ultimate shopping guide to buy groceries on a budget when you are on a plant based diet.
Do you like to save money on your vegan grocery trip? Are you new to the vegan diet and not sure what to buy?
I've been there!
Starting a new diet can be confusing. You might wonder what to eat and if healthy eating is expensive. Rice, seasonal vegetables, and beans are all very budget friendly foods you can find at Aldi.
If you want to avoid the restaurant or fast food trip, you can also check out Aldi's vegan meat/cheese substitute section. While these are not healthy, they make a healthier and cheaper option compared to restaurants. You can always add half of a plate with steamed vegetables.
Vegan Finds at Aldi + Recipes
You'll have the lowest grocery bill if you stick to whole plant foods and avoid the snacks and processed food like vegan meats. But if you are searching for cheaper vegan meat options, I have some included in the vegan grocery list below.
#1 Nuts and Seeds
Amazing vegan finds at Aldi include their selection of nuts, seeds, and dried fruits. Get the milled flax seed for optimal absorption (they are also the cheapest, haha). I also like to get their walnuts. Here are some health benefits:
In this study they compared nine tree nuts and found that walnuts might be the healthiest: "Walnuts had the highest total phenolic and flavonoid contents (1580.5 ± 58.0 mg/100 g, 744.8 ± 93.3 mg/100 g, respectively). Walnuts also possessed the highest total antioxidant activity (458.1 ± 14.0 μmol of vitamin C equiv/g of nut). Both soluble phenolic and flavonoid contents were positively correlated with total antioxidant activity".
While there is data that suggests food from animal sources is linked to higher blood pressure (source), flaxseed has a pretty significant role in lowering blood pressure. There is a seven point drop of blood pressure from consuming 1 tablespoon flaxseed a day (source). That means 46% less stroke risk and 29% less heart disease risk. Flaxseed prevents cardiovascular disease in general (source).
#2 Oats and Cereal
A bowl of oats in the morning with berries, seeds, nuts, and almond milk are a great way to start your day. You can find the recipe in this ALDI meal plan.
#3 Vegan Chocolate
Yes, you can find vegan chocolate at Aldi, and it comes in many flavors. I usually get the sea salt and the 70% or 85% chocolate. The dark chocolate contains also less sugar than milk chocolate and is high in antioxidants.
Please read the label before you buy another flavor.
#4 Chips and Salsa
This always goes into my cart when I shop at Aldi. One brand of their BBQ chips are also vegan, but they have 2 options, so read the label before you buy.
They also carry organic salsa, but I found that the one shown in the picture (non-organic) doesn't contain any added sugar. We also love their fresh salsa!
#5 Hummus
You can buy many hummus flavors at Aldi and it makes a great vegan dip for your veggies, crackers, or chips. The also carry fresh guacamole.
#6 Coffee
I know all coffee is vegan, BUT this one tastes so good, you can actually drink it black. It is also fair trade and organic. We use this grind and brew coffeemaker where we use whole beans and have fresh, delicious coffee.
#7 Legumes
Aldi carries a lot of different legumes: Garbanzo(chickpeas), kidney, black, great northern, cannellini, and more. You can also get some of them organic or in a bag (dry). They are super affordable and I include them in most dinner and lunch recipes. Some of the cans are also PBA free.
#8 Maple Syrup
We use their maple syrup every weekend on our vegan waffles (Click here for recipe).
#9 Dairy Free Milk
You can get almond milk, soy milk, and coconut milk (canned and low fat) at Aldi. The varieties come in sweetened/unsweetened, and vanilla flavor.
I bought the wrong one multiple times, so make sure to read all the labels right (what I want to get is UNSWEETENED ORIGINAL). You can also get canned coconut milk at Aldi.
#10 Vegan Burger Patties
Aldi carries a lot of different burger patties within their Earth Grown line. I highly recommend trying the chipotle or one of their Asian veggie burger patties. But you can also find chickenless patties and soy based patties.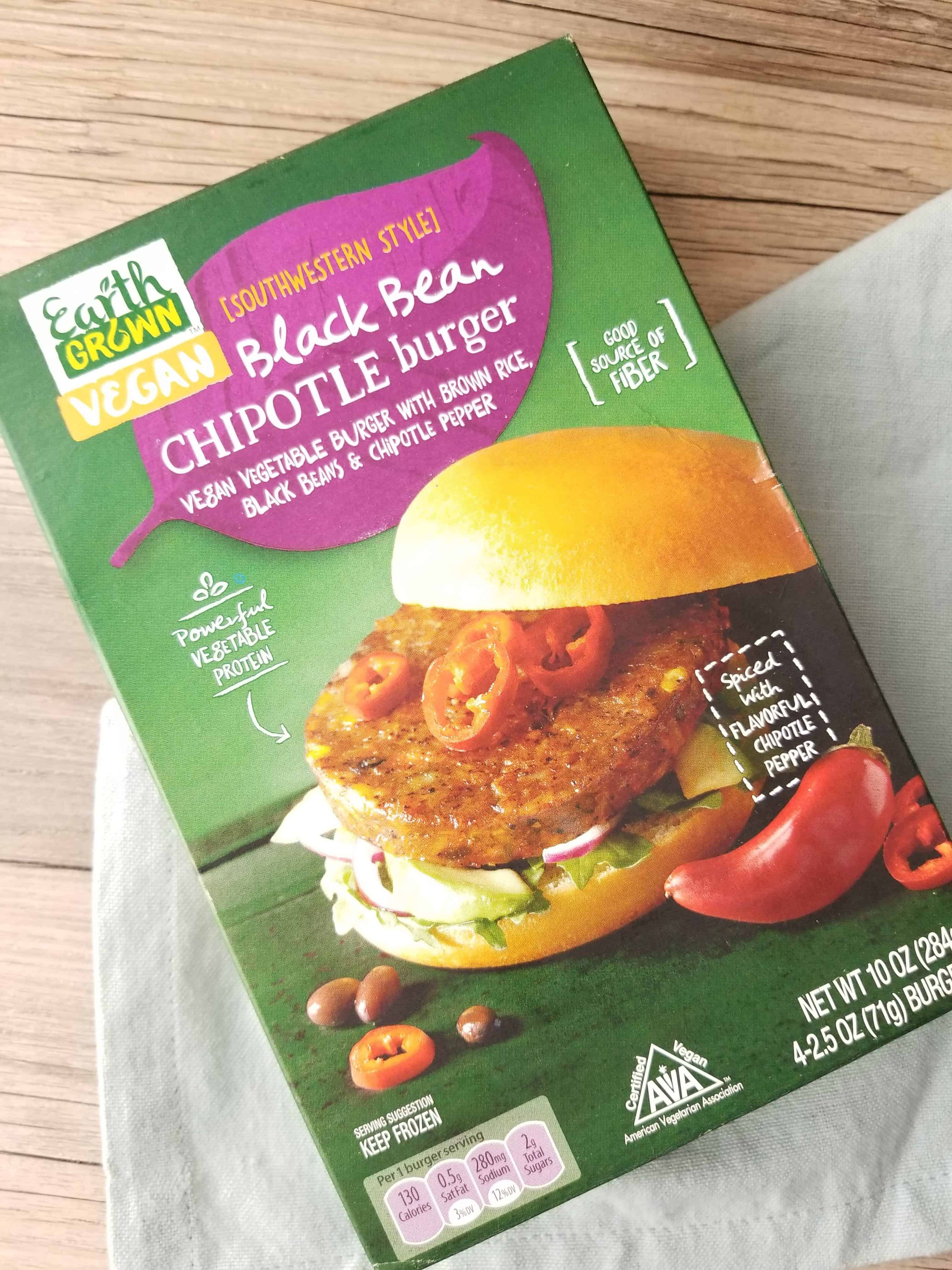 Note: You can now find Beyond meat at Aldi!
#11 Meatless Meatballs (Vegan)
Aldi's Earth Grown meatless line also carries vegan classic meatballs and Italian seasoned ones. If you rather stick with whole plant foods try this bean ball recipe.
#12 Vegan Meatless Jumbo Hot Dogs
#13 Vegan Cheese
Aldi's earth grown vegan cheese in mozzarella style is a cheese alternative that actually melts (not every vegan cheese does).
#14 Mini Vegetable Samosas
#15 Frozen fruits and veggies
It is always good to have some frozen veggies in the freezer. Together with some canned beans and rice you can make a quick and easy dinner.
I also use the berry medley for my oat bowl in the morning every day to get a nice serving of antioxidants. They are also great for smoothies.
#16 Flatbread and Tortillas
The Fit&Active Flatbread contains flaxseed and is high in fiber. I spread some peanut butter on it, fold it in half and cut it into triangle shapes as a snack for my toddler. Aldi also carries the whole wheat tortilla bread!
#17 Grains
I love the brown basmati rice from India. It is easy to cook and tastes good. You can also get quinoa for a variety of healthy vegan recipes.
#18 Pasta
The whole wheat pasta is lower in carbs and higher in fiber than their angel hair pasta. You can also get gluten free pasta. Just be sure not to grab their egg noodles, tortellini, or gnocchi. These are not vegan at Aldi. You can also find edamame pasta and lentil pasta now at Aldi.
Recipes: One Pot Taco Elbow Pasta, One Pot Zucchini Tomato Pasta, Creamy Avocado Pesto Pasta, Creamy Butternut Spaghetti
#19 Coconut Oil
While I don't recommend cooking with oil often, I use this one on rare occasion for cookie recipes.
#20 Apple Cider Vinegar
Aldi carries apple cider vinegar with 'the mother'. This one is the healthy AVC that contains all the nutrients and it is organic, as well.
#21 Fries
For your occasional junk food cravings you can grab their potato puffs and fries. The seasoned fries are our favorite!
#22 Bread
One of my favorite vegan finds at Aldi: Their bread selection. Have you ever tried their German bread? I grew up with this bread, so I am very happy they carry it. If you read the label, this bread is so much healthier than the American type toast/bread. You can get it in rye, sunflower, pumpernickel, and more.
It contains far less ingredients and the amount of fiber is so much higher, which makes it healthier. You can spread some jam over it or hummus and top with veggies.
You can also get the whole grain toast for about $1.80 per loaf.
#23 Fruits and Veggies
Of course fruits and veggies are vegan and they are the base of a vegan diet (Check out my vegan food pyramid here). Therefore, buying seasonal and at a frugal store like Aldi will help with your grocery bill. They also carry more and more organic fruit and vegetable options.
#24 The Snacks
The knock-off Oreo cookies are also vegan and you can get them cheaper. Just because they are vegan doesn't mean they are healthy, though: 3 cookies contain 14 g of sugar.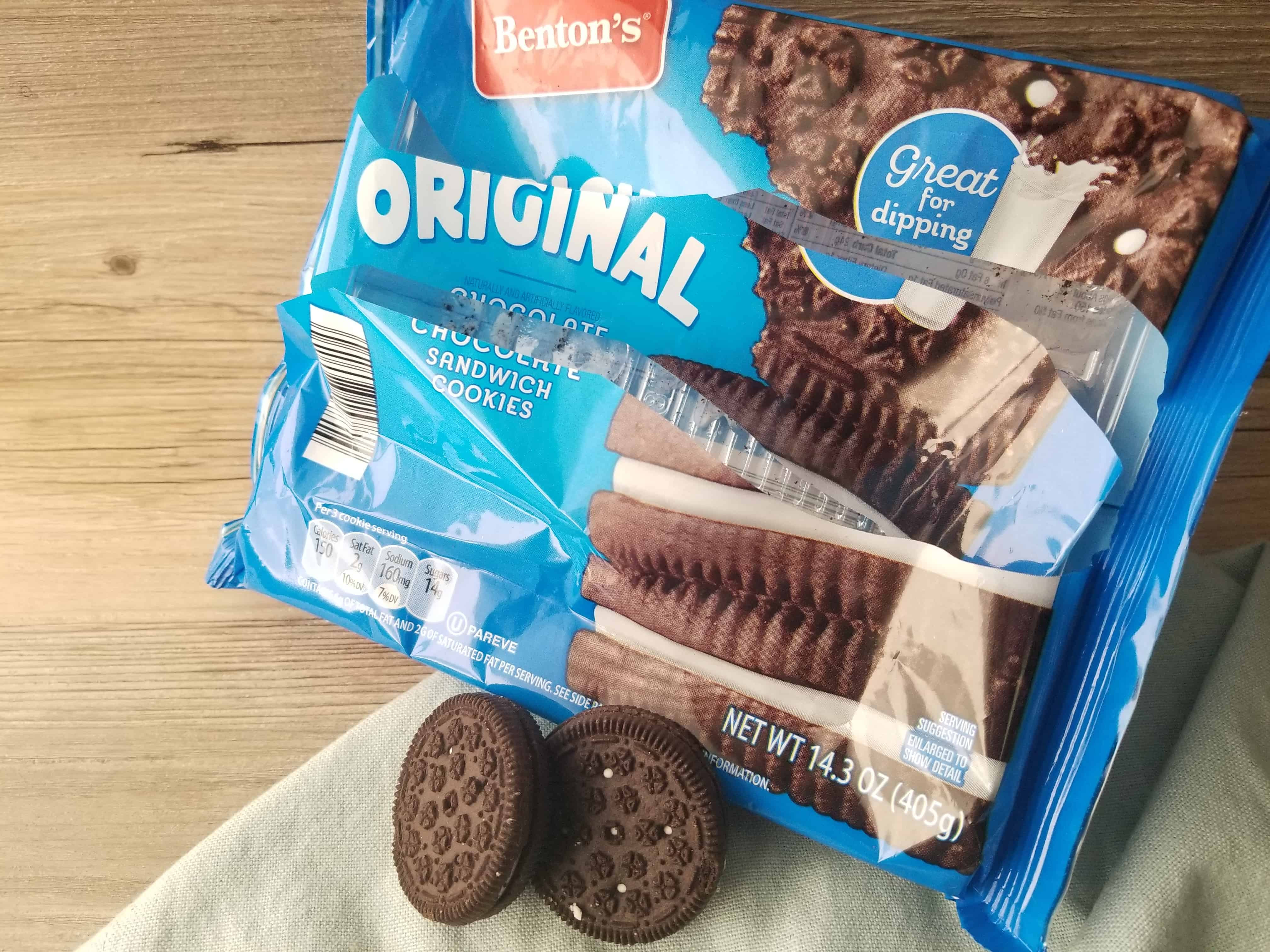 For kids, these animal crackers are a great snack, especially for on the go.
#25 Chocolate Chip Cookies
It is very hard to find vegan chocolate chip cookies! These chewy chocolate chip cookies from Aldi do not contain any animal derived food and are plant based. To my suprise even the chocolate chips are vegan!
#26 Winter Cookies Spekulatius
One of our favorite German Christmas cookies is vegan. Their Cherry Christstollen is also vegan.
You are probably wondering "Does Aldi carry tofu?" I found tofu at Aldi once so far.. I have also seen vegan ice cream at Aldi before, but it might be a more seasonal product. Another product vegan's love and is not currently at Aldi stores is nutritional yeast.
Related: