The healthy pumpkin smoothie recipe is vegan, gluten free, oil free, and dairy free. It is a simple and easy pumpkin smoothie recipe that can be used for a healthy fall and winter snack and for weight loss.
Did you know that most pumpkin lattes aren't vegan?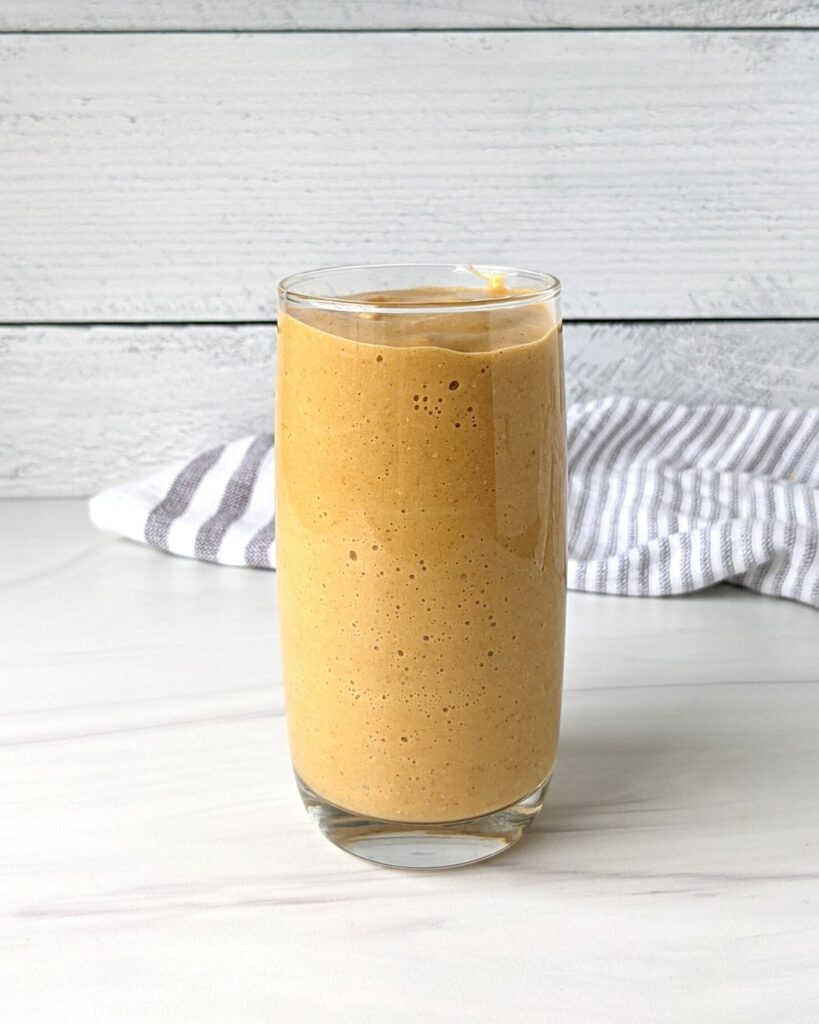 While you can make a latte macchiato vegan by asking for almond or soy milk instead of dairy, not all syrups are vegan. Some pumpkin latte syrups contain skim milk, therefore can't be used to make a vegan latte.
However, if you want to enjoy a healthier fall drink, try this healthy pumpkin smoothie! It is done in just a few minutes, low in calories, and provides some important vitamins and minerals.
Nutrition of this healthy pumpkin smoothie
This pumpkin smoothie for weight loss contains only 257 calories and makes a great filling snack. You can also enjoy this even if you are not trying to lose weight.
The recipe below (one serving) contains 51 g carbs, 10 g fiber, 5 g fat, and 4.2 g protein. If you would like to make this a high protein smoothie, I suggest substituting the vanilla extract with vegan vanilla protein powder.
The smoothie is also high in iron, magnesium, potassium, and some B-vitamins.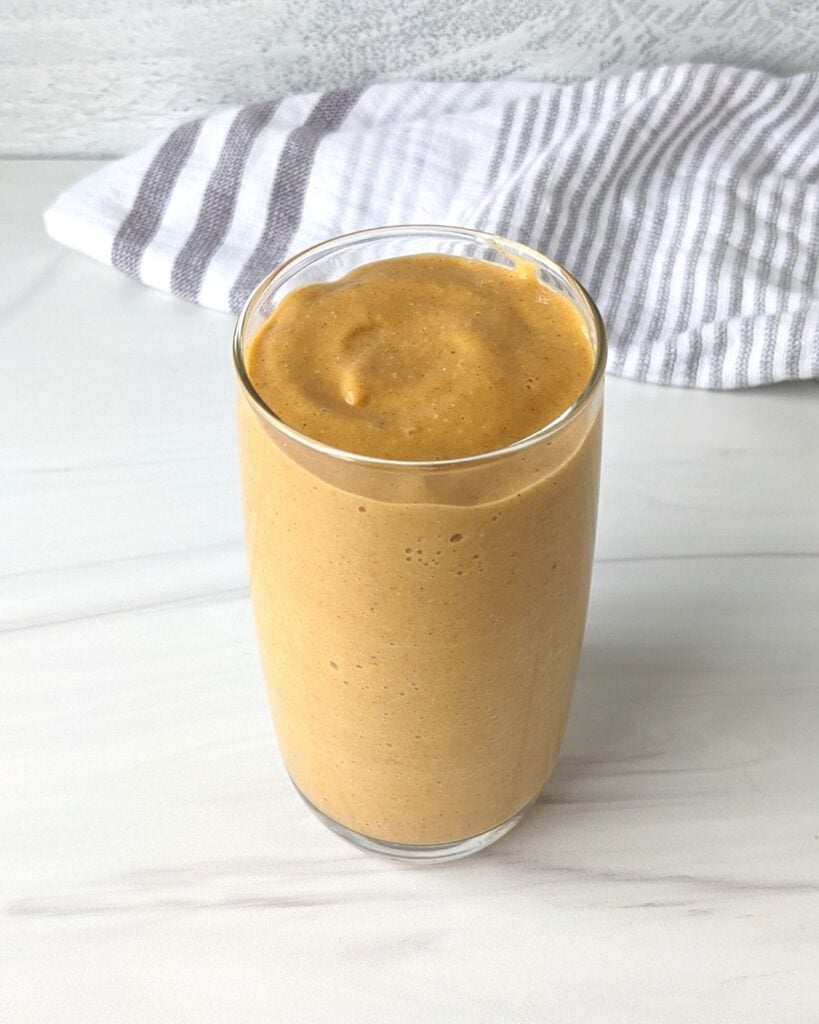 How to make this vegan pumpkin smoothie
The vegan pumpkin smoothie is very easy to make. All you need is:
7 oz. pumpkin puree
1 banana
1 tsp vanilla extract
1/2 tsp cinnamon
1 1/4 cup almond milk
1 tsp maple syrup
Add all ingredients in a blender and mix. Add more liquid if necessary. You can leave out the maple syrup or add more if you want your smoothie to be sweeter.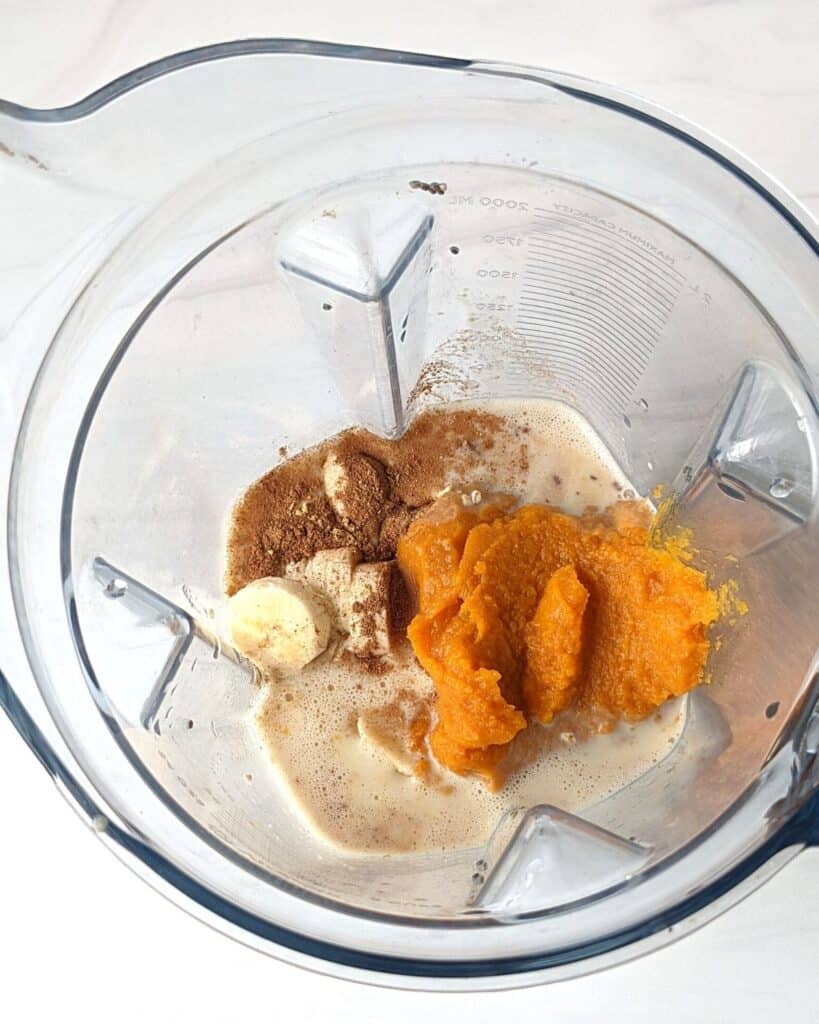 I I only added cinnamon and vanilla extract to spice up the pumpkin smoothie, but you can substitute the cinnamon with a pumpkin spice mix.
If you like this smoothie you might also like the Chai Tea Smoothie and the Black Forest Cake Smoothie.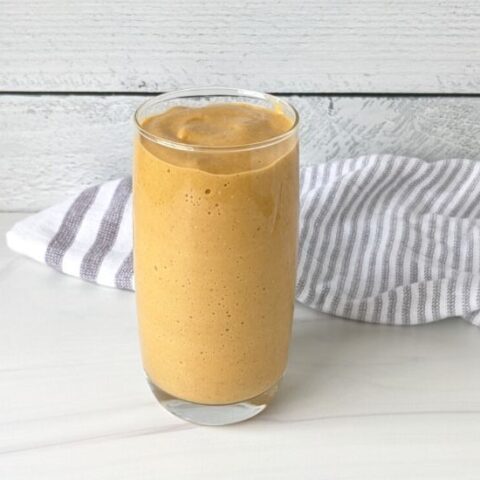 Healthy Pumpkin Smoothie
Ingredients
7 oz. pumpkin puree (1/2 can)
1 banana
1 tsp vanilla extract
1/2 tsp cinnamon
1 1/4 cup almond milk
1 tsp maple syrup
Instructions
Add all ingredients to a blender and mix
Add more milk or maple syrup if needed.
If you use one can, store the other half of the pumpkin puree in the fridge up to a week in an air tight container. You can also double the ingredients to use up the whole can. This would make 2 smoothies or one large smoothie.
Be sure to drink your smoothie slowly.
Notes
You can substitute the cinnamon with 1/2 tsp to 1 tsp pumpkin spice mix.
Nutrition Information:
Amount Per Serving:
Calories:

257
Total Fat:

5g
Carbohydrates:

51g
Fiber:

10g
Protein:

4.2g