Meal Prep: 12 Healthy Lunches in 1 Hour
Meal Prep: 12 healthy lunches in 1 hour. Make these healthy meal prep recipes on a budget in 1 hour and have a 400 calorie lunch ready for every day of the week.
Are you new to meal prep? Are you searching for healthy lunch recipes that are low calorie, yet filling and nutritious? Do you like to save time and money on cooking?
Isn't it a burden to come up with healthy lunch ideas for everyday? If you are like me and don't want to cook for lunch, you most likely eat a salad, or random food, that you have in the house. Sometimes you just run to the fast food restaurant to make things easy.
Subscribe to the newsletter to receive updates, recipes & meal plans, and get instant access to the FREE PDF:
A lot of bodybuilders do this weekly meal prep where they cook all their lunches and dinners for the whole week. This practice is great to ensure you fuel yourself with the right nutrition and avoid being tempted to eat out somewhere.
Today I am going to show you how you can prepare 12 lunches in 1 hour. It might take you a little bit longer if you are a beginner, but it will still save you time during the week. You can also use the meals for dinner or freeze them.
Every lunch is about 400 calories and costs about $1. I got all my ingredients at ALDI, so depending where you shop, the price may vary.
This post may contain affiliate links. Please read my disclosure for more info.
The meals contain healthy complex carbs, protein, and vegetables. They make filling lunches that give you lasting energy, yet help you lose weight.
All recipes are clean eating and can also be used on the 21 day fix program. For the 21 day fix you can count 1 green, 2 yellow, 1 tsp, 1 red per lunch. Of course you can add more green and use only 1 yellow per lunch. This meal prep is very adjustable to your needs.
I usually leave about 2 days worth of lunches in the fridge and put the rest in the freezer. Then I take the lunch out the night before I need it and store it in the fridge to thaw. You can then eat it cold or microwave it.
How to meal prep 12 healthy lunches in 1 hour
Try this meal prep now or PIN TO SAVE FOR LATER.
You will need:
16 oz (1 bag or 4 filets) salmon
16 oz / 1 pound chicken diced
1-2 cans of beans (cannellini, great northern,..)
3 cups dry whole wheat penne
2 cups brown rice
Juice of one lemon or lime for the rice (optional)
12 cups of diced veggies ( I used 1 bag green beans, 1 bag with 3 zucchini, 3-4 bell peppers)
olive oil or coconut oil, salt, pepper
Seasoning: I used paprika powder for the chicken and beans, dill weed for the salmon, parsley for the green beans, garlic powder for the bell peppers, italian herbs for the zucchini and the pasta.
Lots of pots (this is the set our family uses) and an additional casserole dish if needed.
12 3-cup food containers that are freezable and microwavable.
Instruction:
Start to dice the chicken, season with salt, pepper, and paprika powder and add to pan on medium heat.
Take a small pot and add boiling water, then add 3 cups penne and cook until done.
Then take another pot to cook the rice according to the package. I used 2 cups brown basmati rice and about 4-5 cups water. I like to add oil, salt, and lemon juice to the water.
Add another pan to cook the salmon. I add dill weed and lemon juice to season.
Dice all the vegetables and season to taste. I used one big bowl, added the veggies, seasoned and stirred, then placed them into the casserole dish. I baked them in the oven on 400F until they were soft (30 minutes). You can also steam them on the stove.
Once the chicken is done take it out of the pan and add the beans to it to suck up the rest of the seasoning. After the pasta is done, drain the water then add into a bowl. Add salt, pepper, olive oil, italian herbs and other ingredients if desired. You can add garlic and some cherry tomatoes.
Since I added the tomatoes, I scooped 1 1/2 cups into each container.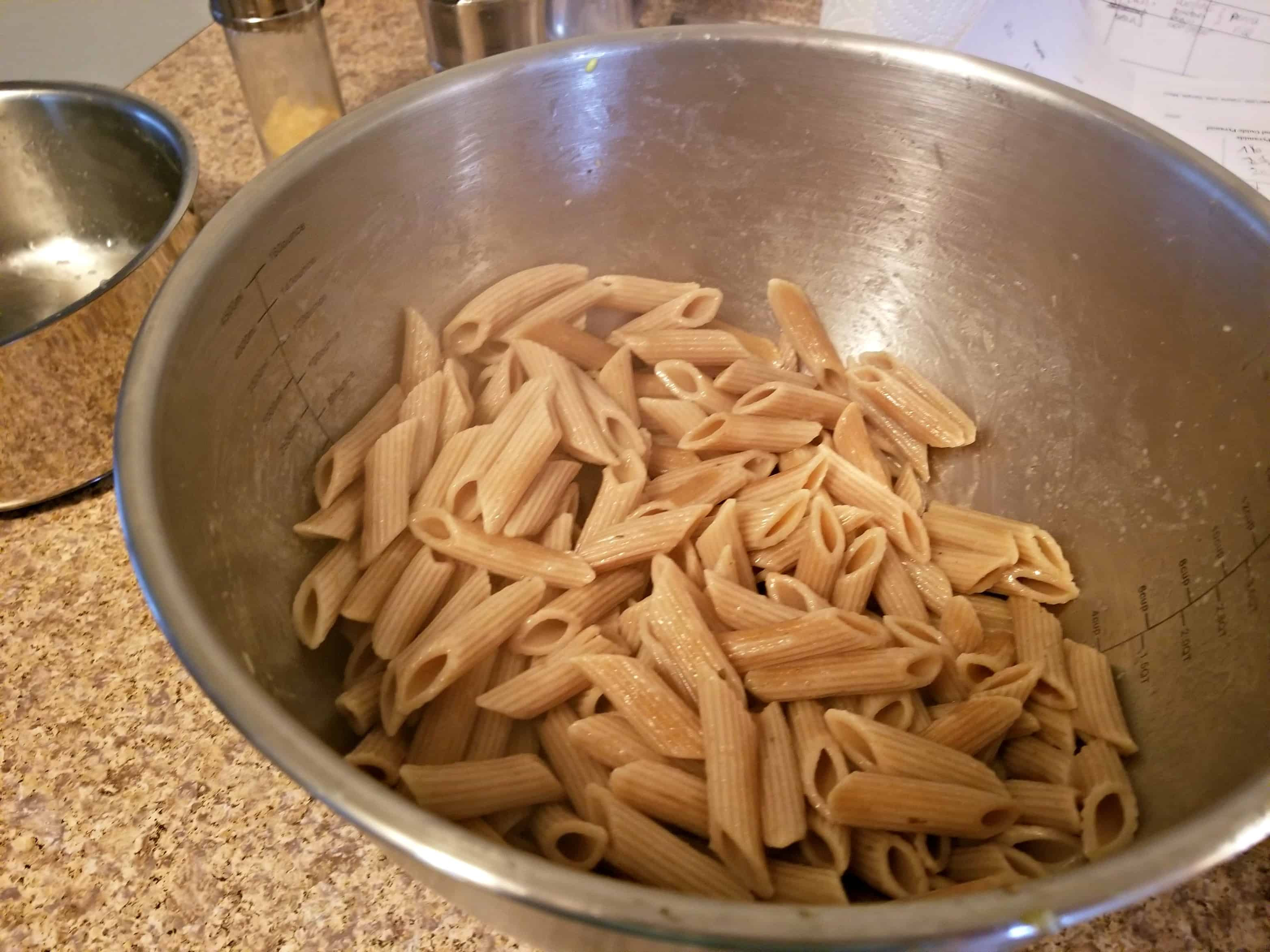 Then 1 cup of rice per container. If you have leftovers simply spread it over the containers or make a little 'leftover container'.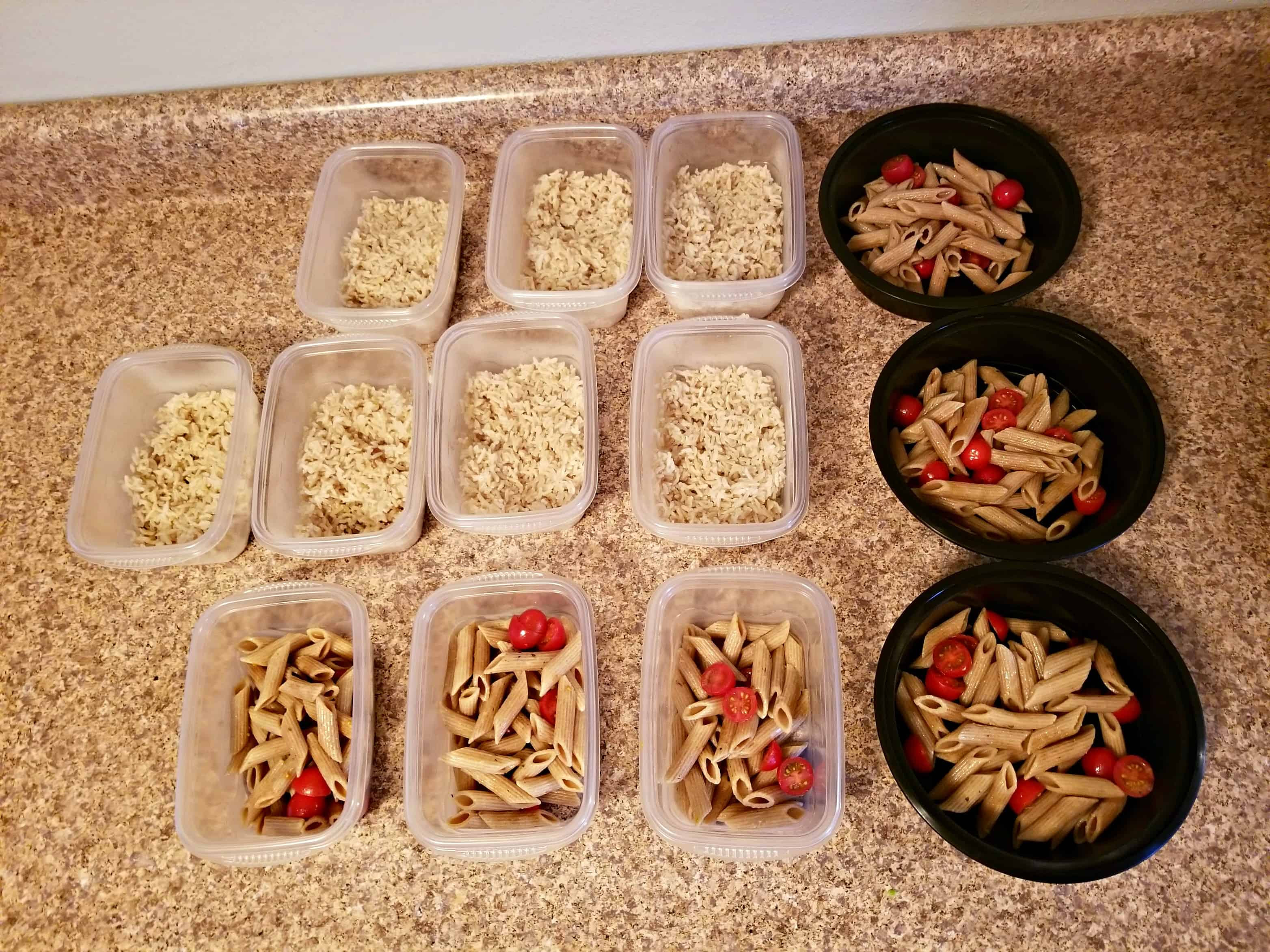 Add one salmon filet per container and about 2 T chicken + 2T beans in the others.
Split the veggies (1 cup each) over the food containers as desired.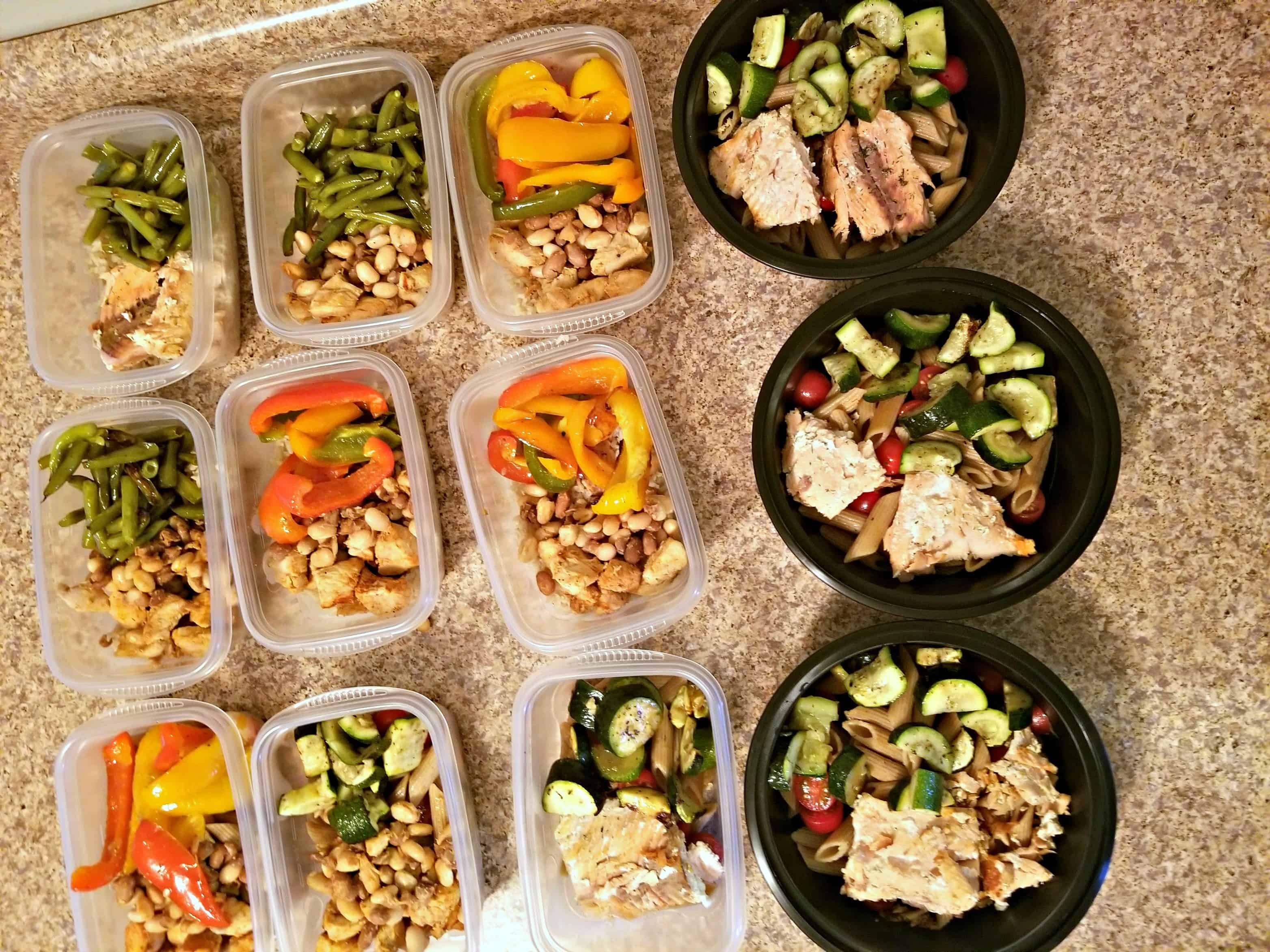 Now put the lid on and let cool down.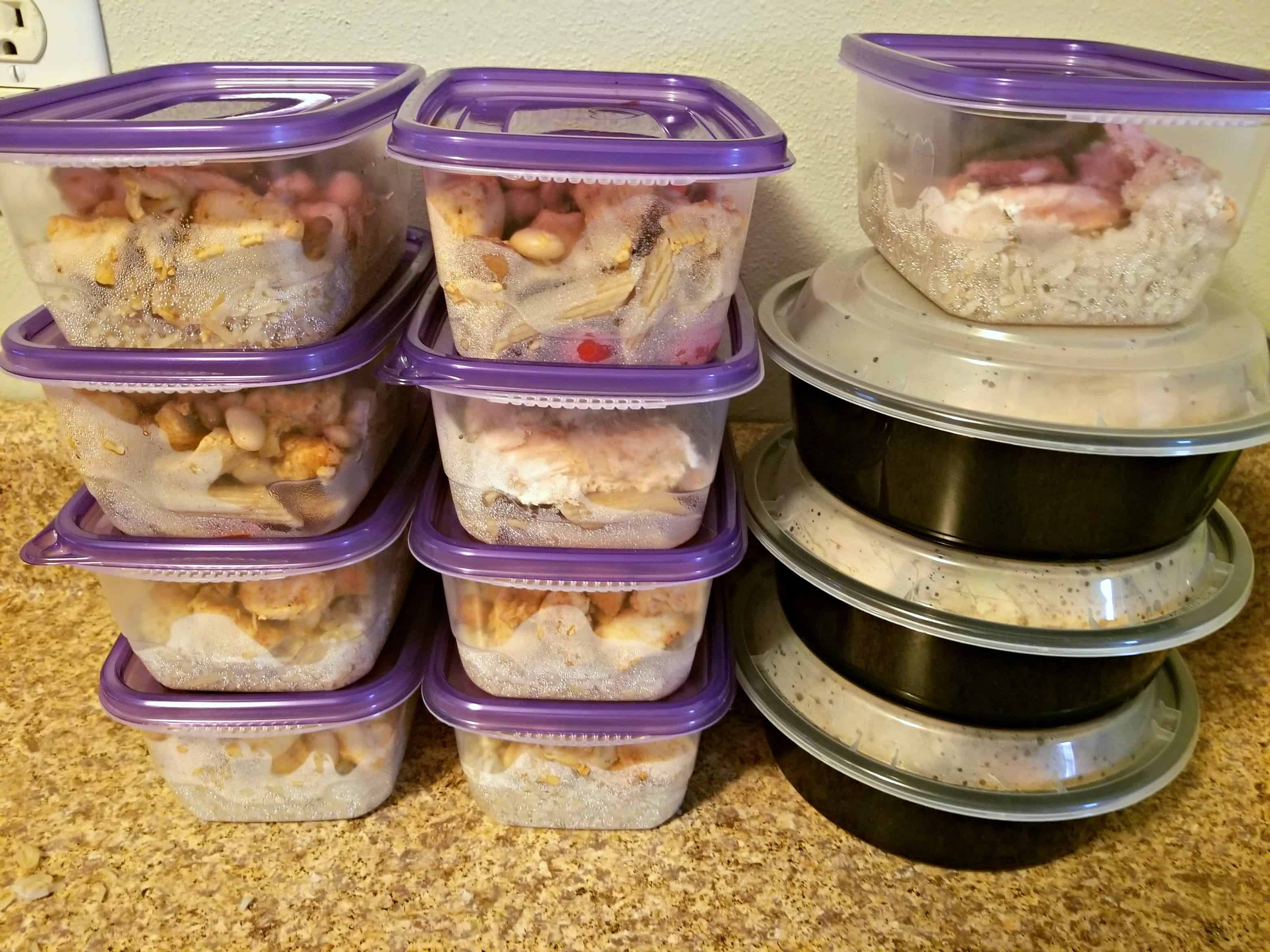 I store 2 days worth of lunches in the fridge and the rest goes into the freezer. Thaw the meal the night before. You can eat it cold or heat it up in the microwave.
If you want another healthy meal prep idea check out these 8 meals under 45 minutes that are budget, freezer, aldi, 21 day fix friendly, plant based, and gluten free!
FREE Optimal Health Bundle
Subscribe to our newsletter to receive regular updates and tips about the plant based diet, weight loss, fitness, health, and get instant access to the FREE PDF.
How do you like this meal prep idea? Comment below and let me know! Also follow me on Pinterest or Facebook for more updates like this.
Also follow me on Instagram, Pinterest or Facebook for more updates like this.
You might also like:
Helpful Weight Loss Resources:
Cronometer.com:  This is a free tool that will help you track your food intake and calories. Cronometer also shows you all the vitamins and minerals you consume which is great to make sure there are no deficiencies.
Vegan weight loss guide:
 Based on scientific methods that reverse and prevent common diseases, this guide will help you lose weight and find a healthy lifestyle in a non-restricting way. It provides vegan recipes that fuel and fill you, promote weight loss, without counting calories or starving. See 
what's all included here.
At Home Workouts: Cardio workouts and light weight training are great to lose body fat, burn more calories, and feel better all together. If you don't know where to start I personally enjoy the workouts from Beachbody. I stream their workouts and simply pick the one for my needs. I have been doing their workouts for years now and it is the easiest way to include fitness into a busy lifestyle. For cardio workouts I suggest Hip Hop Abs (dancing), 21 Day Fix (for anyone), or YouV2 (beginner, or elderly).
Plant Based Meal Planner: If you want to save time meal planning and don't want to miss out on the benefits of a healthy meal plan, check out this meal planning service by Forks over Knives. You can also see some recipes I made from the meal planner and the cost per serving in this review.
The vegan quick start guide:  This guide will give you easy recipes under 30 minutes to start a vegan diet without feeling overwhelmed. All recipes are low fat and budget friendly. The guide contains a example meal plan with a rundown of the nutritional value plus many health and weight loss/muscle gain tips.