Easy Mango Smoothie Bowl (3-ingredients, vegan)
Super easy 3-ingredients Mango Smoothie Bowl that contains 300 calories and is high in vitamin C and B6.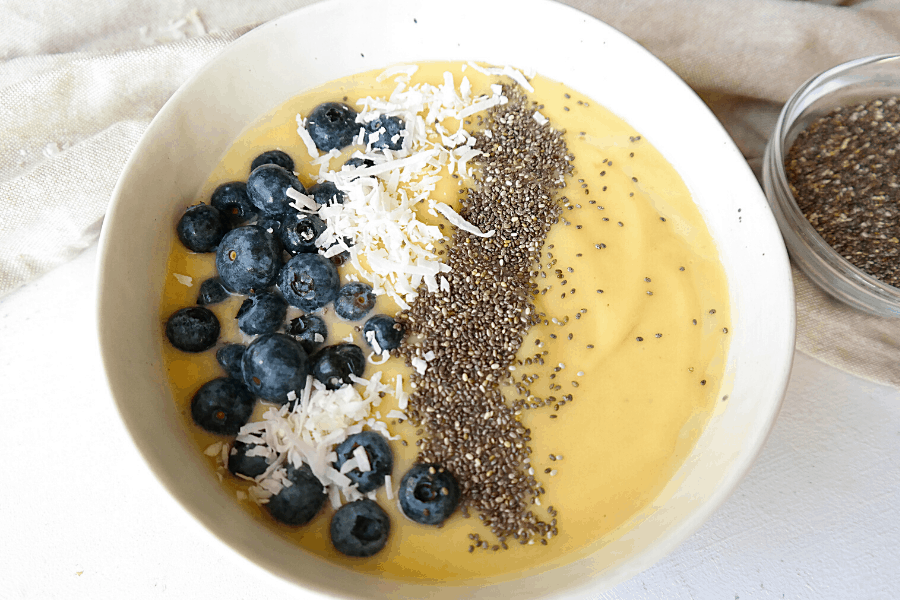 This plant based smoothie bowl is also gluten free, oil free, soy free, and can be adjusted to your desire. You can add many different toppings.
Choose chia or hemp seed to add healthy omega-3 fatty acid, add fruits like berries and pineapple for more anti-oxidants, or choose a plant based vanilla protein powder to transform this snack into a mango protein smoothie bowl.
The smoothie bowl makes a great mango breakfast recipe and below are some delicious topping options.
Optional toppings for the mango smoothie bowl:
raisins
unsweetened coconut flakes
pineapple
berries
chia or hemp seed
maple syrup
chopped walnuts or almond slices
vanilla protein powder
1/2 tsp cinnamon and 1/2 tsp turmeric
Mango Smoothie Bowl Prep and Nutrition
The basic bowl with three ingredients contains 300 calories. If you add 1 tbsp. of chia seeds, 1 tbsp. chopped walnuts, and 1/2 cup of blueberries you'll get 450 calories, 93 g carbs, 10 g fat, 5.3 g protein, and 13 g fiber.
This combination is also very high in omega 3s, vitamin C and B6, iron, magnesium, and zinc. It would make a great option to start your day and fuel your body.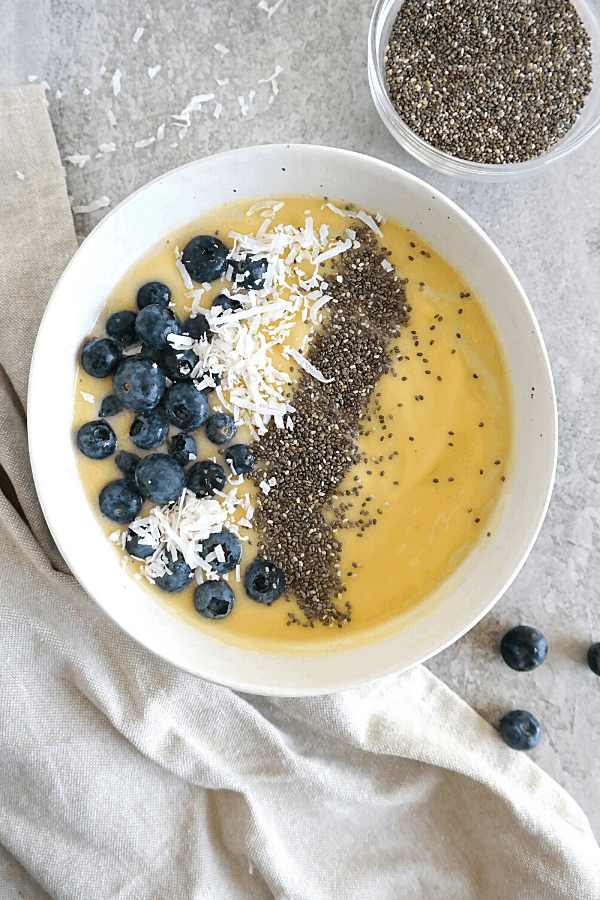 To prep the mango smoothie bowl you simple add the banana, frozen mango, and almond milk to a blender and mix. Then pour into a bowl and add your toppings.
Use less almond milk (about 0.5 cup) when using an unfrozen banana and a little bit more if you use a frozen banana. The mango pieces need to be frozen to make a thicker mass.
Start by adding 1/2 cup of the plant based milk and then add more to achieve your desired consistency. You can also use other plant based milk options. For more protein, use soy milk.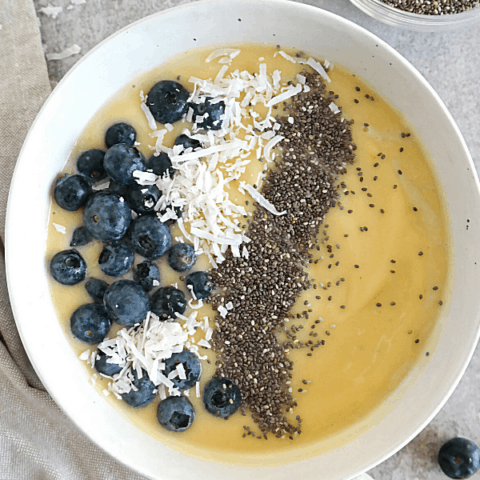 Mango Smoothie Bowl
Super easy 3-ingredients Mango Smoothie Bowl that contains 300 calories and is high in vitamin C and B6. 
Ingredients
1 banana
1.5 cup frozen mango chunks
0.5-0.75 cups almond milk (or other plant milk)
toppings: walnuts, chia seeds, berries, nuts, cinnamon and turmeric, raisins, and more
Instructions
Add the banana, plant milk, and frozen mango chunks and blend until smooth.
Start by using 0.5 cups of plant milk then add more to reach desired consistency.
Pour the smoothie mass into a bowl and top with your favorite toppings.
Nutrition Information:
Amount Per Serving:
Calories:

312
Total Fat:

2.1g
Carbohydrates:

77g
Fiber:

7.4g
Protein:

2g