Vegan High Protein Diet Plan [2,200 calorie meal plan]
A vegan high protein diet plant that contains 2200 calories per day for 7 days and about 90 g of protein per day.
Note that this is almost double the amount of protein women actually need. The plant protein diet plan is nutrient dense, filled with vitamin, minerals, and phytonutrients.
Nutritional Facts of the 2200 Calorie Meal Plan
The High Protein Vegan Meal Plan contains about 2200 calories per day, 90g of protein, 41g of fat, and 88g fiber.
This is a low sodium meal plan and all your nutritional needs are met except vitamin D which you get by sunshine or supplement.
I also want to point out that you get lots of omega 3 fatty acids. If you would like to learn more about protein in your diet, I can recommend the book "Proteinaholic".
To get 2200 calories per day, eat the 550 calorie balanced breakfast bowl, a filling pasta protein lunch (700 calories), a 330 calorie pineapple smoothie, and a high protein dinner (700 calories).
Whether or not you gain weight and muscle from this meal plan depends on your overall lifestyle. Eating more calories than you burn will help you gain weight. So if you eat according to this 2200 calorie meal plan and you only burn 2000 calories per day, you'll gain weight.
To gain muscle you would have to include weight training to your lifestyle. To calculate your caloric need you can use this free body weight planner by the NIH.
Here are some healthy foods from the vegan protein meal plan and their benefits:
Antioxidants (found in the breakfast)
Berries contain a high amount of antioxidants and you should include them in your diet every day. They make a great addition to smoothies or cereal bowls.
Antioxidants prevent stiff and clogged arteries and lower inflammation in your body. On average, plants contain 64 times more antioxidants than meats.
Leafy greens (in the smoothie)
Dark green leafy vegetables are the healthiest ones and offer the most nutrients per calorie. You can use them every day in a smoothie or salad.
As this study shows, green leafy vegetable intake showed the strongest protection against major chronic disease and cardiovascular disease.
Whole grains (breakfast oats, lunch, and dinner)
Carbs are not bad after all! Studies show that "Daily consumption of 3 portions of whole-grain foods can significantly reduce cardiovascular disease risk in middle-aged people mainly through blood pressure-lowering mechanisms." (source)
Whole grains are also high in fiber and have less calories per gram than fat. Just make sure you eat whole, complex carbs like brown rice, oats, quinoa, or whole wheat.
Fiber (over 80g per day)
One of the top benefits of a whole food plant based diet is the high fiber intake. More than 90% of Americans do not eat the recommended amount of fiber (source). The recommended amount is 25g a day as a minimum, but most Americans eat about 10g.

This is bad news, because there is proof that fiber reduces the risk of colon cancer (source), breast cancer (source), diabetes (source), heart disease (source), obesity (source), and stroke (source). It helps control cholesterol (source) and blood sugar levels (source).
Fiber also binds toxins, lead, and mercury (source), which is mostly accumulates in animal fat.
However, if you are not used to eating that much fiber, be sure to ease into the meal plan to avoid bloating!
High Protein Vegan Meal Plan
You can click on each dinner recipe. This will lead you to the post where you can print the recipe card.
Breakfast
I usually prepare this breakfast the night before to make overnight oats. You can add chocolate powder or cinnamon to it. This bowl has 522 calories, 15g fiber, 15g fat, and 18g protein.
1 cup oats
1/2 cup almond milk + 1/2 cup soy milk (or one cup of either)
1/2 cup frozen berries
1/4 apple, diced (or any other fruit)
1 tbsp milled flaxseed
1 tbsp (chopped) walnuts
Lunch
The easiest way to have a nutritious and filling lunch is to cook double the amount of your dinner and eat the leftovers for lunch. All dinner recipes below equal 4 serving sizes, so if you cook for 2 adults you can eat the leftovers the next day!
Snack
To get all the important nutrients in a Healthy Vegan Meal Plan I love to make smoothies as a snack. There are many health benefits provided by drinking a smoothie, if done right. Here is a simple recipe, including healthy fats, protein, vitamins, fiber, minerals, fruits, and vegetables:
2 cups pineapple cubes (1 inch slice)
1/2 cup almond milk + 1/2 cup soy milk (or just 1 cup of either)
5 almonds
1T flaxseed
2 handful (cups) spinach
Dinner
All plant based dinner recipes are easy to prepare and take no longer than 30 minutes to cook.
Dinner #1: One Pot Zucchini Spaghetti
One Pot easy spaghetti with beans and zucchini. Contains 688 calories and 35g protein. You can find the recipe in this post.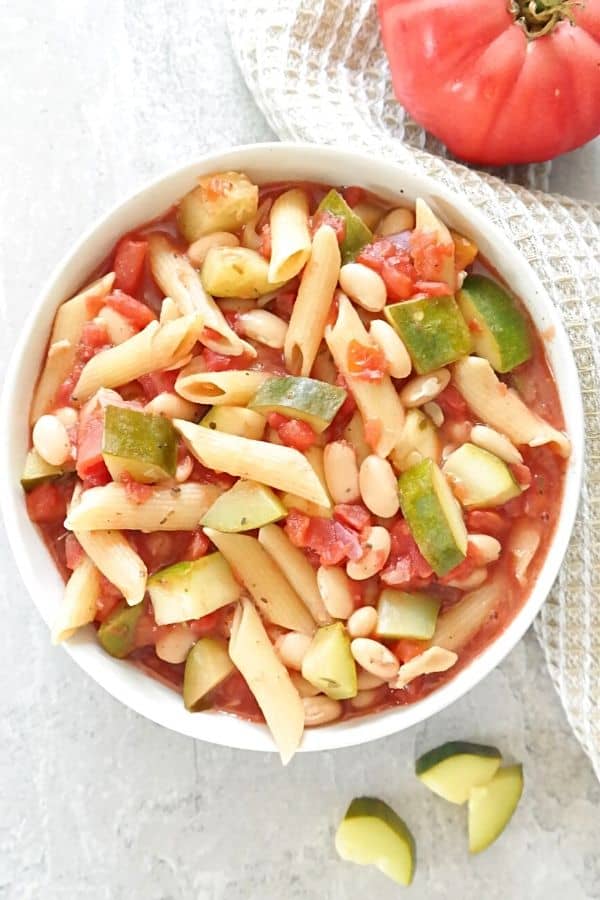 Dinner #2: Curried Chickpeas with Potatoes
Curried Chickpeas with water fried potatoes. A healthy, gluten free, vegan, oil free, and 21 day fix friendly recipe for only $1.50 per serving and done in 25 minutes. Get the recipe here.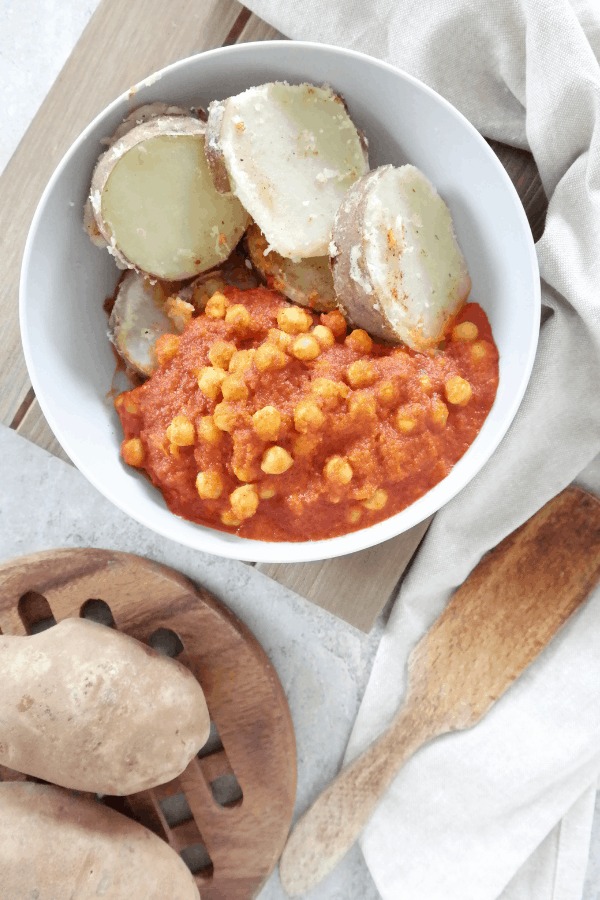 Dinner #3: One Pot Taco Elbow Pasta
One Pot Taco Elbow Pasta done in under 25 minutes and on a budget. Healthy vegan dinner recipe that is simple, family friendly, oil free, and very quick to prepare. Get the recipe here.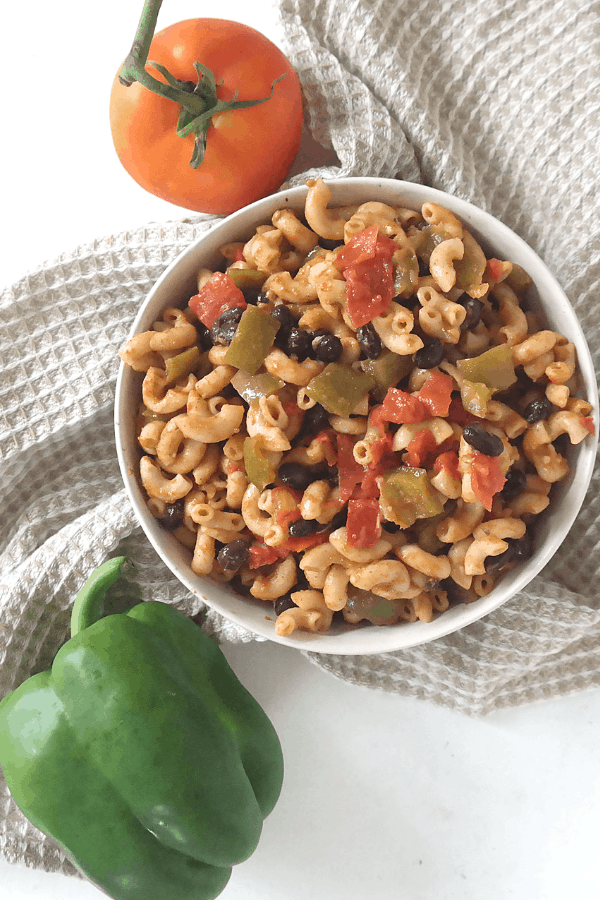 Dinner #4: Easy Veggie Lentil Soup
Great vegan soup recipe done in 25 minutes and contains only 250 calories per serving. Please double the ingredients and serving size of this recipe to meet your caloric needs! You can substitute the lentils with beans in case you can't get lentils. Get the recipe here.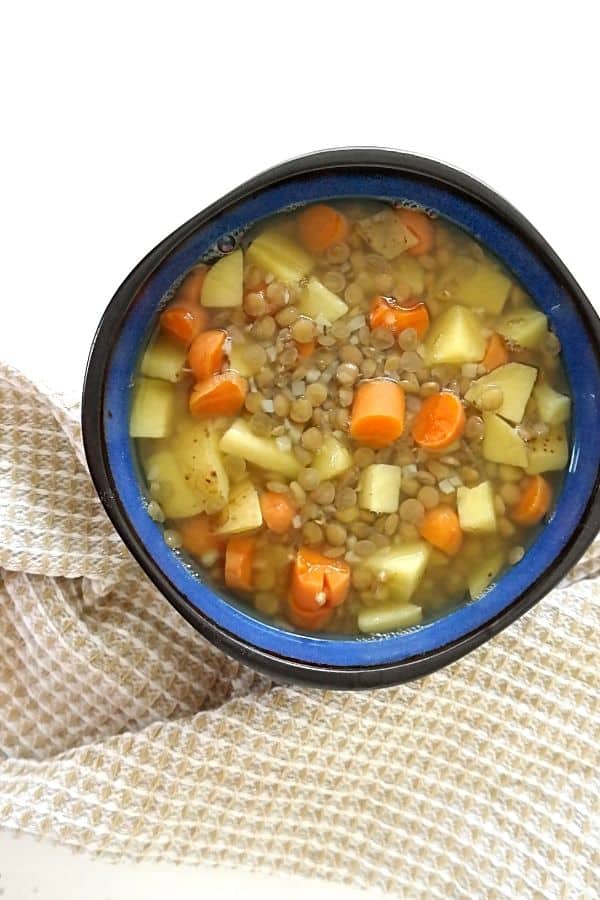 Dinner #5: Beanball Marinara
Vegan Meatballs with black beans, chickpeas, and vegan marinara sauce. Frugal 30 minute dinner recipe for a plant based diet that is also oil free and gluten free. Serve on a sandwich with veggies or over spaghetti. Get the recipe here.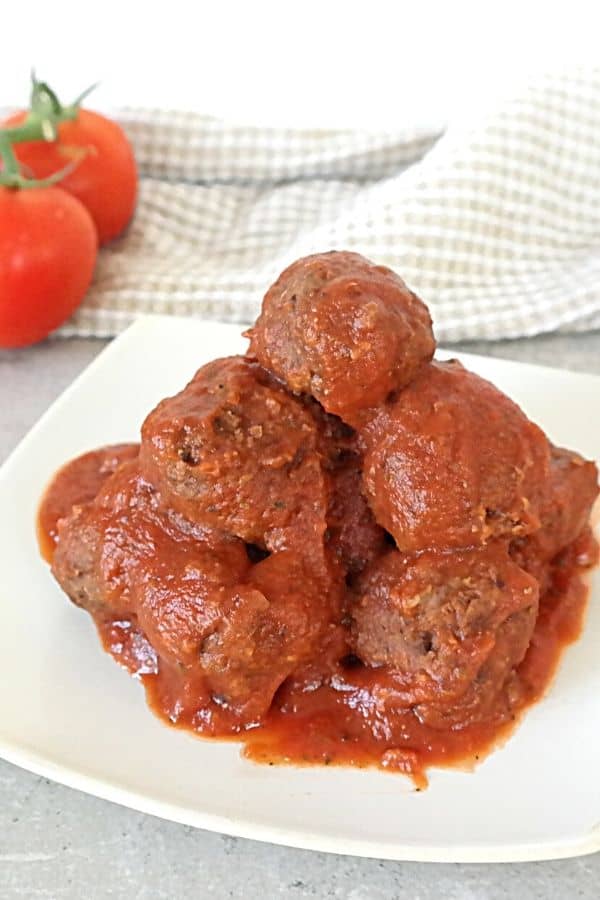 Dinner #6: Vegan Tofu Bolognese
Easy vegan tofu bolognese that is oil free and can be made within 30 minutes. High protein plant based dinner recipe under 500 calories.. Get the recipe here.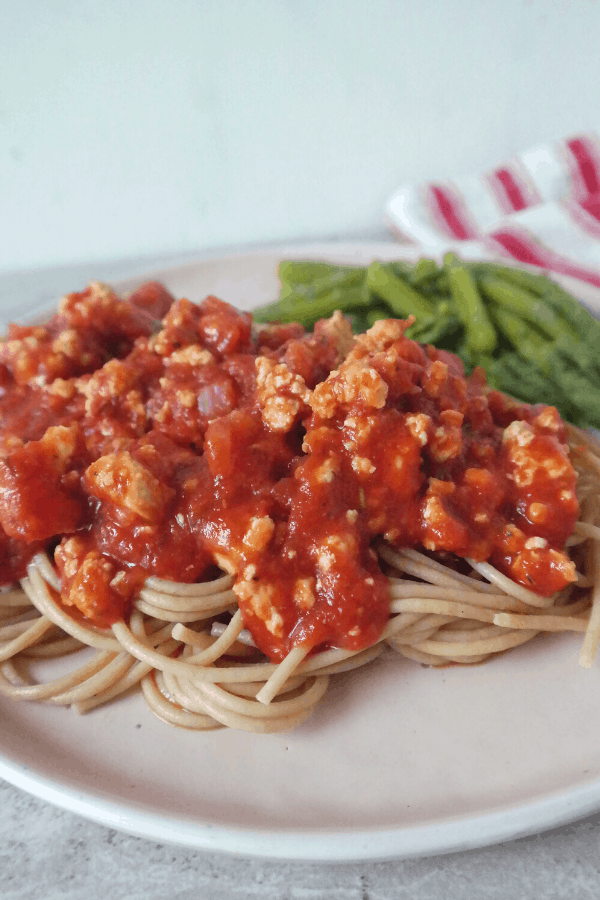 Dinner #7: Detox Power Bowl
Healthy detox power bowl recipe that is easy, on a budget, gluten free, oil free, plant based vegan with 650 calories and 28g protein. Get the recipe here.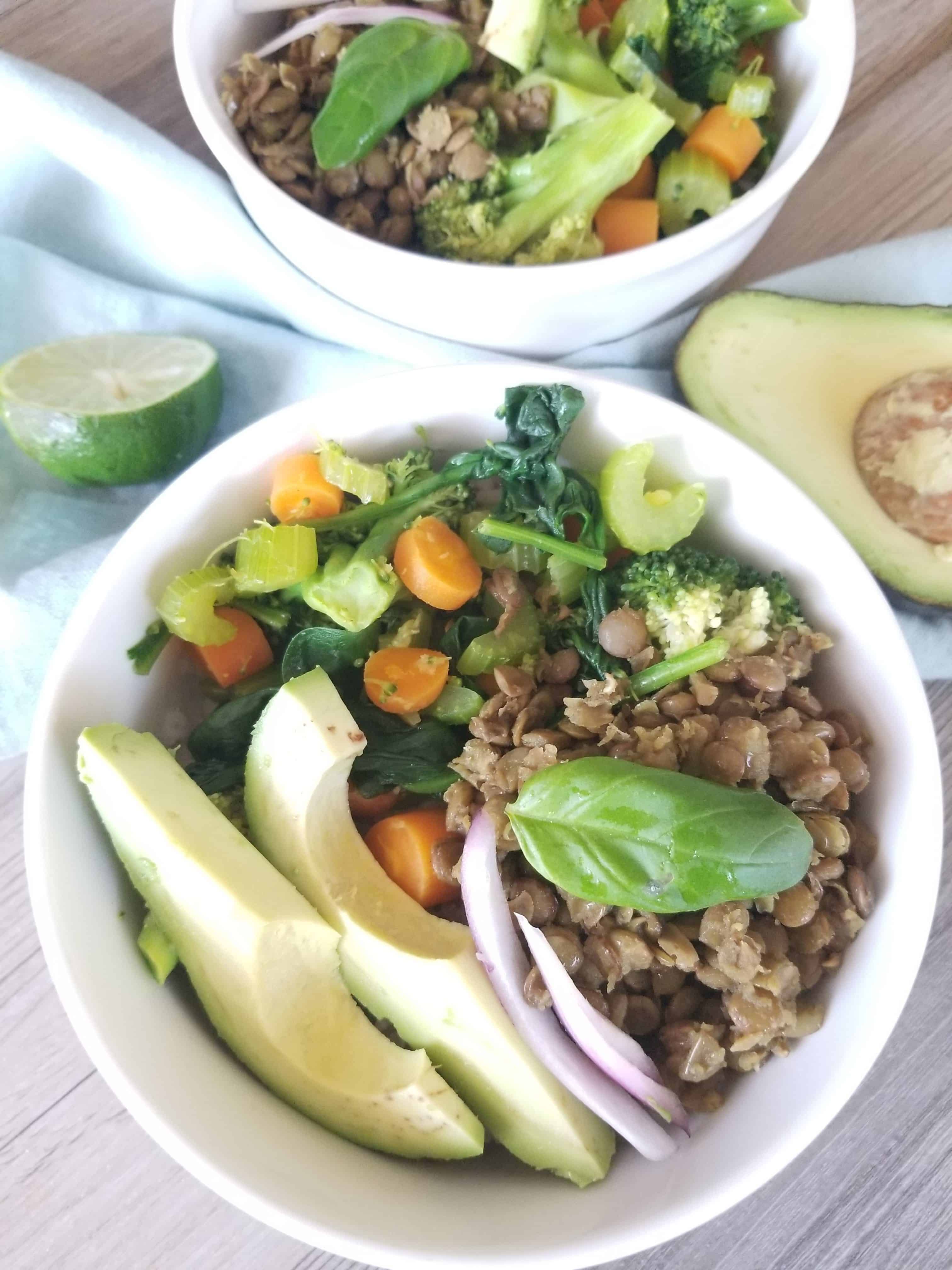 If you like this recipe, you might also like this 80 of protein per day meal plan.