Easy 4-Ingredient Chocolate Balls (whole food plant based)
Wouldn't it be amazing to curb sugar and chocolate cravings without negative side effects to your health?
You're in the right place, my friend!
Today, I would like to share a super easy vegan snack recipe that is sweet and chocolaty. AND it contains all healthy plant based ingredients, no oil and no added sugar.
To sweeten these balls I use dates. These have a much lower glycemic index compared to sugar and contain important minerals, like potassium, as well.
No baking needed for this plant based snack and they are ready in 10 minutes. One recipe makes about 10 balls (depending how you roll them). One ball (or 1/10th of the batch) contains 100 calories, 10 g carbs, 5.7 g fat, 0.5 g omega 3, 2.6 g protein, 2.2 g fiber, 2.5 mg caffeine, 1.2 mg iron. This meal makes the perfect whole food vegan desert recipe.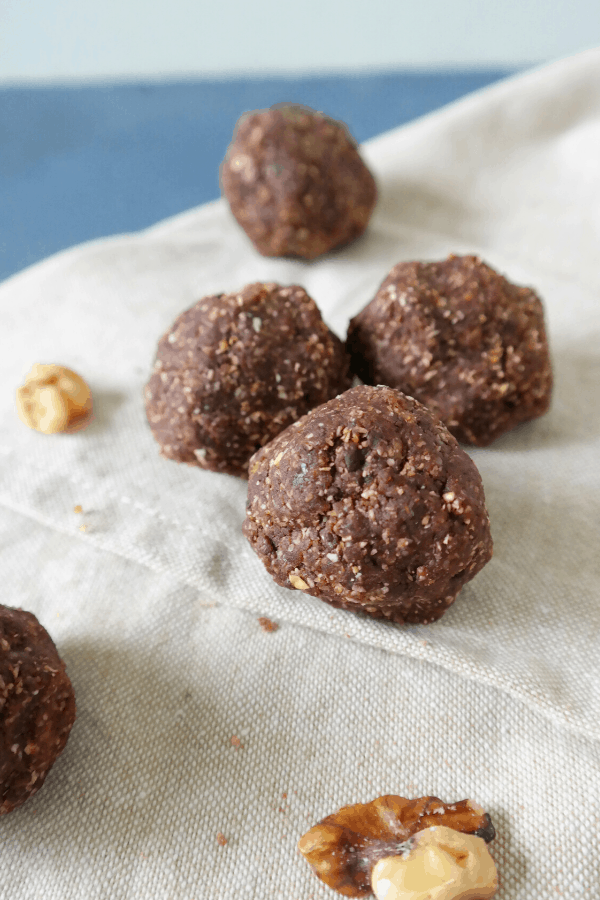 These vegan chocolate balls are high in omega 3, fiber, and minerals. Combined with the low GI, they make a great anti-inflammatory snack while, at the same time, curbing the chocolate and sugar cravings. WIN – WIN! The only tool you need is a blender/food processor.
I use unsweetened cocoa powder (the baking kind) which is a whole food vegan chocolate option. If you want more whole food plant based desserts, check out my easy vegan Nutella recipe and the avocado chocolate smoothie (tastes like chocolate pudding).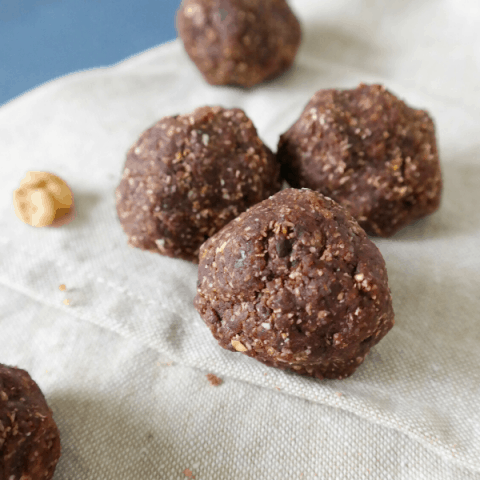 Easy 4-Ingredient Chocolate Balls (whole food plant based)
Healthy plant based chocolate balls with no sugar added. 10-minute vegan snacks to curb cravings.
Ingredients
1 cup oats (any)
5 pitted dates
2 tablespoon water
2 tablespoon cocoa powder (unsweetened)
Optional: Vegan chocolate bar
Blender
Instructions
Add oats, walnuts, pitted dates, and chocolate into a blender and pulse until combined. You can also add a vegan chocolate bar to this if you want to bring out more of the chocolate flavor.
Then move the mix to a bowl and add 2 tablespoon of water. Mix and massage everything with your hands. Then form balls by taking a bit of the mix squeezing it together, then rolling it between your hands.
Nutrition Information:
Serving Size:

1 ball (1/10th recipe)
Amount Per Serving:
Calories:

100
Total Fat:

5.7g
Cholesterol:

0mg
Carbohydrates:

10g
Fiber:

2.2g
Protein:

2.6g