Tofu Spaghetti Recipe with Tomato
Creamy vegan tofu spaghetti recipe where the tofu is blended into the tomato sauce so you won't even taste it. This high protein dinner or lunch meal (28 g protein) is also great for weight loss (450 calories).
Would you like to enjoy the health benefits of tofu but can't stand the taste?
Tofu is a great plant based protein source because it provides a complete amino acid profile. It is a soy product that might also help prevent certain types of cancer and it is super cheap. But have you tried it?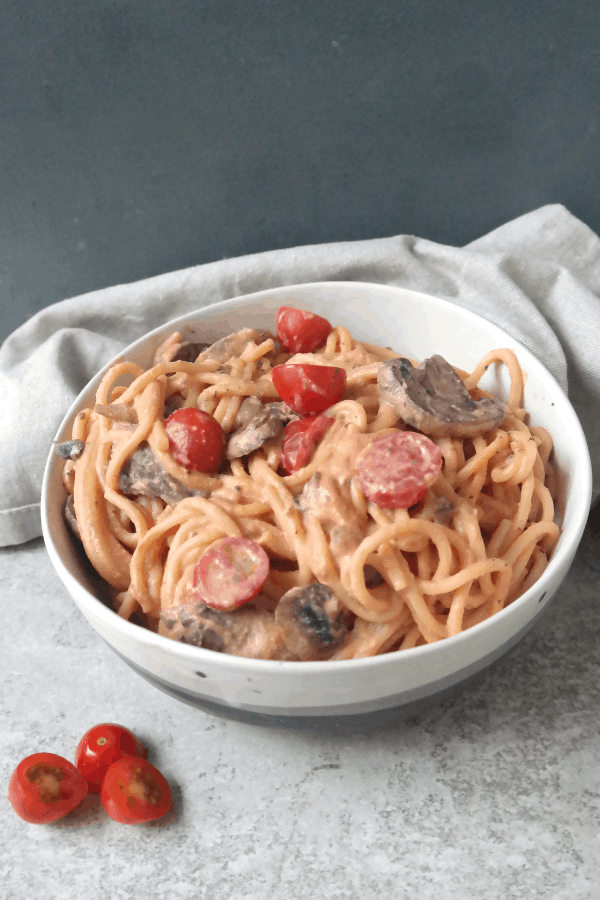 In my first year eating a vegan diet I tried tofu once and never again. I simply could not figure out how to make it taste good, so I got my protein from other plant based sources like beans, lentils, and nuts.
Then it hit me: What if I just blend it with other ingredients into a well seasoned sauce? Turns out that was a great idea and it kind of tastes like a vegan ricotta cheese creamy sauce.
I mixed the sauce with cashews, tomato sauce, garlic, and more. Then I added basil and oregano for taste. I also like to add lots of veggies to my meals for a balanced diet. Below you can read more about the nutrition of the sun dried tomato pasta recipe, the cost, and you can print the recipe.
Tofu Spaghetti Recipe: Nutrition and Weight Loss
This vegan tofu recipe is high in protein (27 g), B-vitamins, and contains 450 calories. It makes a great weight loss recipe with balanced nutrition. One serving of this meal covers the following recommended daily allowance: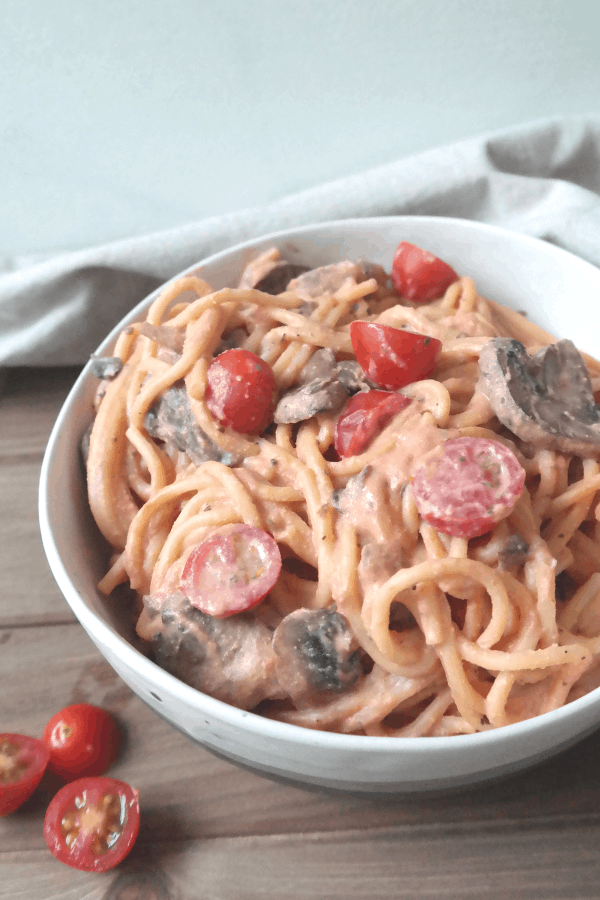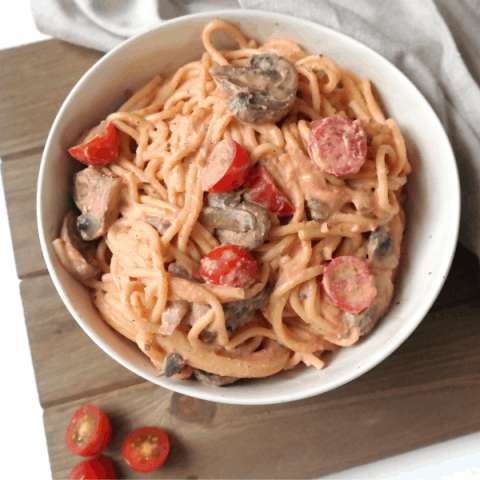 Tofu Spaghetti Recipe with Tomato
Creamy vegan tofu spaghetti recipe with hidden tofu mixed in tomato sauce. High protein dinner or lunch meal (25 g protein) that is also great for weight loss (460 calories).
Ingredients
8 oz. firm tofu
2 clove garlic
16 oz tomato sauce
1/4 medium onion, chopped
8 oz dry whole wheat spaghetti
32 oz sliced mushrooms
1 pint cherry tomatoes, halved
salt and pepper optional
Instructions
Soak the cashews for 10 minutes in water.
Cook the pasta according to package. Before you add the spaghetti in the pot, break the strings in half so you can mix it better later.
Add tomato sauce, garlic, cashews, tofu, sun dried tomatoes (see notes to modify), and 1/2 cup water into a blender and mix until creamy.
Sauté the onions and mushrooms in 1/4 cup water for 5 minutes, then drain the water.
In the meantime, cut the cherry tomatoes in half then add to pot. Add the rest of the ingredients.
Mix well and heat everything thoroughly. Enjoy!
Nutrition Information:
Yield:

4
Serving Size:

2.5 cups
Amount Per Serving:
Calories:

450
Total Fat:

12.5g
Cholesterol:

0mg
Carbohydrates:

70g
Fiber:

11g
Protein:

28g