Cranberry Smoothie Recipe (vegan)
When I was in college I experienced one UTI after another during one winter season. If you have ever had a urinary tract infection, you know the terrible feeling. After my third UTI and antibiotics a doctor told me to try cranberry capsules to help prevent the occurrence of infection.
Living in Germany, cranberries are not native so these supplements were pretty expensive. But they worked! Today, I rarely get UTIs. Many of you may have experiences with UTIs and would like to take preventative measures. For my benefit and yours, I've created a cranberry smoothie that can help prevent a urinary tract infection.
If you've tried cranberries before, you know they are no delight to snack on. I've tried them in my overnight oats but no, thanks!
Today's UTI-fighting cranberry smoothie is dairy free, gluten free, vegan, and filled with anti-oxidants. It contains omega-3 fatty acids (to fight inflammation), healthy greens, and more. One serving contains 270 calories, 6 g protein, and 11 g fiber. It is high in vitamin C, E, K, B-vitamins, folate, iron, magnesium, and potassium.
The smoothie is sweetened with dried dates and banana. You can still taste a hint of the cranberries but it comes together nicely. This smoothie is definitely a great way to use raw cranberries!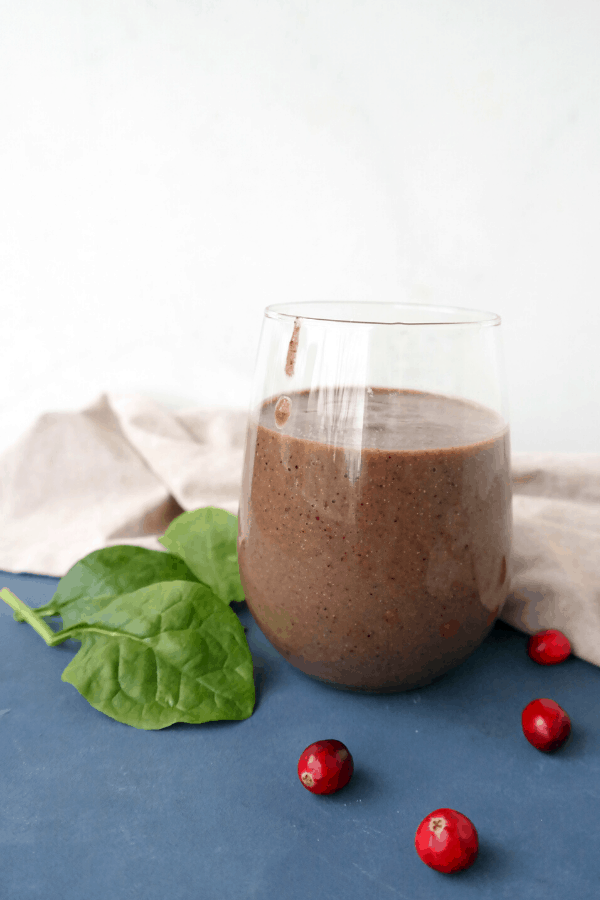 Y'all know I love to dig into science when it comes to nutrition. So here are some facts describing why cranberries are good for you:
Benefits of cranberries
Cranberries contain phytochemicals that may provide protection against cancer and vascular diseases (source). They can positively affect atherosclerotic cholesterol profiles. There is some evidence showing they help with digestion:
"Cranberry juice or cranberries have been shown to inhibit the colonization of H. pylori in stomach, and protect against intestinal inflammation." (source)
While Cranberries have been shown to be effective in preventing UTI they have not proven to be effective for treatment (source). During the infection a certain bacteria collects and sticks to the lining of the urinary tract. Cranberries have the power to inhibit their adhesion and colonization.
If you suffer from UTIs on a regular basis, try drinking this smoothie daily. If fresh cranberries are not available to you, try the capsules.
I always suggest you choose the fresh whole fruit if it's available to you. The fruit contains important fiber and other minerals and vitamins. Dried cranberries are usually coated with added sugar and cranberry juice is stripped of fiber. Supplements are not regulated by the FDA and, therefore, dosage and efficacy are questionable.
Plus, if you simply drink this smoothie you avoid the sour taste and consume many other beneficial nutrients for a stronger immune system.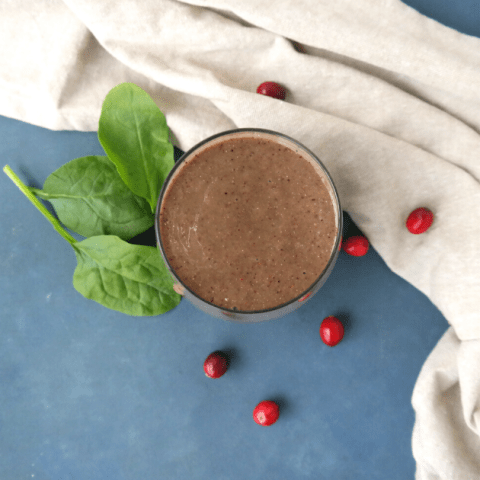 Cranberry Smoothie Recipe (vegan)
Healthy cranberry smoothie recipe that is vegan, gluten free, dairy free, and high in omega-3. A great smoothie to prevent UTI and boost your immune system.
Ingredients
1 banana
1/2 cup fresh cranberries
0.75-1 cup almond milk
1 t dried dates (replace with slice of ginger, see notes)
0.75 cup frozen berries
1 cup spinach
1 T chia seeds
Instructions
Add everything into a quality blender and mix until smooth.
Notes
For additional anti-inflammatory benefits you can add a slice of ginger to the smoothie and omit the dried dates. This will take away some sweetness but give the smoothie more of a "kick". Ginger is also great for settling your stomach.
Nutrition Information:
Amount Per Serving:
Calories:

270
Total Fat:

5.6g
Cholesterol:

0mg
Carbohydrates:

54g
Fiber:

11g
Protein:

6g