Chai Tea Smoothie Sweet Potato-Banana (vegan, gluten free, easy)
Healthy and easy vegan chai tea smoothie with banana, sweet potato, chia seeds, and soy milk. Plant based chai smoothie with added vitamins and minerals for only 300 calories.
What is Chai Tea?
Chai tea consists of a tea base (often black tea) with a mix of spices like cardamom, nutmeg, anise, cinnamon, and ginger. If you don't want to consume caffeine, you can choose Chai tea with a base of non caffeinated herbs like rooibos tea (Find it here).
You can get chai tea in bags like this one by Tazo. If you get loose Chai tea I recommend using these rust free reusable silicone tea bags.
Vegan Chai Smoothie Recipe
To prepare this smoothie you have to make the chai tea first. I like to heat up the milk in the microwave for 1-2 minutes then add the tea bag and let sit for 10 minutes. If you like a stronger chai taste use 2 tea bags. After the 10 minutes make sure to squeeze out the tea bags to get a stronger flavor. Then add all ingredients with some ice into a high powered blender.
I like to use soy milk for added protein but you can also use other plant based milk. Almond milk contains less calories. Additionally, I like to add chia seeds to my smoothies for added omega-3 fatty acids. You can also use flax or hemp seeds instead.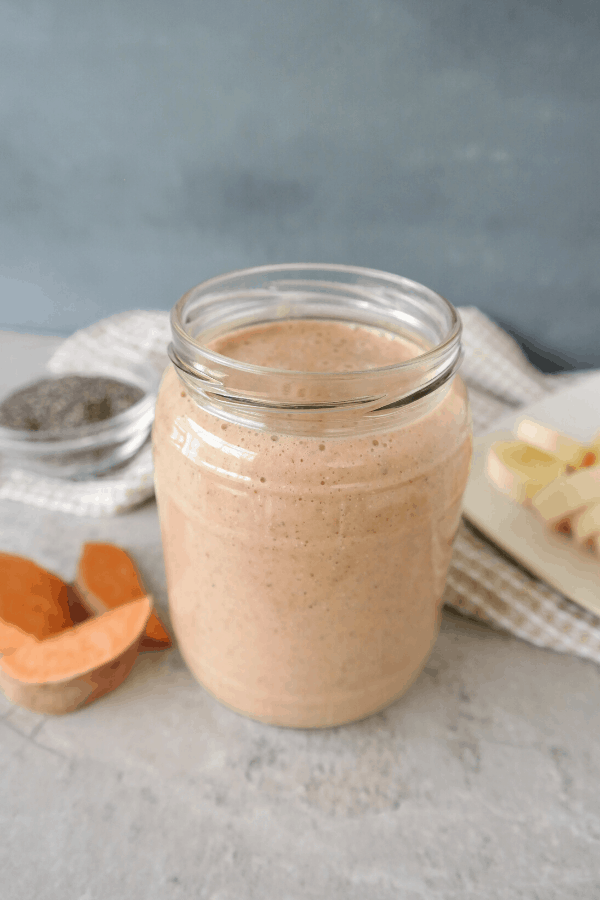 If you need more greens in your diet, add a hand full of fresh baby spinach to make this drink a chai green smoothie. Spinach is a great source of vitamin K and C. The sweet potato provides vitamin A, and an additional source of minerals and vitamins. The banana will give the smoothie a sweet taste.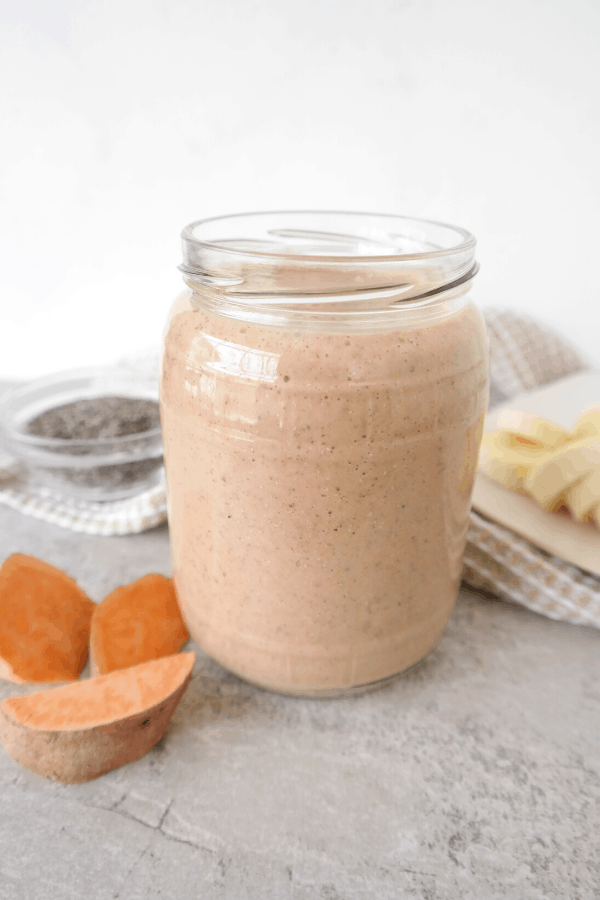 If you like this recipe, you might also like the healthy pumpkin smoothie.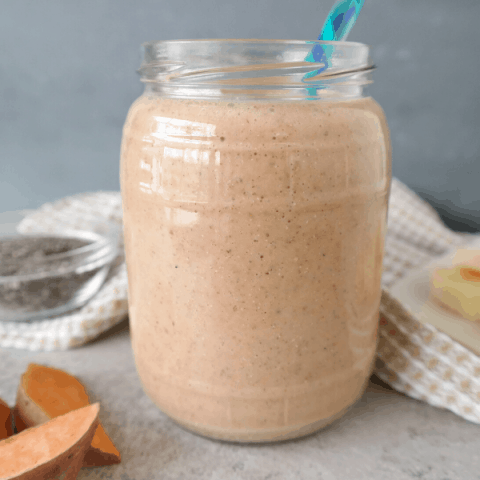 Chai Tea Smoothie Sweet Potato Banana (vegan, gluten free, easy)
Healthy chai tea smoothie under 300 calories filled with fiber, minerals, and vitamins to boost your health while enjoying a delicious chai smoothie.
Ingredients
1 cup soy milk (or almond)
1/2 cup sweet potatoes (raw)
1 T chia seeds
1 banana
1/2-1 cup ice cubes
optional: 1 cup fresh baby spinach
Instructions
Heat the plant based milk in the microwave for 1-2 minutes until hot.
Then add one or two tea bags of chai tea (depending on desired strength) and let steep for 10 minutes.
Remove the tea bags and squeeze the rest out into the cup. Add the drink to a blender with all other ingredients. Add 1/2 to 1 cup of ice cubes to the blender depending on desired consistency and temperature.
Nutrition Information:
Serving Size:

1
Amount Per Serving:
Calories:

300
Total Fat:

4.3g
Carbohydrates:

57g
Fiber:

9.7g
Protein:

11g