Anti Inflammatory Meal Plan
The anti-inflammatory meal plan serves one person for 8 days. One day of eating contains about 2000 calories and 83 g of protein.
All meals contain anti-inflammatory ingredients and are gluten free, added sugar free, and oil free. This simple anti-inflammatory diet is packed with vegetables, fruits, omega 3s, herbs, and spices.
Anti inflammatory meal plan and shopping list
This anti-inflammatory meal plan shows exactly what to eat for one person each day for 8 days and comes with a shopping list. Pick the best times for each meal and adjust to your needs. I have 4 dinner recipes that serve 2.
Cook dinner one night then eat leftovers another night (see plan). Switch up the order of dinner meals to your liking. The lunch meal stays the same each day. That way you only have to make one large pot and divide all servings into meal prep containers. You can also double up on all ingredients to serve 2 people.
The meal plan contains anti-inflammatory spices like ginger and cinnamon. You also get a large serving of greens each day, a cruciferous vegetable, enough of all vitamins and minerals, as well as plenty of plant based protein.
This meal plan is also high in omega-3, oil free, gluten free, vegan, and low in sodium. You can omit the salt completely if you need to.
To adjust this meal plan to a weight loss meal plan, simply cut the lunch in half! This will lower your caloric intake to 1700-1800 per day.
I don't recommend eating any less than that to ensure adequate nutrition. If you need a larger caloric deficit, I suggest adding an exercise or walking routine to your day.
What are inflammatory foods?
The biggest inflammatory foods are processed foods like microwaveable dinners, hot dogs, chicken nuggets, dehydrated soups, baked goods, sugary cereals, processed meats, biscuits, and sauces (Harvard Medical School).
Processed foods are high in salt, fat, and contain no to little nutritional value. These also include white pasta, white bread, cookies, donuts, other packaged treats, juices, sodas, white flour, white rice, salad dressing, candy, oils, butters, and more.
Animal products are also high in saturated fat. Cooking oil is another highly processed food with a high content of fat and calories and little nutritional value. "Cheap" oils like soybean oil contain lots of omega 6 and these oils are also added to processed foods.
While they might be healthier than saturated fat, too much omega 6 can increase inflammation and omega 3 fatty acid has anti-inflammatory effects. Therefore, you should increase the foods with omega 3 fatty acids and reduce the omega 6 intake.
Omega 6 is highly concentrated in oils. So cutting out oils while increasing your healthy fat intake with whole foods like nuts, seeds, and leafy greens (spinach) wil re-balance your omega-3 : omega-6 ratio.
Anti-Inflammatory Food List
Anti-inflammatory foods are packed with anti-oxidants, vitamins, minerals, omega-3, phytonutrients, and fiber.
Anti-oxidants are molecules in food that help remove free radicals from the body. Free radicals are the natural byproducts of some bodily processes, including metabolism. Free radicals can lead to cell damage. (Source)
This damage increases the risk of inflammation and can contribute to a range of diseases. The body creates some antioxidants that help it remove these toxic substances, but dietary antioxidants also help.
"A fiber-rich diet may help reduce inflammation by lowering body weight. High-fiber foods also feed beneficial bacteria living in the gut, which then release substances that help lower levels of inflammation body-wide. Lower inflammation may have to do less with fiber itself than with healthy plant chemicals called phytonutrients found in fiber-rich fruits, vegetables and whole grains." (source)
So here is the the anti-inflammatory food list:
Fruits
Vegetables
Whole grains
Nuts (walnuts are high in omega 3)
Legumes
Seeds (hemp, chia, and flax are high in omega 3)
Soy beans (edamame is high in phytochemicals)
Spices (ginger, turmeric, and cinnamon are known to be anti-inflammatory)
Tea (green tea and other teas are known for their anti-inflammatory phytochemicals)
Leafy greens (are packed with nutrients!)
Why do I need to lower inflammation?
Inflammation in your body is the cause of many symptoms. It can express itself in symptoms like acne, joint pain, migraines, and more.
Here is a list from verywellhealth.com with signs and symptoms of an inflamed body:
Low backpain
Skin symptoms
Swollen lymph nodes
Excess mucus production
Low energy
Poor digestion
Balance problems
Insulin resistance
Blood clotting problems
Dry eyes
Brain fog
What is the easiest anti-inflammatory diet?
The easiest way to eat an anti-inflammatory diet is to stick to a whole plant foods. You don't have to achieve 100% of whole plant foods, but the more you pack into your day, the better.
Eat whole plant foods, add spices and herbs, and drink plenty of water. To make this super easy and practical you can follow the meal plan below.
Simple Anti-Inflammatory Meal Plan
Below you will find the overview for the simple anti-inflammatory meal plan. You can view each recipe with ingredients and instructions.
Breakfast
Apple Cinnamon Oats: 1 cup oats, 1 cup almond milk, 10 raw almonds, 1 T chia or hemp seeds, 1 T ground flax seed, 1 diced apple, 1 t ceylon cinnamon.
Smoothie
Anti inflammatory smoothie: 1 red apple, 1 ripe banana, 1 slice of fresh ginger, 2 cups spinach, 0.5 lemon (juice), 1 stalk celery, 0.5 cup water.
Blend everything together until smooth
Lunch
Cauliflower Potato Stew: This makes 8 large servings for each day of the 8-day plan. It is best to prepare this meal ahead of time, divide into 8 equal parts, and store in 5-cup containers. You can store them in the fridge or the freezer.

Ingredients:
6 medium potatoes, cubed
6 green bell pepper, cubed
2 head cauliflower, cut apart
2 onion, diced
4 cans great northern beans (3 cups cooked), rinsed
6 cups water
4 T paprika powder
1 t salt
1 t vegetable stock powder
4 dashes chili powder

Instructions:
Wash, cut, and prepare all the vegetables. Then add them to one pot or your instant pot. Add the rest of all ingredients. If you cook on the stove (one pot) set heat to medium and cook for 10-15 minutes until potatoes are soft. If you use the instant pot, set it to stew, high, 5 minutes and seal the valve.

Dinner
Dinner 1:
Fajita rice bowl. This recipe makes 2 servings. The second serving is for day 5.
Dinner 2:
Thai noodle soup. This recipe makes 2 servings. The second serving is for day 6.

Dinner 3:
Sweet potato chili. This recipe makes 2 servings. The second serving is for day 7.

Dinner 4:
Tofu tomato linguine. This recipe makes 2 servings. The second serving is for day 7.

Dinner 5:
Fajita Rice Bowl Leftovers
Dinner 6:
Thai noodle soup leftovers
Dinner 7:
Sweet potato chili leftovers

Dinner 8:
Tofu tomato linguine leftovers.
Dinner 1: Fajita Rice Bowl Recipe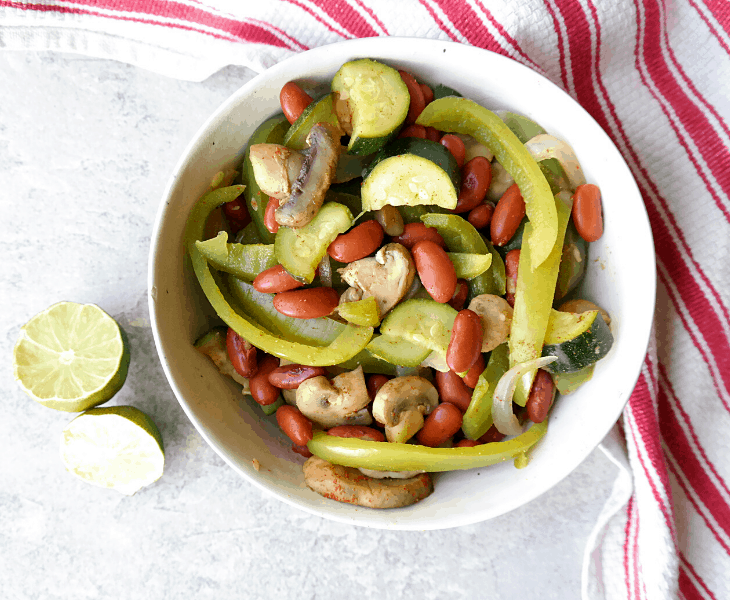 0.75 cups brown basmati rice, dry
1 zucchini cut in half and sliced
1 box (8 oz) mushrooms, sliced
1 green bell peppers, sliced in strips
1 cans kidney beans, drained and rinsed
1/4 onion, sliced
juice of 1 lime
1/2 t chili powder
1/4 t paprika powder
1/2 t cumin
1/2 t salt
Instructions:
Prepare rice according to the package. Pour 1/4 cup water to a large pan and all the veggies and beans. Put the lid on top and let steam on medium heat until soft. Drain remaining water, add the seasoning and lime juice and stir. Split the meal into two servings and store the second serving in the refrigerator for later.
Dinner 2: Thai Noodle Soup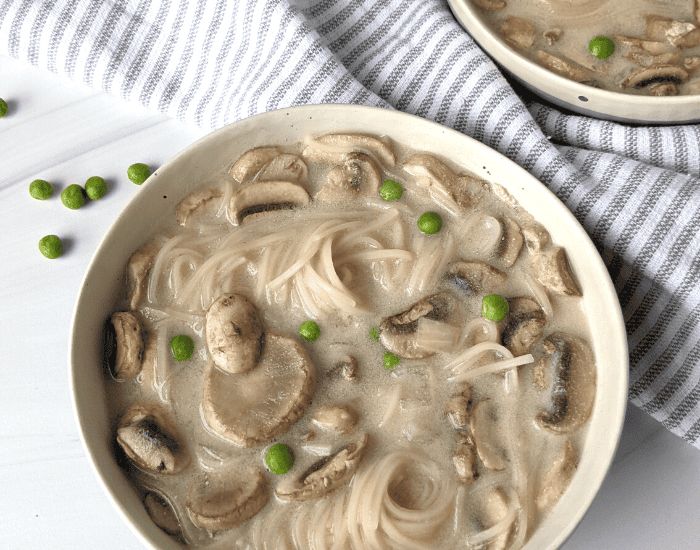 Ingredients:
1 can coconut milk, full fat
1 bundle cilantro, chopped small
1/4 onion, chopped
1 clove garlic, pressed
1 t vegetable stock powder (optional)
1.5 t soy sauce, low sodium
1 can great northern beans
1/2 cups frozen peas
8 oz sliced mushrooms
1 lime, juice
4 oz (brown) rice noodles
1.5 t fresh ginger root, ground
dashes of turmeric and pepper
salt (optional)
3 cups of water
Instructions:
Add 1/4th cup of water to a pot and "fry" the chopped onions and garlic. Then add the rest of ingredients and 3 cups of water to the pot except the pasta. Once the soup is boiling add pasta and cook for 3-5 minute or as instructed on the pasta package. Add more water if desired. Split the meal into two servings and store the second serving in the refrigerator for later.
Dinner 3: Sweet Potato Chili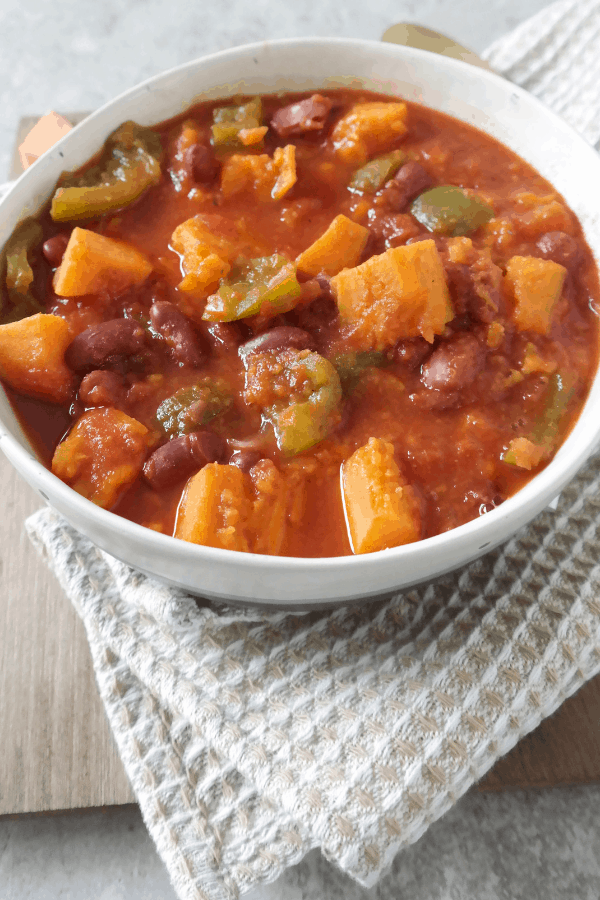 Ingredients:
2 green bell pepper, diced
1 can (14 oz) crushed or diced tomatoes
1 sweet potatoes, cubed
1/4 onion, diced
1 clove garlic, pressed
1 can kidney beans, drained and rinsed
1/2 t salt pepper to taste
1 t cumin
1/2 t paprika powder
1/4 t chili
1/2 t oregano
Optional topping: fresh cilantro
Instructions:
Add everything into a large pot or an instant pot (I use the 6 quart). Let simmer on medium heat until potatoes are soft (15-20 minutes) or set instant pot to meat/stew high for 5 minutes (closed valve). Top with avocado and fresh cilantro for extra flavor. Split the meal into two servings and store the second serving in the refrigerator for later.
Dinner 4: Creamy Tofu Tomato Linguine
Ingredients:
1/4 cup cashews, soaked for 10 minutes
4 oz. firm tofu
1 clove garlic
8 oz tomato sauce
1/4 medium onion, chopped
1/2 t basil, dried
1/2 t oregano, dried
4 oz brown rice noodles (for gluten free) or whole wheat spaghetti
1 box (8 oz) sliced mushrooms
1/2 pint cherry tomatoes, halved
salt and pepper optional
Instructions:
Soak the cashews for 10-15 minutes in warm water. Cook the pasta according to the package. Add tomato sauce, garlic, soaked cashews, tofu and 1/4 cup water into a blender and mix until creamy. Sauté the onions and mushrooms in 1/4 cup water for 5 minutes in a large pan or pot, then drain the water. In the meantime, cut the cherry tomatoes in half then add them with the rest of the ingredients into the same large pot. Mix well and heat everything thoroughly. Split the meal into two servings and store the second serving in the refrigerator for later.
Meal Prep
Mix the breakfast bowl ahead of time and store in the fridge overnight. You can also prep all smoothie ingredients and store in a glass jar, then blend when ready to consume.
Make the whole lunch in a large pot and divide into 8 servings. That way you have lunch ready to go during the week. If you can't warm up the lunch at work or school, I suggest heating it in the morning, then transfer the lunch to a large food thermos to keep warm until lunch.
Shopping List for One Person (2000 calorie anti-inflammatory meal plan)
8 cup oats, 8 cup almond milk, 80 raw almonds, chia or hemp seeds, ground flax seed, 16 apples, ceylon cinnamon, 8 bananas, fresh ginger, 16 cups spinach, 1 lemon, 8 stalk celery, 6 medium potatoes, 9 green bell pepper, 2 head cauliflower, 3.75 onions, 5 cans great northern beans (3 cups cooked), paprika powder, salt, chili powder, vegetable stock powder is optional, brown basmati rice, 1 zucchini, 3 boxes (8 oz) mushrooms, 2 cans kidney beans, 2 lime, cumin powder, 1 can coconut milk full fat, 1 bundle cilantro (more optional),1 clove garlic, low sodium soy sauce, frozen peas, 8 oz. rice noodles, turmeric powder, pepper, 1 can (14 oz) crushed or diced tomatoes, 1 sweet potatos, dried oregano, cashews, 4 oz. firm tofu (freeze the rest), 8 oz tomato sauce, dried basil, pint cherry tomatoes.
Anti inflammatory diet meal plan PDF
Enter your email below to join my email list and download this complete anti-inflammatory diet meal plan PDF as your welcome gift. It includes all recipes and shopping list.
For more anti-inflammatory recipes check out this vegan golden milk recipe, the immunity shots, and these immunity booster smoothies.