Are you searching for dinner recipes on a budget? Do you enjoy shopping at ALDI?
There are many budget recipes out there but not all frugal recipes are Aldi friendly. If you would like to find some new, healthy Aldi meals for your meal planning, check out my list below.
Aldi is becoming a very popular budget store to get your groceries. It has everything you need and the small size makes grocery shopping super fast and convenient. Of course, you can also shop at other stores and the recipes below will still be budget friendly.
New to shopping at Aldi?
If you haven't tried shopping at Aldi, take your quarter with you. You will need this for your shopping cart which you have to return to the entrance to get your coin back.
Aldi will not provide free plastic bags for your purchase, but they have re-usable bags that you can buy. The cashier will simply move all scanned items into the cart. In Germany (where Aldi originated from) you have to put the items back into your cart yourself.
Aldi Hack
I place 1-2 laundry baskets in my car and load everything into them, starting with the heaviest items first, and bread items on top. That way I (or my husband) can simply grab the basket and carry it into the kitchen to sort away.
Aldi also allows you to use (for free) empty bulk item boxes from the store to load your items into.
Save money on groceries
No matter where you go grocery shopping here are some tips to save money:
Reduce the amount of snacks you buy.
Don't buy juices. They are like sugar water and are not healthy. Rather, eat the real fruit and drink water or homemade tea.
Meal plan before you go. That way you only buy what you really need, reduce food waste, and know what to cook on which day. This will also prevent eating out more often.
Buy one quick meal just in case. I always stock up on veggie burgers that only take a few minutes to warm up, and I always have marinara, a can of beans, and pasta at home. If I really don't feel like cooking I can make a 15 minute meal and be done. This is still healthier and cheaper than eating out.
Check the store's ads before you meal plan. You can create a lot of frugal meals if you check which food items are on sale this week. Plan your meals according to the cheapest or seasonal food and save even more! Check Aldi.us for their weekly ads.
Ditch the meat. Eating more plant based can save you money by ditching the meat, and it is also healthier for you.
1-Week Dinner Recipes For Under $30
Below is an example of 7 Aldi meals that are about $30 and each recipe serves 4. Please note that the prices depend on season and store. Also, I only calculated the price based on the items I used, not on the bulk I bought.
Dinner 1: Sweet Potato Chili ($5.40)
Dinner 2: Spinach Ricotta Penne ($4), Recipe #13
Dinner 3: Butternut Squash Soup ($4), Recipe #18
Dinner 4: Enchiladas ($8 for 8 rolls), Recipe #2
Dinner 5: One Pot Penne with Salami ($4.88), Recipe #12
Dinner 6: Enchiladas Leftovers from Dinner 4
Dinner 7: Tortellini Zucchini Bake ($4), Recipe #9
Aldi Meals – Cheap Dinner Recipes Under $2 Per Serving
All Aldi meals below are under $2.00 per plate and some are even just $1.00. Even if you are not shopping at Aldi these Aldi meals are very budget friendly and family friendly.
You can use the leftovers for other recipes. Each recipe serves 4. You can use some of the recipes for weight loss, or increase the amount of ingredients if you need to eat more calories to sustain balanced nutrition.
#1 Easy Sweet Potato Chili ($1.35 per bowl)
Budget friendly easy vegan sweet potato chili that is oil free, gluten free, and great for weight loss. This one pot meal is instant pot and 21 day fix friendly and contains 420 calories for only $1.35 per serving. Get the recipe here.
#2 Chicken Enchilada ($1 per roll)
Chicken Enchilada with homemade enchilada sauce. Only $1 per roll and done in 40 minutes. You can top the enchilada roll with avocado and sour cream.
1lb. chicken
8 tortillas
6T oil
6T flour
1/2 t paprika powder
2 1/2 cup water
1/2 t of each: garlic, onion powder, oregano, vegetable stock
pepper to taste
1t of each: salt and cumin
1/2 large onion
2 green bell pepper
1 can black beans
2x 8 oz tomato sauce
Preheat oven to 350 F.
Cook the chicken until soft and also steam the onion and green bell peppers until they are soft (I just toss them into the pot with the chicken for a while)
When the chicken is starting to fall apart you can take it out and shred it with 2 forks.
While the chicken is cooking prepare the sauce. For the sauce heat up the oil with the paprika powder and the flour in a pan and stir until it darkens then stir in tomato sauce, spices, water and let thicken.
Lay out a tortilla and spread the enchilada sauce on it, about 3T for one tortilla. Add veggies, beans, chicken and sprinkle with cheese. Roll it up and put into a 9×13 casserole dish. If you try to get in 8 rolls you have to squeeze them into the dish a little.
If you have any leftovers just sprinkle over Enchilada rolls, add Sauce and the rest of the cheese. Bake for 20 minutes.
#3 Tomato Spinach Penne ($1.50 per plate)
Creamy Spinach Penne Pasta for only $1.50 a large serving. Done in 20 Minutes.
1 lbs. Penne Pasta
a little bit oil to roast onions
1/2 big onion
3 cloves garlic
2 cans diced tomatoes
1 t oregano
1 t basil
1 t salt
4 T tomato paste
4 oz cream cheese
1/4 cup Parmesan
1 bag baby spinach
Cook pasta according to package
Dice onions and garlic and roast it with oil until onion is soft
Add diced tomatoes with juice
Add seasoning and cheeses and stir until it is melted
Add spinach, noodles and mix it.
#4 Vegan Fajita Rice Bowl ($1.70 per serving)
Vegan Fajita Rice Bowl Recipe that is oil free, gluten free, vegan, and 21 day fix friendly. This plant based dinner can be prepared in 30 minutes, contains 460 calories, and is about $1.70 per serving. Get the recipe here.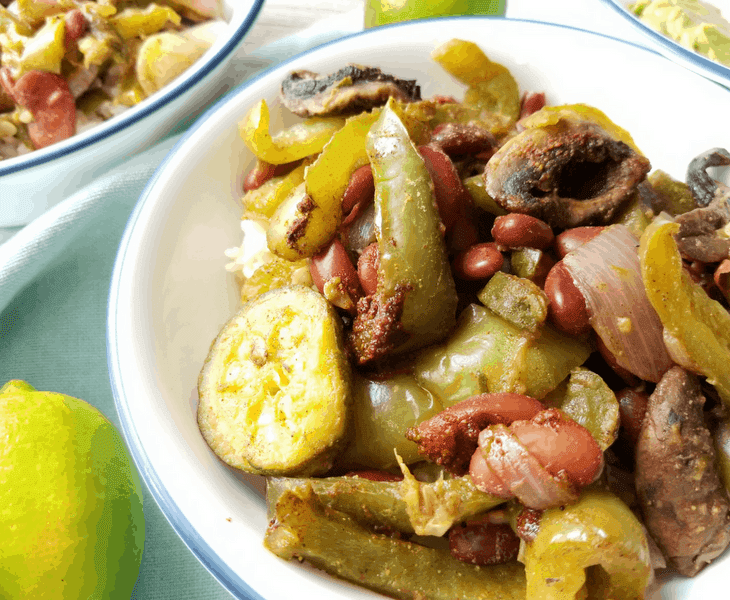 #5 German Style Rahmschnitzel ($1.90 per plate)
One amazing country style Aldi dinner recipe. Serve it with a salad and some fries, potato puffs or even pasta.
4 Schnitzel (any thin meat like thin cut chicken breast or thin pork steak)
1 pck. mushrooms
200 ml/1 cup heavy cream
1 cup beef bouillon
2 T oil or butter
2 T flour
1 t tomato paste
salt pepper sweet red pepper seasoning
white or red wine
-sides
First roast the meat in the pan so that it browns a lot. If it won't brown reduce the amount of oil. Also pork will brown better than chicken.
Take out the meat and brown the mushrooms. In the middle of the pan let 2 T of butter melt and add the same amount of flour and stir. Slowly pour in the heavy cream and the beef bouillon while stirring.
Make sure to let the sauce cook and thicken before you pour in more.
Season with tomato paste, salt, pepper and sweet red pepper powder.
Finish with a little shot of white or red wine. Add the meat back into pan and let cook for 2 minutes.
I served this with potato puffs and veggies, but Spaetzle and Salad fits best!
#6 Creamy Vegetable Linguine ($1.50 per plate)
Creamy pasta dish with brussel sprouts, peas, beans and more. It takes 30 minutes to prepare and contains 32g of protein. Get the recipe here.
#7 Pork Chops with Creamy Potato Curry ($1.84 per plate)
Easy and healthy one pot creamy potato curry with tomatoes, celery and onions. This one pot meal is done in under 30 minutes and a frugal dinner recipe under $0.75 per plate (without the pork chops).
5 Potatoes peeled and diced
3 celery stalks diced
1/2 large onion diced
2 t curry powder
1 t salt
pepper to taste
1 t sugar
200 ml / 1 cup milk
2 t corn starch
Use one larger pot and add some oil. Turn the stove to medium heat and dice all veggies. Add them to the pot starting with the onions and celery.
Now add all ingredients except the corn starch and let simmer for about 20 minutes or until the potatoes are soft.
If you desire the curry to be creamier mix the starch with some water (1T) until completely dissolved. Then add to the pot and stir.
Serve with chicken or pork if desired and enjoy!
#8 Easy Sweet Potato Soup ($1.11 per serving)
Easy vegan sweet potato soup recipe that is gluten free, oil free, contains 360 calories, 16 g of protein and is rich in fiber, iron, and magnesium. Make this plant based recipe in under 30 minutes and for only $1.11 per serving! Get the recipe here.
#9 Tortellini Zucchini Bake ($1 per serving)
Zucchini Tortellini Bake that is low in calories and frugal. A 400 calorie dinner recipe for only $1 per serving!
1 onion diced
3-4 zucchini (summer squash) diced
1 pack mushroom tortellini
28 oz. crushed tomatoes
1 cup shredded skim mozzarella
1/2 lbs. ground turkey
salt, pepper to taste
(dried basil)
Cook the tortellini according to the package. Brown the onion and turkey in a pan. Add zucchini and brown for 3 minutes.
Add tomato paste and crushed tomatoes to the pan and stir. Add salt, pepper and dried basil to taste.
Drain tortellini and add to pan.
Fill everything into a 9×13 casserole dish and top with 1 cup of the skim mozzarella cheese.
Bake the casserole dish for 15 minutes on 380F.
#10 One Pot White Chicken Chili ($1.50 per serving)
One Pot white chicken chili with shredded chicken, green bell pepper, northern beans, cilantro and chili. A 30 minute dinner with one pot cooking and super frugal. One big serving for under $1.50.
3 cups water
1 chicken breast, cut in chunks
2 cans of great northern beans
2 green bell pepper, diced
1 medium onion, diced
1 clove garlic, pressed
2 t ground cumin
1/2 t chili powder
pepper to taste
1t salt
1/2 pack fresh cilantro
3 t corn starch
1/2 cup milk
Add all ingredients into one pot except the milk and the corn starch.
Let simmer until chicken is not pink anymore (20-30 minutes) (you can take the chicken out and shred it or leave the chunks)
Now mix milk and starch until there are no clumps. Turn heat to high and stir in the milk mix. Take pot off the stove once the chili has thickened.
#11 Potato Cauliflower Stew ($1.53 per serving)
Vegan, oil free, gluten free potato cauliflower stew that can be done in less than 30 minutes and makes a perfect instant pot/one pot meal. This healthy plant based dinner recipe is also weight loss, 21 day fix, and budget friendly ($1.53 per serving). Get the recipe here.
#12 Easy One Pot Penne with Salami ($1.22 per serving)
Easy one pot penne pasta recipe with salami and cream sauce. A 30 minute dinner for only $1.22 per plate.
1 box penne pasta
1 pack hard salami
1 onion
2 cloves garlic
1 1/2 cups water
1 cup heavy cream
1 1/2 t basil
salt and pepper to taste
Slice the hard salami, dice onion and garlic
Add all ingredients to one pot
Turn to high and let it boil. After that turn it to medium heat and let it simmer 15-20 minutes.
Depending on your pasta you might have to add some more water. Check and stir your meal and adjust water and cooking time if necessary.
#13 Spinach Ricotta Penne ($1.00 per serving)
This healthy Aldi meal is rich in protein, vitamins and minerals. One serving is less than $1 and this dinner recipe fits the 21 day fix (1 red, 1 green, 2 yellow containers). Get the recipe here.
#14 Vegan One Pot Pasta with Zucchini ($1.40 per serving)
Vegan One Pot Pasta done in 30 minutes with 565 calories, 30g of protein and only $1.40 per serving. Frugal and healthy plant based dinner recipe that is great for the whole family and 21 day fix friendly. Get the recipe here.
#15 Easy Taco Salad with Ground Turkey ($1.93 per plate)
Frugal Aldi meal under 20 minutes with lettuce, tomato, avocado and ground turkey.
1 lettuce
1 lb. ground turkey
1-2 avocados
chips
2 big tomatoes
shredded cheese
sour cream
1 package taco seasoning
To prepare this dinner start browning the ground turkey until it is not pink anymore. Then add the seasoning and let simmer for 3 minutes.
In the meantime cut up lettuce (1/4 of the lettuce per plate), tomatoes and slice the avocado.
The amount of the topping is up to you. Some want more veggies, some like it with more meat and chips.
Place the lettuce on the plate and layer with chips, tomatoes, ground beef, shredded cheese and sour cream. I placed the avocado slices on the side around the plate.
#16 Curried Chickpeas with Fried Potatoes ($1.50 per serving)
Curried Chickpeas with water fried potatoes. A healthy, gluten free, vegan, oil free, and 21 day fix friendly recipe for only $1.50 per serving and done in 25 minutes. Get the recipe here.
#17 Chicken Linguine Alfredo ($1.30 per serving)
Chicken Linguine Alfredo recipe for only $1.30 per plate. Easy and frugal dinner recipe in only 30 minutes.
1 lb. linguine pasta
1 clove garlic
4 T butter
4 T flour
1 chicken breast cut into chunks
2 t Italian seasoning / Italian herbs
1 bag fresh broccoli
3 cups milk
1/2 cup heavy cream
1 t salt
8 oz shredded Colby-Monterey Jack cheese
1/2 parmesan shredded
Cut broccoli florets off the stem and steam until soft.
Cook the Pasta according to the package (mine said 9 minutes) in a pot.
Add 4T butter to a pan and cook garlic and then chicken. When chicken is not pink anymore sprinkle flour over it.
Stir in milk and heavy cream step by step. Keep stirring and let thicken after each step.
Toss in all the cheese, salt and herbs and serve over the linguine!
#18 Butternut Squash Soup ($1 per serving)
Super healthy 21 Day Fix Butternut Squash Soup that contains only 340 calories per serving and is 21 day fix approved. Perfect easy and frugal fall dinner that is done in 30 minutes and costs only $1 per serving. Get the recipe here.
#19 Quesadilla Burger ($1.70 per burger)
21 Day Fix Quesadilla Burger is a mix between a quesadilla and a burger. With 550 calories this burger is the healthier version of any burger and done in under 30 minutes. Clean eating Mexican burger with 21 day fix container count. Get the recipe here.
#20 Veggie Fall Casserole ($2.00 per serving)
Easy vegan fall casserole that is gluten free and 21 day fix friendly with 460 calories, 21.5g protein, and about $2.00 per serving. Get the recipe here.