8-Day Plant Based Meal Plan on A Budget
Plant Based Meal Plan on a Budget with shopping list, breakfast, lunch, snack, and dinner. A full 8-day vegan meal plan for two under $65.
Are you searching for a healthy and budget friendly meal plan?
Today's meal plan is all plant based, but you don't have to call yourself "vegan" to try this. This meal plan is for anybody on a budget that still wants to eat healthy and enjoys quick, simple, and nutritious meals.
Below, you will find the plant based meal plan on a budget with shopping list, price suggestion, and nutritional facts. If you haven't tried a vegan diet before, give it a go and let me know how you feel afterwards in the comments below! This meal plan is also great for beginners.
Nutrition Facts of the Vegan Budget Meal Plan
When putting one day's worth of food from this meal plan into cronometer.com you consume 1700 calories, 64 g fiber, 64 g protein, all the zinc, calcium, iron, and vitamins you need.
With 1700 calories, this can also be a great weight loss meal plan on a budget!
As you can see below most nutritional needs are met. There is a lack in vitamin D, which you get best from the sun, and vitamin E. And what is really good: This meal plan is low in sodium.
Note: The recommended daily sodium intake according to the FDA is 2,300 mg and according to the American Heart Association 1,500 mg. The average American eats about 3,500 mg.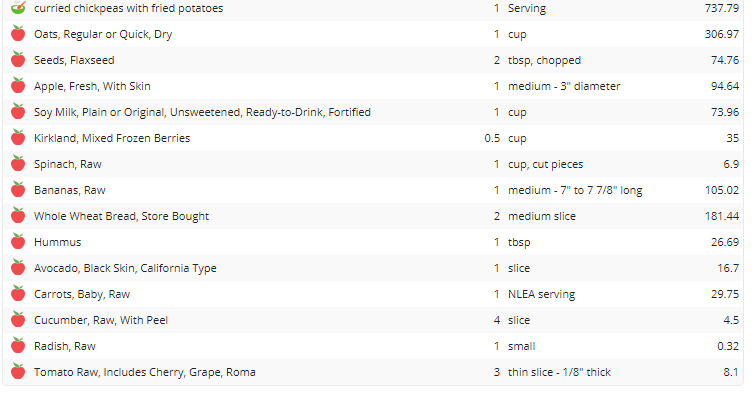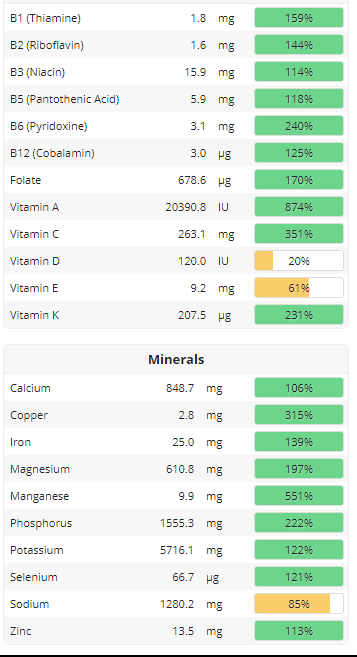 If you are a beginner of plant based eating you might be worried about getting an iron, zinc, or calcium deficiency, since most people think that animal products are the main source of these minerals.
As you can see above you don't have to worry about that. Most likely you are getting even better nutrition with a plant based meal plan, and it is also budget friendly.
You will get over 60 g of protein and the recommendation for women is 46 g of protein per day. Also, this plant based meal plan is high in fiber. More than 90% of Americans do not eat the recommended amount of fiber (source).
Fiber reduces the risk of colon cancer (source), breast cancer (source), diabetes (source), heart disease (source), obesity (source), and stroke (source). It helps control cholesterol (source) and blood sugar levels (source). Fiber also binds toxins, lead, and mercury (source), which is mostly accumulated in animal fat.
You can read more benefits of a plant based diet here.
How to use the plant based meal plan on a budget
I am not a nutritionist. This meal plan is a suggestion and has worked for me and my family. By following this frugal plant based meal plan you will consume about 1700 calories.
Depending on your health goals you have to add more food/double up on portion (like 2 sandwiches instead of 1 for lunch), or reduce the amount of food.
If you would like to lose weight on a plant based diet you can cut the oats back to 1/2 cup dry oats for the morning and for added benefits go on walks or add workouts to your day.
Bananas and nuts are a great way to add calories quickly to your diet. 1 banana has about 100 calories and 1 serving of almonds contains about 160 calories.
8 Day Plant Based Meal Plan on A Budget
This Plant Based Meal Plan on A Budget serves 2 adults for 8 days and you can eat each dinner twice. I like to cook 1 to 3 times in a row, then eat the leftovers. This way I won't eat the same in two days, yet I only have to cook 4 times a week.
Some prices below are estimated. Most prices are from my grocery bill at Aldi. Remember that some items were on sale, or cheaper because I bought in-season produce.
You can always replace certain vegetables and fruits with the ones on sale/in season. Make sure to adjust the plant based grocery list to your needs.
Breakfast ($1.10 per serving, 550 calories per meal)
Make a bowl of oatmeal by mixing 1 cup dry oats with 2 tablespoons of flax seed, 1 cup chopped fruits, and 1 cup of soy or almond milk. I put my oats in the microwave for 1-2 minutes to get the seeds and oats to soak better.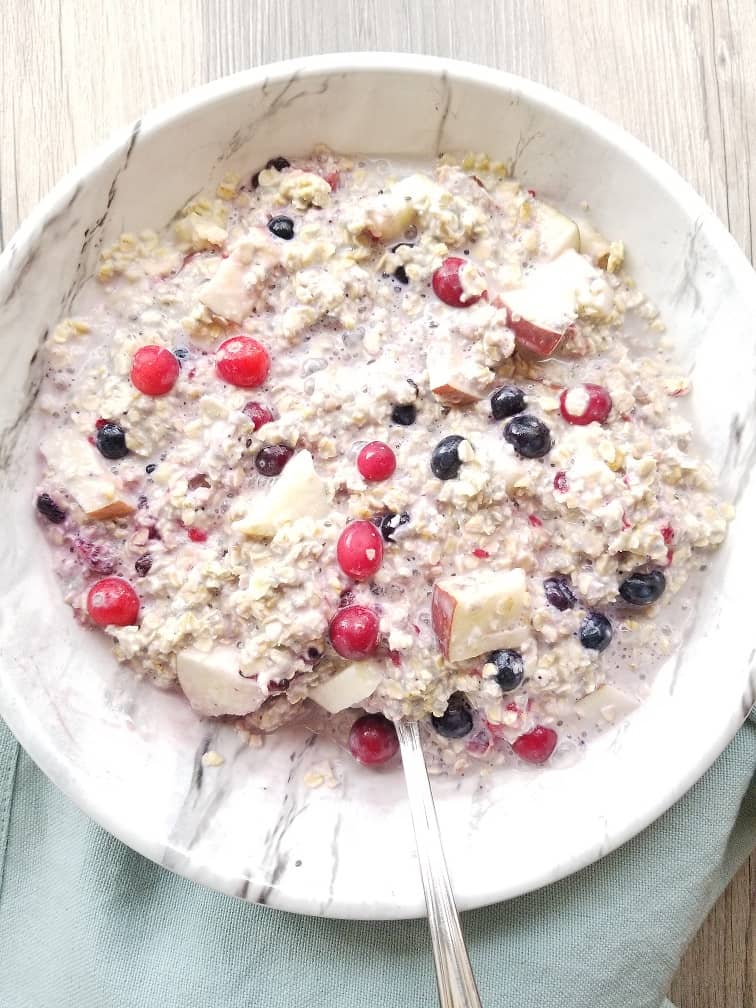 Here is the cost:
1 bag flax seed under $3, should last you 1-2 weeks
1 large box oats $2.70
fruits $6
2 boxes soy or almond milk $4
You will need 14 cups of fruits for 7 days and 2 people. To stay low budget buy the fruits on sale or in season. The size of an apple is about a cup. If a fruit is on sale because they start to go bad I buy it anyway, chop it up, and pop it in the freezer right away.
I get a bag of flax seed at Aldi and it costs under $3 and lasts about 1-2 weeks. There is a seven point drop in blood pressure from consuming 1 tablespoon flax seed a day (source). That means 46% less stroke risk and 29% less heart disease. Flax seed prevents cardiovascular disease in general (source).
Smoothie Snack, optional (0.70 per smoothie, 200 calories)
To make your smoothie you need a blender and:
spinach 1 bag $1.49 (sometimes 1.99)
3 bags frozen berries $6
14 bananas $1.70
water
Optional: chickpeas, or seeds
Mix 1/2 cup berries, 1 banana, 1 handful of spinach with some water and blend. This snack is optional depending on your caloric needs.
Tip: If you don't like smoothies simply eat the fruits as a snack and add the spinach to your lunch sandwich.
Lunch: Veggie Sandwich ($1 per serving, 300-400 calories)
3 loaves whole wheat bread 5.40
hummus 1.99
1 bag baby carrots 1.00
2 cucumber 1.10
bag radishes $ 0.69
Bag Tomatoes 1.49
Avocado 0.99
This equals about $1 per lunch. The vegetables above are just a guide, you can always buy other veggies, especially the ones on sale or in season.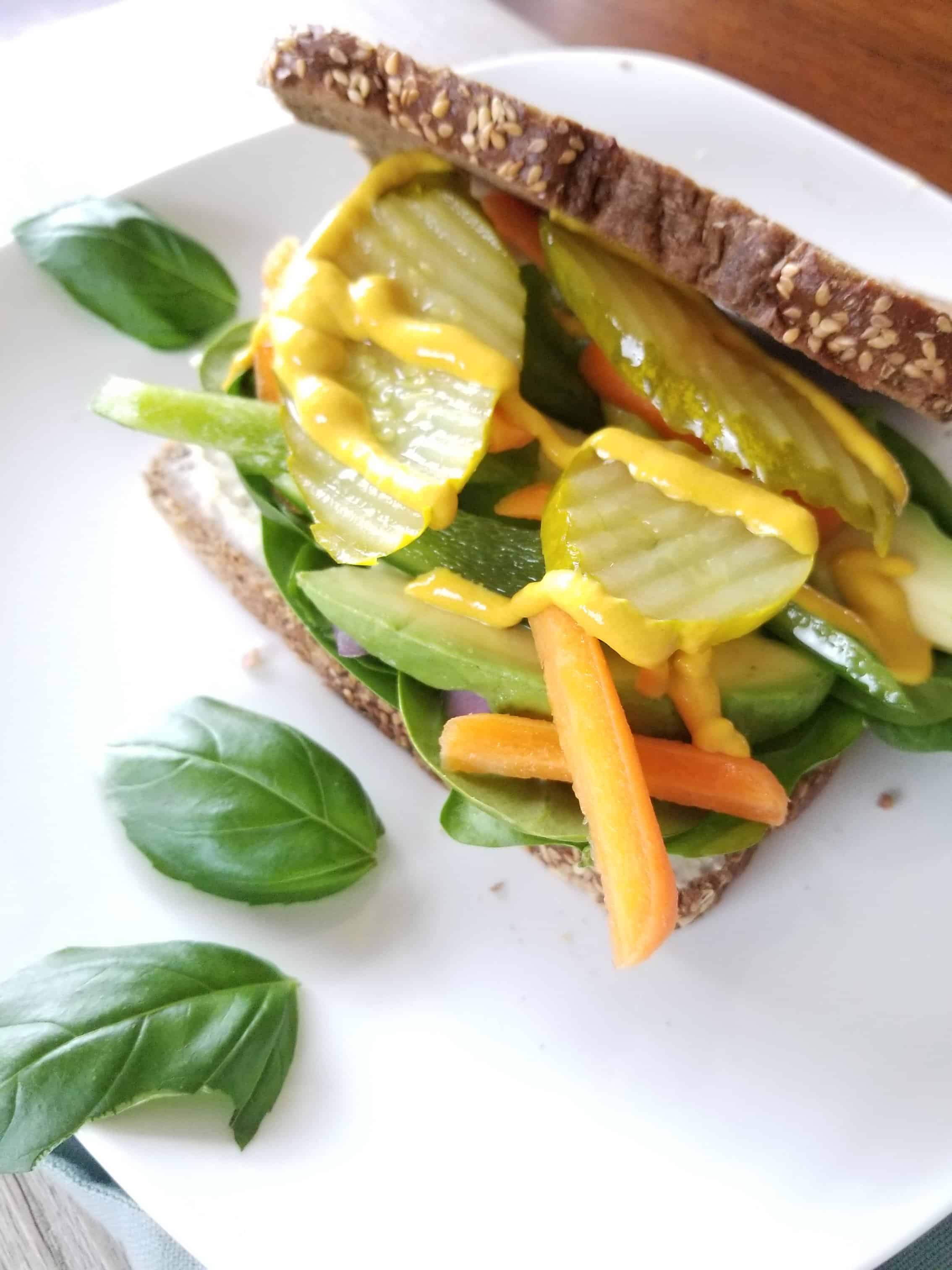 I simply spread some hummus on one slice of toast then add lots of veggies and top with either a dressing or mustard and another slice of toast.
You can also use flat bread or tortilla wraps to make the same lunch.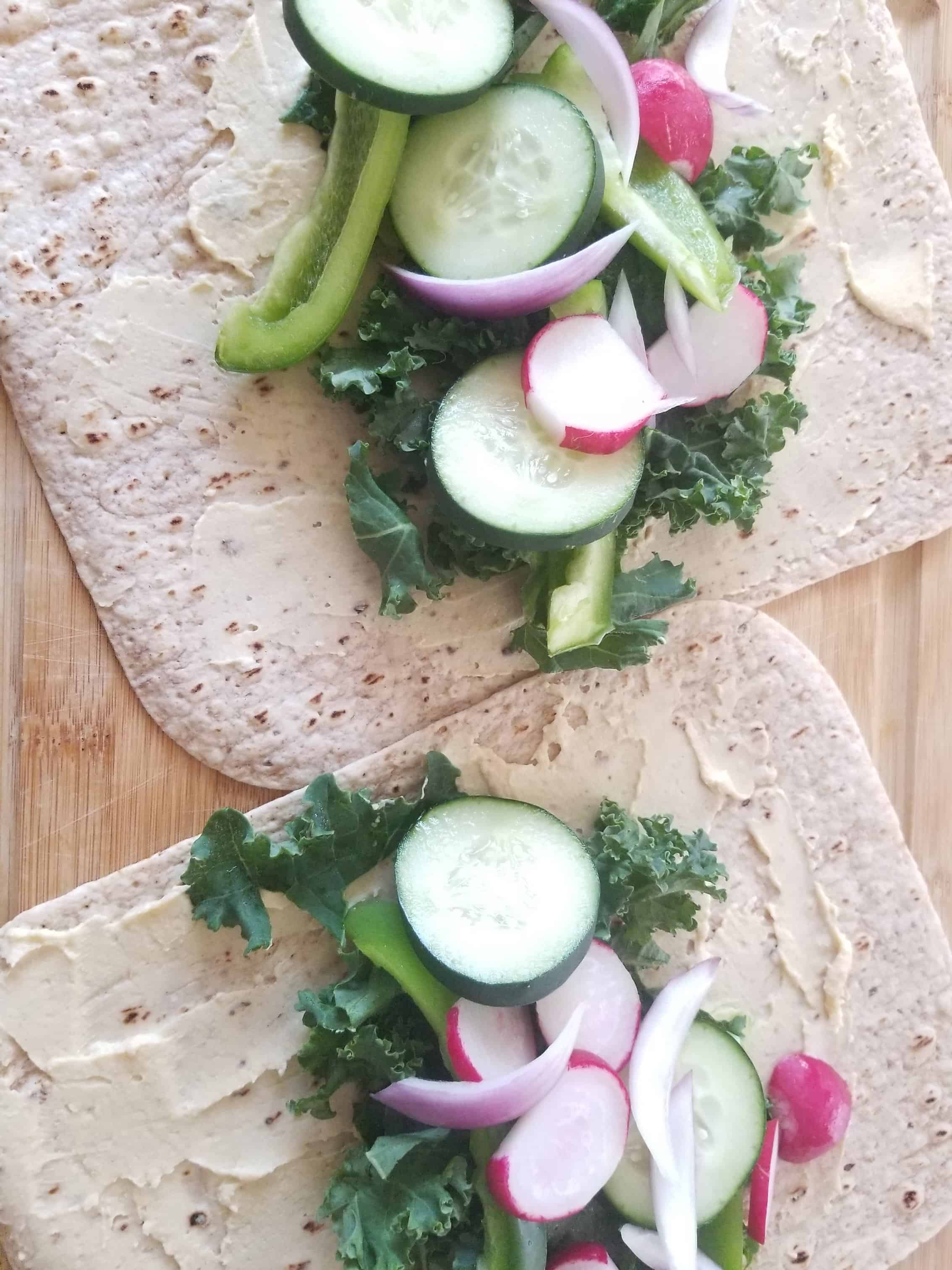 Plant Based Meal Plan on A Budget: Dinner ($1.70 per meal, 600-700 calories)
Vegan One Pot Pasta
Vegan One Pot Pasta done in 30 minutes with 565 calories, 30g of protein and only $1.40 per serving. Frugal and healthy plant based dinner recipe that is great for the whole family and 21 day fix friendly. You can print the recipe here.
Curried Chickpeas 'Fried' Potatoes
Curried Chickpeas with water fried potatoes. A healthy, gluten free, vegan, oil free, and 21 day fix friendly recipe for only $1.50 per serving and done in 25 minutes. Print the recipe here.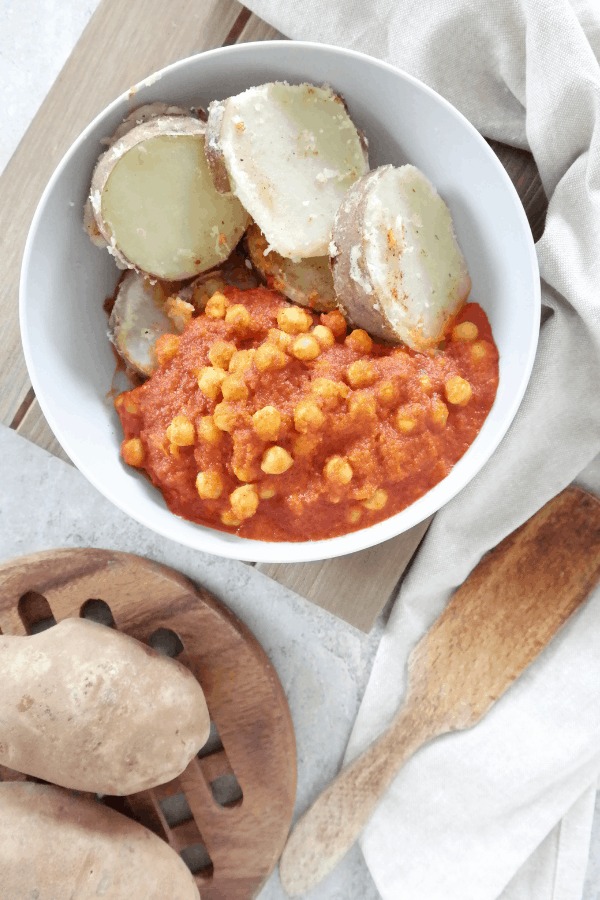 Bean Tomato Soup
Super easy 20-minute Vegan Mexican Tomato soup. This whole food plant based dinner is oil and gluten free, healthy, and budget friendly. One serving contains 140 calories and you can add toppings like avocado, corn, and cilantro.
Potatoes with Mushroom Gravy and Peas
You will need:
8 Potatoes, thinly sliced
4 servings of frozen peas
2 boxes (16 oz) of mushrooms, diced
2-3 T oil
2-3 T flour
1 t Vegetable stock powder
2 cups water
salt, pepper, wine (optional)
Instruction
Add the oil to a pan and let diced mushrooms cook. Then coat mushrooms with flour and add 2 cups of water slowly to the pot while stirring. You will see the sauce thickening. Add all the seasoning.
In the meantime steam or cook the peas. You can either boil or water-fry the potatoes as described in the curried chickpea recipe. Split everything into 4 portions and serve.
Plant Based Meal Plan on A Budget Shopping List
Breakfast
1 bag flax seed under $3, should last you 1-2 weeks

1 large box oats 2.7

about 14 cups fruits $6

2 boxes soy or almond milk $4
$15.7
Lunch
3 loaves whole wheat bread 5.40

hummus 1.99

1 bag baby carrots 1.00

2 cucumber 1.10

bag radishes $ 0.69

bag Tomatoes 1.49

avocado 0.99
$12.66
Snack Smoothie
spinach 1 bag $1.49 (sometimes 1.99)

3 bags frozen berries $6

14 bananas $1.70
$9.19
Dinner
1 bag potatoes (about 16 potatoes) $2.70
4 boxes mushrooms (8 oz each) $6
4 servings frozen peas (2 bags) $2.40
16 oz whole grain spaghetti $1.39
3x 28 oz can diced tomatoes $2.7
garlic 1.00 (estimate)
onion 2.50 (estimate)
3 can cannellini or great northern beans (or other white beans) $1.65
2x 6 oz tomato paste $0.8
1 box whole wheat penne $1.0
3 zucchini $1.50
3 bell pepper $2.50
2 cans chickpeas $1.10
$27.24
Seasoning: Salt, pepper, oil, flour, oregano, basil, vegetable stock powder, chili powder, curry powder.
Optional: wine, turmeric powder
This adds up to $64.79 for approximately 8 days and 2 people. You can always change items on the list depending on season, decrease the amount of food if you want to lose weight, or increase the items listed if you have a bigger family.
Note: Do not use this list as a shopping list as I have slightly changed recipes. The prices should not vary much however.
If you like this meal plan, you might also like this 80g of protein per day meal plans, or these budget vegan recipes.