5-Day Vegan Weight Loss Meal Plan (1700 Calories)
Are you searching for an easy and healthy meal plan to lose weight naturally?
The best diet for you is the diet you can stick to long term. If you are able to change your lifestyle you will not only lose weight, but maintain healthy weight without a roller coaster ride of weight gain and loss.
I have been there: losing weight, gaining it back (especially during the holiday season), losing it again, wondering what foods to eat, restricting calories and carbs, struggling with cravings.
With my own experience, I can tell you that the easiest diet to stick to has been a plant-based vegan diet. It helped me lose the last 5 pounds without counting calories, portions, carbs, and such without being hungry all the time or feeling dizzy. And I actually cured my chronic gastritis and reduced hormonal acne. Not only is eating more plants great for weight loss, it also comes with many additional health benefits.
The best way to stay motivated while eating healthier is to use meal plans that are already planned out and easy to follow. Following a meal plan will help you avoid eating out or eating random, chaotic meals. Sticking to planned meals will also avoid cravings and is a great way to ensure optimal nutrition.
5-Day Vegan Weight Loss Meal Plan Calories And Nutrition
Today's meal plan includes easy to prepare meals for 5 days. It is plant based and vegan. You will consume about 1700 calories per day (approximately). On a plant based diet you get to eat a little bit more in volume without the additional calories. This meal plan is based on the vegan weight loss food pyramid.
On the image below you can view the nutritional rundown of one full day according to this meal plan. As you can see, you get more than enough fiber, protein, and minerals.
Cutting back too much on calories to lose weight is simply not a healthy option. It will always create deficiencies and you will not feel good. You need a balanced diet to have energy, focus, and great health. That is why I don't suggest going below 1700 calories per day anymore. It is better to add more exercise to your lifestyle if you want to achieve a larger caloric deficit.
Plant Based 1700 Calorie Meal Plan
Breakfast (530 calories)
1/2 cup oats
1 cup almond milk
1 cup berries
1 T flax seed
5 walnut halves
5 almonds (or 10 of each nut)
1 medium banana
1 brazil nut (optional)
You can also replace the fruit with any other fruit and use only walnuts or almonds. I add the brazil nut because of a high amount of selenium. This is optional.
Lunch
For lunch reheat the dinner from the night before. Cooked meals are simply the best option to get a larger amount of whole foods (like healthy starches, beans, etc) in your diet. Cooking double the amount for dinner and eating it for lunch the next day also saves you some time.
Smoothie (250 calories)
Smoothies are a great option to include healthy leafy greens in your diet on a daily basis. For this meal plan I am using the immunity boosting green smoothie with apple and oranges. You can view the full recipe here, or blend the following ingredients into a smoothie:
1 apple, without the core
1 orange, peeled
1 cup or handful baby spinach
10 raw, unsalted cashews
1/4 t cinnamon
4 dashed turmeric
1 dash black pepper
1 cup water
small piece of ginger (fresh)
Dinner
Your meal plan will start in the evening and each recipe serves 4. If you only cook for yourself be sure to make only half the recipe (or freeze the rest for later). If you cook for 2 you can eat one serving for dinner and the other serving for lunch the next day.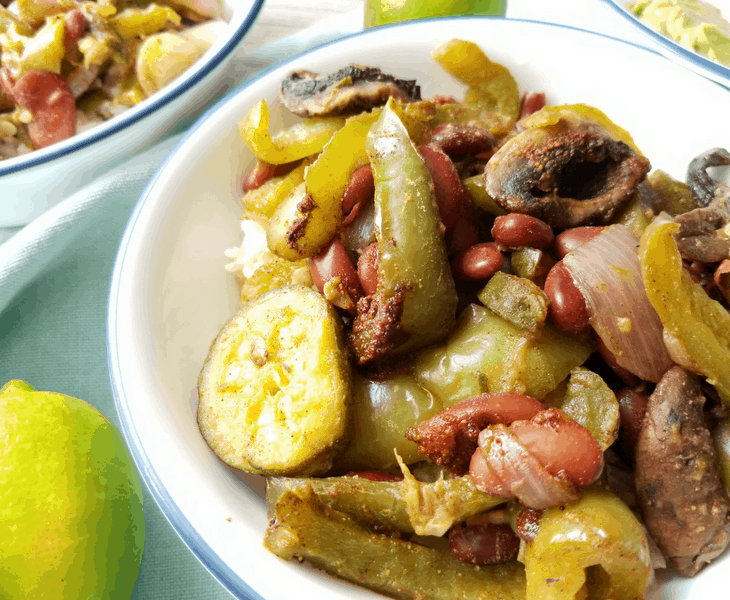 Follow the instructions for the beanballs on this recipe, then cook 8 oz of (dry) whole wheat penne and split into 4 servings to serve with 1/4th the beanball recipe. Steam 4 cups (4 servings) of broccoli and serve on the side.